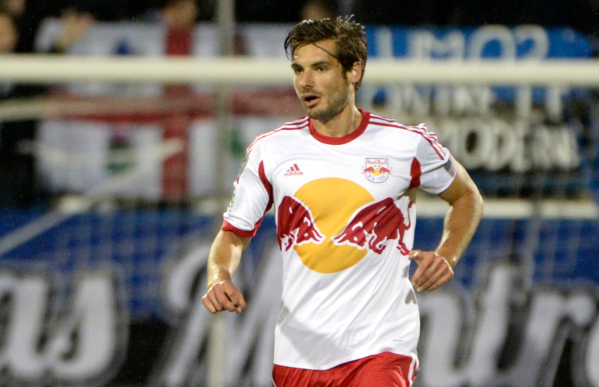 Photo by Eric Bolte/USA Today Sports
By FRANCO PANIZO
Jesse Marsch is feeling much more at ease and confident these days as it pertains to the standing of the centerbacks on his roster, so much so that it seems he's made up his mind on the starters for the season opener.
When Marsch was appointed head coach of the New York Red Bulls in January there were some initial reservations as to if the crop of central defenders on the squad was good enough to carry out his plan for 2015. There was talent among the players on the roster, but not all of it fit into the blueprint that Marsch was laying out.
After making a number of moves and with a full preseason now complete, Marsch is no longer anywhere near as "concerned" about that talent or depth of the position. He has even appeared to confidently settle on a starting tandem for this Sunday's first game at Sporting Kansas City.
"I think that Damien Perrinelle has done very well. He's a very smart centerback and he's a very good complement to the way that Ronald (Zubar) plays," Marsch recently told SBI when asked about the position. "We're asking a lot of our centerbacks both from a tactical perspective and from a physical perspective and I think that those two have worked really well together."
Perrinelle and Zubar are both seasoned veterans who have carved out careers in Europe, but neither of the Frenchmen has extensive MLS experience. Perrinelle, 31, signed with the Red Bulls near the midway point of the 2014 campaign, but amassed just seven minutes in two regular season games. The 29-year-old Zubar, meanwhile, is preparing for his first year in the league.
The two centerbacks were involved in an open competition in preseason to replace Jamison Olave (traded) and Ibrahim Sekagya (retired) as the Red Bulls starters. Perrinelle and Zubar auditioned for the two spots along with Matt Miazga and Andrew Jean-Baptiste, two youngsters who are in the club's plans but appear to be on the outside looking in right now as far as starting goes.
"One of my mains goals for this year is to help Matt Miazga establish himself," said Marsch. "In the games he played last year I think he started to show that he's got a lot of good qualities but that's he looked a little green. This year, I'm going to help him understand how to get better, how to grow, how to learn and how to fit into the way we want to do things because his abilities are at a very high level and I'm really hopeful that we can help him establish himself.
"Then, Andrew Jean-Baptiste I think came in as a very raw centerback in a many ways, and he's shown a lot of progress. We've added a lot of sophistication to the way he plays, his habits have gotten better, his reactions have gotten better, so I'm very hopeful that over time he can establish himself."
While those four players offer a good variety of defensive options for Marsch, there is a chance that New York could add another centerback to its roster this week. Veterans Jhon Kennedy Hurtado and Karl Ouimette both spent a part of the preseason with the Red Bulls, and could land a deal as the club looks to round out its squad
One centerback who is not in the Red Bulls' plans is Armando, the veteran Spaniard who signed with the club in 2014. Armando, who is currently under a guaranteed contract, has not trained with New York at all during preseason.
"There's not really an update on Armando and I don't think it impacts any of our other decisions that we have to make," said Marsch. "I'd say that most of the decisions that are left are separate situations."
—–
How do you think a Perrinelle-Zubar tandem would fare? Would you prefer to see a different pairing? Not sharing Marsch's confidence in the centerback position as a whole?
Share your thoughts below.