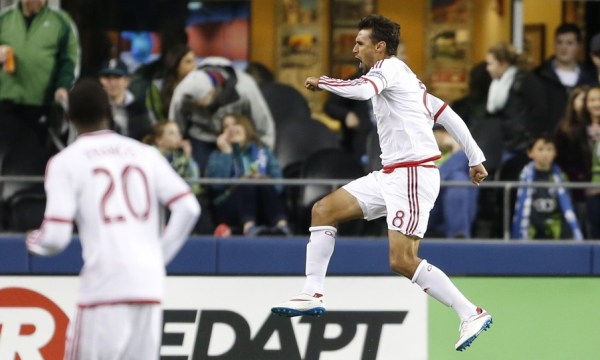 Photo by Jennifer Buchanan/USA Today Sports
By MATT STYPULKOSKI
The San Jose Earthquakes survived a first-minute goal and a red card to take down the defending Supporters' Shield winners, thanks in large measure to Chris Wondolowski.
The Earthquakes' captain netted a brace to help push his team past the Seattle Sounders, 3-2, at CenturyLink Field on Saturday night, earning SBI MLS Player of the Week honors in the process.
Wondolowski equalized in the 13th minute after a cross from Marvell Wynne, then took advantage of Brad Evans' defensive gaffe to put the Earthquakes out in front early in the second half. Wondolowski's effort gave the Earthquakes their first win of the season, following a year in which they finished last in the Western Conference.
The Earthquakes striker beat out David Villa, Blas Perez and Fernando Aristeguieta for this week's award.
—-
What did you think of Wondolowski's performance? Which player stood out to you from this weekend's games?
Share your thoughts below.