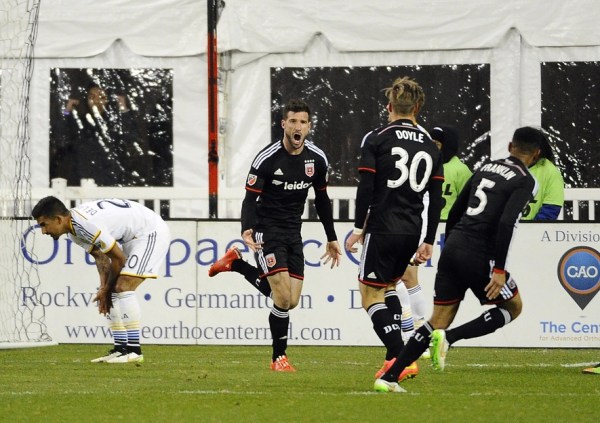 Photo by Brad Mills/USA Today Sports
By CLIFF STARKEY
WASHINGTON– Although D.C. United and the Los Angeles Galaxy are two of the most storied franchises in MLS history, each team needed Saturday night's game in the nation's capital to break out of their respective early-season slumps.
In the end — and at the end — it was D.C. United who came away with a vital three points.
As the game entered the final seconds, and both teams looked ready to settle for a disappointing scoreless draw in the cold, Nick DeLeon beat his man down the wing and delivered a cross that Chris Pontius headed home to ensure a late 1-0 victory.
Even though they didn't come out as ineffectively as they did last week in Harrison, New Jersey, D.C. United once again had a tough start to the game. Defender Steve Birnbaum injured his ankle after a second-minute corner kick. Birnbaum rolled his left ankle after his headed attempt was cleared off the line.
Neither team could make their mark in the first half. D.C. United had a few half-chances almost turn into something more, as Galaxy backup Brian Rowe — filling in for goalkeeper Jaime Penedo — fumbled a couple crosses that D.C. United couldn't finish. The Galaxy found space along the left wing, with left back Robbie Rogers getting some crosses in from an overlapping position. But with Robbie Keane and Gyasi Zardes on international duty, Rogers's crosses had no targets.
The Galaxy began the second half on the front foot, and almost went ahead in the 53rd minute when a corner kick opportunity fell to Leonardo, who shot just wide of goalkeeper Bill Hamid's right post.
Play opened up considerably in the second half, and both teams missed chances to score. Chris Pontius had a close-range header saved by Rowe, while Stefan Ishizaki's curled attempt from 20 yards beat Hamid but struck the post.
The second half looked set to end level until Pontius scored the late winner.
Next week, D.C. United will travel south to play at Orlando City on April 3, while the Galaxy will a visit to the Vancouver Whitecaps a day later.