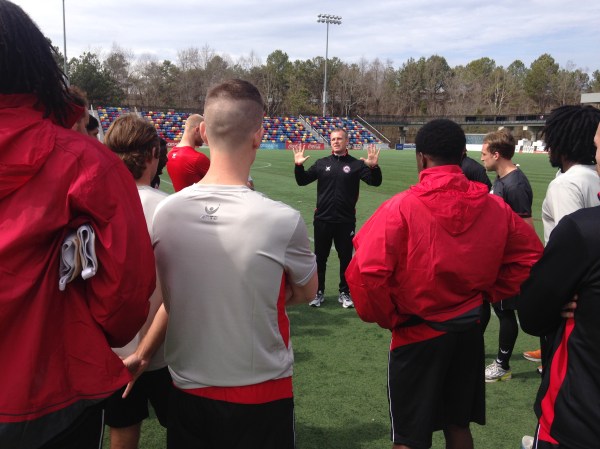 Photo by Atlanta Silverbacks
By RYAN TOLMICH
In a league that sees turnover as commonplace, the Atlanta Silverbacks have put together quite the rebuild.
Leading the charge is an MLS Cup-winning head coach in Gary Smith, who takes over a Silverbacks side that finished dead last in last season's Combined Standings. However, the 2015 side Smith has assembled will look vastly different than last year's cellar dwellers, with just four players remaining on the roster from the pre-Smith era.
In turn, Smith has retooled the roster in a series of shrewd moves that include the additions of NASL stars Hans Denissen and a returning Matt Horth, MLS veterans Rauwshan McKenzie and Kyle Porter and experienced international additions like Simon Mensing and Paul Black, ensuring a new-look Silverbacks team.
That new-look team will be looking to write a new chapter for the Silverbacks, one entirely different than that written before their arrival.
Here is a closer look at the 2015 Atlanta Silverbacks:
ATLANTA SILVERBACKS SEASON PREVIEW
2014 FINISH:  Overall – 6-5-16, 23 points (10th in Combined Standings); Spring Season – 3-1-5, 10 points (8th in Spring Season); Fall Season – 3-4-11, 13 points (10th in Fall Season).
HEAD COACH: Gary Smith, first season
KEY ACQUISITIONS: Head coach Gary Smith, F Matt Horth, M Hans Denissen, D Paul Black, D Simon Mensing, GK Steward Ceus, M Dominic Oppong, D Rauwshan McKenzie, F Kyle Porter, M Michael Reed, D Kyle Miller, M Michael Mravic, M Jon Okafor
KEY LOSSES: Kwadwo Poku, Junior Sandoval, Junior Burgos, Deon McCauley, Pablo Cruz, Blair Gavin, Eric Ati, Ryan Roushandel
NEWCOMER TO WATCH: Paul Black. The English defender comes to Atlanta after bouncing around through various teams in his native country. The left back has earned high praises from coach Gary Smith, who believes that the 25-year-old will turn some heads in 2015 with his physicality, athleticism and ability to get forward.
PRESSURE IS ON: Hans Denissen. After an injury-riddled 2014 campaign with the New York Cosmos, Denissen is in for a fresh start with the Silverbacks, a team that can certainly use his natural ability to create and score goals. A Best XI selection in 2013, Denissen is proven in this league, and if he can recapture his form of old, the Silverbacks will have a legitimate weapon to spearhead the team's attack.
OUTLOOK
Having plied his trade in both U.S. and England, Silverbacks head coach Gary Smith understands the importance of chemistry and confidence. Having brought in 17 new faces this offseason, the Silverbacks are currently slightly lacking in the former heading into the season opener, but the latter, Smith says, comes in abundance.
Smith enters the season with high hopes of his retooled roster, a group which he says is a special mix of veteran leaders with plenty of promise. Having an experienced locker room was something Smith specifically targeted in the months leading up to the season, and its something the English coach believes he has achieved heading into the team's opener.
"I think it's important, first of all to have good characters in the locker room," Smith told SBI. "You need three or four guys. I think when you get good leaders that have got personality, that set high standards and are respected by their peers in the locker room, it makes my job a hell of a lot easier.
"In all honesty, a big part of my job is choosing the right type. If I get the right type of people, it certainly makes my job a hell of a lot easier. If I get those decisions wrong in recruitment, then I'm constantly trying to correct some of the bad decisions I've made."
For Smith, the confidence starts at the back, where the club possesses a pair of goalkeepers, Steward Ceus and C.J. Cochran, who the coach trusts to man the backline. With Ceus set to miss the opening few weeks due to injury, Smith is "more than happy" to see Cochran step in and assume the role of starter to kickoff the season.
Cochran and Ceus' jobs will be made all the easier by the defensive unit in front of them, which features centerbacks Rauwshan McKenzie and Simon Mensing, as well as fullbacks Paul Black and Kyle Miller.
The centerback pairing comes with plenty of experience to fall back on, as McKenzie joins the Silverbacks as a seven-year MLS veteran, while Mensing moves to the U.S. having previously plied his trade at the highest level in Scotland.
The two will have had a little over two weeks to acclimate when the season kicks off April 4th, ensuring some growing pains in the early going. However, Smith believes that the duo's intelligence, experience and overall talent will be plenty to carry them over the early hump.
"It would be tough to say that they're completely in tune with each other because I'd be telling lies," Smtih said. "You don't form relationships that quickly, although what I will say is that I think they compliment each other very well, hence why I've tried to get both of them together.
"They've both got very good experience at different levels, high levels within their own international arena with Rauwshan in the U.S. and Simon in Scotland. They're both terrific defenders, and they're also quite intelligent guys as well. They're bringing together and piecing together a nice partnership there."
The midfield will also be spearheaded by a veteran presence in the form of former Best XI choice Hans Denissen, who joins the Silverbacks after an injury-plagued campaign with the New York Cosmos.
While Smith has been cautions with Denissen in the preseason following meniscus surgery, the head coach believes the midfielder will be ready to play some sort of role off the bench in the early going. While Denissen makes progress towards full fitness, Smith remains excited over the midfielder's abilities, both on and off the field.
"He's a good leader, a great personality. I'm extremely pleased," Smith said. "I see him very much being that number 10, playing off of the main striker and being that creative factor within the team, certainly centrally anyway and from dead balls, he's shown that he's deadly.
"Whether it's free kicks, corners or efforts at goal, he has fantastic technique and quality on the ball and I'm very much looking forward to getting him fit and ready to go for 90."
That technique will be put to practice in targeting the forward unit of Matt Horth and Jaime Chavez, both of whom are familiar faces to the Silverbacks faithful.
Horth returns to Atlanta after departing the club in 2012, with Chavez returns after scoring nine goals in 11 appearances last season.
In Horth and Chavez, Smith sees a potent forward unit, one very capable of combining for an exuberant amount of goals in 2015.
"I've been extremely impressed by both of them," Smith said of his two strikers. "They possess very similar qualities. I'd say physically Matt is in a slightly better position at six-foot-three, a very strong individual, but Jaime may be a bit more mobile. Both have a good eye for goal, good technique and are very good link players and team players.
"As far as targets, I think both guys should be hitting double digits in terms of goals and I'd certainly like to think that they're not far away from that in assists as well. You have to remember, our shape will mean that we've got two good wide players in Kyle Porter and Jonathan Okafor, and their ability to supply will make life that much easier for guys like Matt, Jaime, Shaka Bangoura and Hans when he's fully fit."
Smith understands his targets are lofty, especially given the number of moving pieces that the club will need to adjust to. However, Smith insists that, like any other NASL side, the Silverbacks will work through the early season before gelling into the team that the coach envisions it to be.
"I think most teams will be the same," Smith said. "We'll be no different. The first two or three weeks, of course, there's a big evaluation going on of physical conditioning of the group, the technical appreciation of the group and, of course, the rapport that we're slowly building. The one thing that will be slightly difficult than most is the amount of bodies. There will be 17 new faces in that locker room come April 4th and that's not easy for those guys to gel and to find appreciation of each other that quickly.
"I honestly think we're in a good place to start our season and I fully expect that, from the opening of the season, of course we'll be competitive. I'd like to think we can get off the mark quickly and of course confidence does a wonder of good for all players and it makes the process that much smoother."