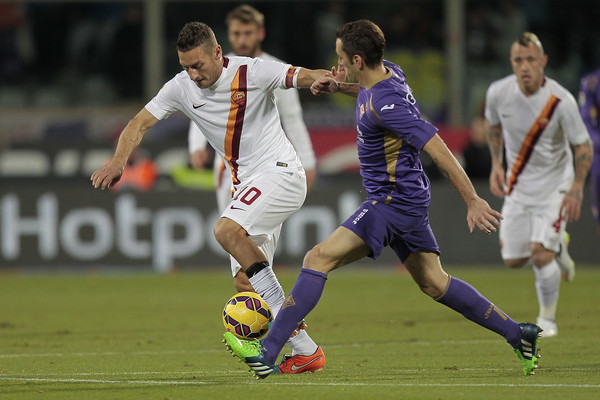 By MATT STYPULKOSKI
The second leg of the UEFA Europe League's Round of 16 will be played today, with the away side leading in six of the eight ties.
The lone exceptions come in Sevilla, where the home side holds a 3-1 advantage over fellow Spanish club Villareal, and in Rome, as AS Roma and Fiorentina played to a 1-1 draw last week.
Today's meeting of the Italian clubs will be the fifth of the season, with each having won one match and played to two ties.
Though Roma holds the advantage on away goals, the Giallorossi will need to overcome a run of poor form to make it through to the quarterfinals. Roma has slipped farther from Serie A-leaders Juventus of late, dropping 14 points off the pace after its first home loss in the league in 10 months. The club has won just one of its last 10 matches, drawing eight eight.
Another draw – so long as it isn't scoreless – would only serve to benefit Fiorentina, which enters the day riding a strong run of form after picking up wins against Inter Milan, Juve and AC Milan so far this month.
Everton face the task of traveling to Dynamo Kiev and attempting to hold a thin 2-1 lead. That advantage was grabbed by Romelu Lukaku, who netted an 82nd-minute penalty to put the Toffees in front. But the late winner cannot erase the vital away goal that Dynamo Kiev snagged just 14 minutes in and now carry into the second leg.
Club Brugge faces the same story as it heads to Turkey for its match against Besiktas with a 2-1 edge. VfL Wolfsburg and Napoli each conceded an away goal last week, but have a bit more breathing room entering the second leg as both sides hold a 3-1 advantage.
Zenit St. Petersburg will feel good about its chances against Torino after keeping a clean sheet and pulling off a 2-0 victory against the Italian side in the first leg. Likewise, Dnipro Dnipropetrovsk kept Ajax off the board, but holds just a tepid 1-0 advantage on its trip to Amsterdam.
Here's a look at Thursday's UEFA Europa League Round of 16 slate in its entirety:
1 p.m. ET – Fox Soccer 2Go – Dinamo Moscow vs. Napoli
2 p.m. ET – Fox Sports 1 – Dynamo Kiev vs. Everton
2 p.m. ET  – Fox Sports 2 – Roma vs. Fiorentina
4:05 p.m. ET – Fox Soccer 2Go – Ajax vs. Dnipro Dnipropetrovsk
4:05 p.m. ET – Fox Sports 1 – Inter Milan vs. Wolfsburg
4:05 p.m. ET – Fox Sports 2 – Sevilla vs. Villareal
4:05 p.m. ET – Fox Soccer 2Go – Torino vs. Zenit St. Petersburg
_____
Which teams do you see moving onto the quarterfinals? How do you see the Roma-Fiorentina match playing out? Can Everton keep its European run alive?
Share your thoughts below.