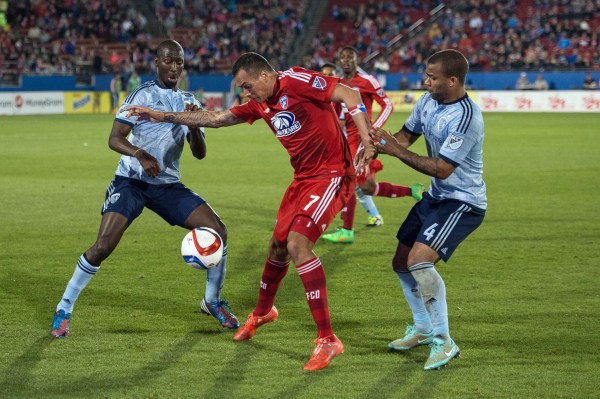 photo by Jerome Miron/USA Today Sports
By FRANCO PANIZO
FC Dallas had one of the best home records in all of MLS in 2014, and the club is already looking like a good bet to accomplish that again this year.
FC Dallas improved to 2-0 by winning at home again on Saturday night, with Blas Perez providing a brace to help defeat Western Conference foe Sporting Kansas City, 3-1, at Toyota Stadium. The match was not without a bit of controversy, however, as Perez's second-half winner came while he was in an uncalled offside position.
A wide open Perez struck for the second time when he latched onto a Michel free kick in the 52nd minute, controlling the ball with his chest before rifling it into the back of the net to break a 1-1 deadlock. Replays showed that Perez was ahead of the defenders when the set piece was taken, but referee Jair Marrufo allowed the goal to stand.
Dallas tacked on a insurance goal 21 minutes later through Fabian Castillo, but Sporting KC had a chance to make a game of it afterwards. Sporting KC midfielder Bernardo Anor was deemed to have been brought down by Matt Hedges in the 18-yard box in the 78th minute, but Dom Dwyer saw his ensuing penalty kick saved by Chris Seitz.
As frustrating as the second half was for Sporting KC, the visitors also did not get off to the best of starts in the match. Perez found the opener 17 minutes when Castillo fed Tesho Akindele, who turned and set up the open Panamanian striker.
Playing without suspended captain Matt Besler, Sporting KC struggled to contain Dallas' dynamic attack. Still, Sporting KC pulled level before halftime when midfielder Roger Espinoza took advantage of the space in front of him and fired a shot past Seitz. The 44th-minute goal was the Honduran's first for Sporting KC since August 3, 2011.
The Hoops, who went 12-4-1 at home in 2014, made sure that was as close as Sporting KC would get to grabbing a result on their turf. Perez netted his league-leading third of the season seven minutes after halftime, and Castillo put the match out of reach by receiving a pass from substitute Ryan Hollingshead and rounding Sporting KC goalkeeper Luis Marin in the 73rd minute.
Dwyer had an opportunity to make things interesting and open his season scoring account, but his saved penalty kick attempt summed up a disappointing night for a Sporting KC side that is winless through two matches at 0-1-1.
Sporting KC returns to action on March 21 at home against the Portland Timbers, while FC Dallas gets back to the field a day earlier with its first road game of the year against the Philadelphia Union.
Here are the match highlights:
What do you think of FC Dallas' 3-1 win over Sporting KC? Still wondering how Marrufo and his crew of officials blew that offside call?
Share your thoughts below.