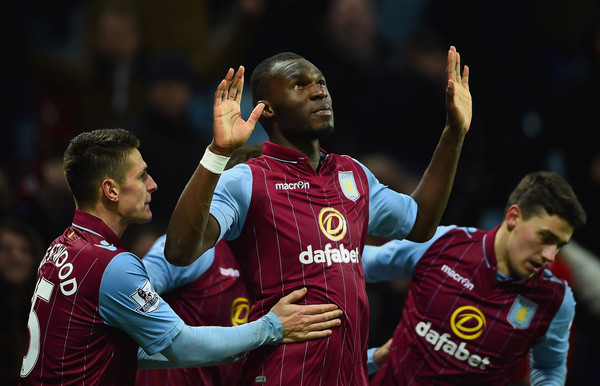 By AARON CRANFORD
The end of the English Premier League season is fast approaching, and Aston Villa took a huge step forward to avoid relegation after Christian Benteke netted an injury-time penalty to give them the 2-1 win over West Bromwich Albion.
Villa manager Tim Sherwood claimed his first win in charge of the home side while they stopped their two-game losing streak in the process.
Gabriel Agbonlahor gave Villa the lead in the 23rd minute with a header, but West Brom midfielder Saido Berahino scored a header of his own, his 12th goal of the year, in the 66th minute to deflate the jovial mood in Villa Park. However, in extra time, Ben Foster took down Matthew Lowton in the penalty area to set up Benteke's game-winning penalty.
These two will meet again this Saturday.
Check out more of Tuesday's action and news below:
MEXICO, HONDURAS TO MEET IN HOUSTON FOR JULY FRIENDLY
Soccer United Marketing announced Mexico and Honduras would meet July 1 for a friendly in Houston, Texas, per Goal.com.
This match will be Miguel Herrera's last chance to tweak his squad for this summer's Gold Cup, which is set to begin later that month. Mexico will also take part in Copa America in June.
The Catrachos have a home-and-away playoff against French Guiana on March 25 and March 29 before they qualify for this year's Gold Cup, but they will also be treating the friendly as a tournament tune-up if they advance.
DORTMUND ADVANCE TO GERMAN CUP QUARTERFINALS, REUS LIMPS OFF
Forward Ciro Immobile netted a brace to give Borussia Dortmund the 2-0 win Tuesday afternoon.
The Dortmund forward helped advance his side to the quarterfinals of the DFB Pokal. The third-division Dynamo Dresden had no answers, and a costly pass gave Immobile the opening and game-winning goal in the 50th minute. Immobile would get his second in the 90th.
Things were not all that great for Dortmund, however, as Marco Reus limped off of the field with an apparent injury to his left knee. The 25-year-old just signed an extension, but injuries have plagued the midfielder in the last year.
He was forced to sit out of Germany's 2014 World Cup run after injuring his left ankle. The Dortmund side will hope Reus can help the team finish the year off strong with Borussia winning their last four Bundesliga matches and fighting to claim a UEFA Champions League spot.
TUESDAY'S RESULTS
England
Southampton 1, Crystal Palace 0.
Sunderland 1, Hull City 1.
Germany (DFB Pokal)
Bayer Leverkusen 2, Kaiserslautern 0.
SC Freiburg 2, FC Cologne 1.
VfR Aalen 0, TSG Hoffenheim 2.
FRANCE (COUPE DE FRANCE)
Boulogne 1, St Etienne 1. (St Etienne won, 4-3, in PKs)
___
Will Aston Villa avoid relegation this EPL campaign? What do you think of the Mexico, Honduras friendly? Think Reus will be back on the field sooner rather than later?
Share your thoughts below.