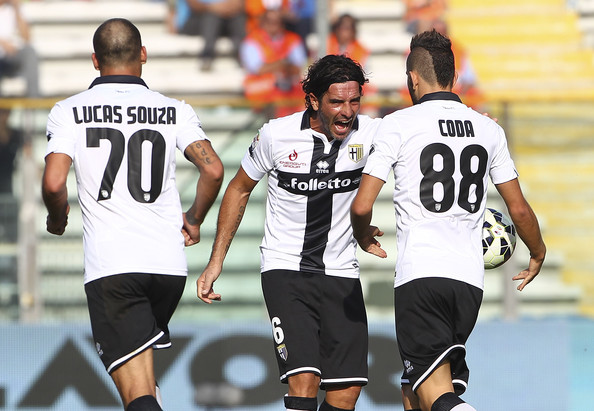 By ADAM TROXTELL
With financial troubles continuing to haunt Italian club Parma, an American source of relief is reportedly on the horizon.
Various reports in Italy suggest that a United States-based consortium is interested in taking control of Parma, where money problems have prevented players from getting paid this season.
Carlo Tavecchio, president of Italy's soccer governing body, confirmed interest from an American consortium this week.
There will be a bankruptcy hearing on March 19, during which current president Giampietro Manenti is expected to lose control of Parma. The club would then enter an administration period in which new owners will be sought.
Financial problems have already led to two of Parma's Serie A matches being postponed this season. An aid package of about $5.2 million has been provided by other clubs to ensure Parma can at least finish out this season.
LEVERKUSEN'S CALHANOGLU NOT INTERESTED IN BARCA
Bayern Leverkusen midfielder Hakan Calhanoglu will not come if one of Europe's big clubs comes calling.
That's what his agent, Bektas Demirtas, told German newspaper Express when asked about reported interest from Barcelona. Demirtas said that even with the door open for Calhanoglu to join a bigger club, his client is happy in Leverkusen.
"I don't want this to sound arrogant, but Hakan isn't bothered by the interest in him from Barcelona," Demirtas said. "Hakan has everything he needs at Leverkusen. He's in the Champions League, is vying for the German Cup, and things are going well in the Bundesliga."
There is also reported interest in Calhanoglu, who just joined Leverkusen last year from Hamburg, from the likes of Real Madrid, Liverpool and Manchester United. Even so, Demirtas said he will not be talking to anyone about a transfer for the 21-year-old Calhanoglu.
KOMPANY-FERNANDINHO REPORTEDLY INVOLVED IN DRESSING ROOM ARGUMENT
Frustration might be boiling over in the Manchester City locker room.
Reports in England claim that captain Vincent Kompany and Brazilian midfielder Fernandinho were involved in an argument that almost came to blows following Man City's 2-1 loss to Liverpool.
In the alleged disagreement, which was sparked when Fernandinho questioned Kompany's recent form, manager Manuel Pellegrini had to step in to calm things down. Both players were left out of action for Man City's following game against Leicester City, with Kompany serving as an unused substitute.
A spokesperson for the club told British media that claims the two were left out of the playing squad because of the argument were "not true."