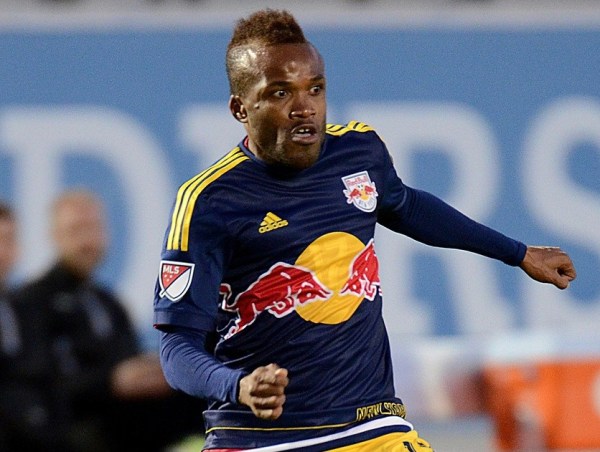 Photo by Jonathan Dyer/USA Today Sports
By RYAN TOLMICH
After nearly three years away, Dane Richards finally put on the uniform of the team that helped him start his professional soccer odyssey.
Richards took the field in the 75th minute of the New York Red Bulls' 2-0 win against D.C. United on Sunday, signaling the return of a club fan favorite. Upon his entry, there were cheers, there were chants, but most of all, there were smiles from ear to ear.
"It was unbelievable, you know," Richards told SBI in the locker room following the victory. "This is like a home away from home. I was really happy. I just wanted to go onto the field. I know (that field), I've been on that field, so I just want to go forward from here."
Born in Montego Bay, Jamaica, the 31-year-old speedster made his name in Harrison, New Jersey, racking up 21 goals in 147 appearances for the club between 2007-12. What followed were stops in Vancouver, England and, most recently, Norway, but a return to Red Bull Arena has brought a bit of familiarity into Richards' life.
That familiarity can only help so much, though, in a locker room so full of turnover. Since Richard's departure, the Red Bulls have changed coaches and sporting directors twice each. Excluding Richards, just three players remain from the Red Bull roster that existed as the Jamaican left it in July 2012, ensuring a bit of a transition for the 31-year-old.
"That's what I've been trying to do these last few weeks," Richards said of the adjustments. "Just trying to get used to my new teammates because everyone is different. It's just Dax (McCarty) and Roy (Miller) and those guys that I used to play with, but there are a lot of changes, so I've just got to get used to the players."
That transition led to Richards turning down an international call-up from Jamaica in order to better familiarize himself with his new teammates, mainly reigning golden boot winner Bradley-Wright Phillips and tricky winger Lloyd Sam, who joined the Red Bulls one month after Richard's departure.
That trio worked wonders Sunday night, with Richards' pace, Wright-Phillips' hold-up play and Sam's creativity on the ball providing quite a headache to the D.C. United backline.
For Wright-Phillips, Richards' is another welcome addition to a puzzle being formed by a new-look Red Bulls side. In the wake of Thierry Henry's departure, the Red Bulls are looking a bit more direct with their new personnel and Richards fits right in with the style and methodology of the ever-evolving attacking unit.
"I think we've got that," Wright-Phillips said of the unit's dynamic speed and creativity on the ball. "Mike Grella, he was injured. We've got Sal Zizzo, very direct. Lloyd Sam, tricky and quick. It's always going to be a handful, no matter who plays. It's going to be difficult, on our day, to deal with the kind of players we all are. I'm not saying we're great, but we're very direct. We try to create chances and get goals."
Those goals will come, Richards says, as the team continued to familiarize. For now, Richards is focused on his fitness, making the most of his opportunities on the field and continuing on his re-education as a Red Bull.
"Each day, I'm learning more about Lloyd and Bradley," Richards said. "I know Bradley just needs a sniff of the goal, and he'll find the net. It's just getting on each other's runs and all of that. A few games and we'll have it unlocked."