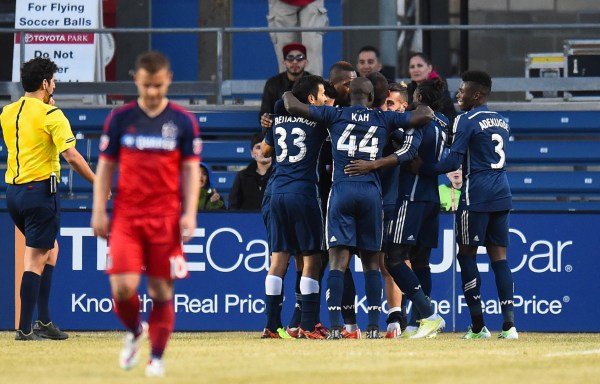 photo by Mike DiNovo/USA TODAY Sports
By RYAN TOLMICH
It took 85 minutes, but the Vancouver Whitecaps finally got the breakthrough they needed through their highly-touted striker.
Octavio Rivero found the back of the net for a second straight week, scoring the game-winning goal as the Whitecaps topped the Chicago Fire, 1-0, on Saturday at Toyota Park.
Rivero's finish came after 85 minutes of wasted chances from both sides, but the Whitecaps forward made the most of his late-game opportunity. Following a poor Lovel Palmer headed clearance, the ball fell to Steve Beitashour, who calmly slid the ball across the box to Rivero. The Uruguayan calmly tapped the ball past the previously-impenetrable Jon Busch, sealing the Whitecaps first victory of the season.
Due to the play of Busch and his goalkeeping counterpart, David Ousted, the game looked destined for a deadlock. Both veterans repeatedly stepped up to keep there sides from falling behind, but were aided by wasteful finishing throughout the evening, with the Whitecaps in particular blowing a slew of breakaway chances from Pedro Morales and Rivero.
The Fire came out of the gates much more aggressive than in their previous contest, with Harry Shipp and Quincy Amarikwa leading the charge. The duo combined for a number of close calls throughout the opening half, the best of which came in the 38th minute when Shipp's close-range, first-timed shot was parried away by Ousted.
Despite the Fire's pressure, the best opportunity of the first half came in the dying moments. Morales beat the Fire backline to get in all alone on Busch, but scuffed his shot wide to ensure the game would go scoreless into halftime.
The hosts were not innocent of wasted chances either, with the Fire's best opportunity coming in the 69th minute when Michael Stephens lifted a Shipp pass over the crossbar.
With the loss, the Fire have dropped their second game of the season, while the Whitecaps bounce back from last week's defeat to Toronto FC.
The Whitecaps hit the road again next week with a trip to the Citrus Bowl to take on Orlando City on March 21, while the Fire visit the San Jose Earthquakes on March 22.
Here are the match highlights: