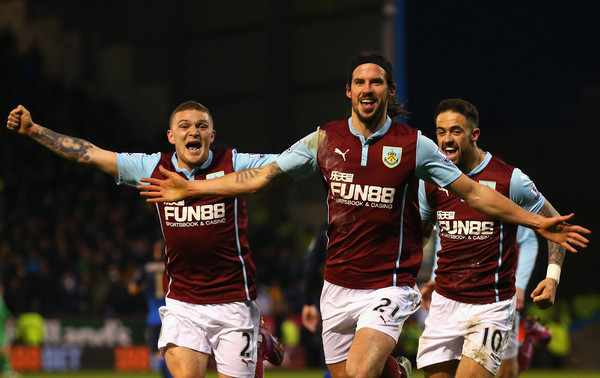 By RYAN TOLMICH
On paper, Burnley wouldn't appear to provide much of a challenge to title contender Manchester City, but a second-half goal from George Boyd proved too much for the reigning champions to handle.
Burnley topped Manchester City, 1-0, Saturday, putting a severe dent in City's increasingly fading chances of competing for the Premier League title.
Barcelona remained atop the La Liga table, as Lionel Messi provided a brace to lead the Catalans to a 2-0 victory over Eibar.
Elsewhere, Bayern Munich stormed past Werder Bremen, Juventus topped Palermo and Arsenal knocked off West Ham.
Here are some more recaps from the action across Europe's top leagues on Saturday:
ENGLAND
Manchester City is in need of every point it can get from here on out, especially after snatching zero from Saturday's matchup with Burnley.
Burnley upset the reigning champions, 1-0, Saturday at Turf Moor via a second-half finish from midfielder George Boyd. Boyd's finish came via a set piece, as Man City defender Vincent Kompany headed a clearance into the path of the Burnley midfielder, who fired a shot from outside the box and into the bottom corner.
With the loss, Man City remains five points behind Chelsea, which now has two games in hand.
At the Emirates, fellow Champions League hopeful Arsenal swarmed West Ham to send the Hammers' winless streak to seven. Arsenal was led by goals from Olivier Giroud, Aaron Ramsey and Mathieu Flamini, the latter two scoring in the game's final 10 minutes.
In other Premier League action, Aston Villa put four past Sunderland, West Brom edged Stoke City and Crystal Palace stormed by London rivals QPR.
Here is a closer look at all of Sunday's Premier League scores:
Burnley 1 – 0 Manchester City
Arsenal 3 – 0 West Ham
Sunderland 0 -4 Aston Villa
West Brom 1 -0 Stoke City
Crystal Palace 3 -1 QPR
Leicester City 0 – 0 Hull City
SPAIN
Needing a victory to ensure the club's place atop the table, Barcelona took care of business Saturday on the back of Lionel Messi.
The Argentine bagged a brace Saturday to lead Barca to a 2-0 victory at Eibar, with the first finish coming from the penalty spot just after the half-hour mark. Messi added a header in the second half, give Barca a five-point advantage over league rivals Real Madrid.
Fellow contenders Atletico Madrid were not as successful in their endeavors Saturday, as the reigning champions settled for a 0-0 draw with Espanyol. As a result, Atletico Madrid sits fourth in La Liga behind Valencia, which was victorious Friday over Deportivo.
Here is a closer look at La Liga's results:
Espanyol 0 – 0 Atletico Madrid
Eibar 0 – 2 Barcelona
Rayo Vallecano 2 – 1 Granada
GERMANY
Bayern Munich's rampage continued into Bundesliga play on Saturday.
After picking up a 7-0 victory in Champions League play earlier this week, Bayern put four past Werder Bremen while putting forth a shutout victory. Forward Robert Lewandowski led the way for Bayern with a pair of goals, while Thomas Muller and David Alaba also contributed finishes of their own.
Elsewhere in Germany, Borussia Dortmund settled for a scoreless draw with Cologne, Schalke and Hertha Berlin played to a 2-2 draw and Hamburg were defeated 3-0 by Hoffenheim.
Here's a closer look at Saturday's Bundesliga results:
Eintracht Frankfurt 4 – 0 Paderborn
Augsburg 0 – 2 Mainz
Hertha Berlin 2 – 2 Schalke
Hoffenheim 3 – 0 Hamburg
Werdern Bremen 0 – 4 Bayern Munich
Borussia Dortmund 0 – 0 Cologne
ITALY
With a Champions League visit to Borussia Dortmund on the horizon, Serie A leaders Juventus wasted no goals in Saturday's victory over Palermo.
Juve topped Palermo, 1-0, behind an Alvaro Morata finish in the 70th minute. The Spaniard, who entered the game as a substitute just 10 minutes prior to scoring, provided the lone goal with a shot to the far post to lift Juve's lead atop Serie A to 14.
FRANCE
Saint-Etienne continued their push up the table, but just barely.
Led by goals from Max Gradel, Mevlut Erding and Yohan Mollo, Saint-Etienne topped Metz, 3-2, Saturday. The win, the club's third straight in all competitions, lifts Saint-Etienne to within a point of fourth-place Monaco.
In other Ligue 1 action, Lens topped Toulouse, 1-0, Nantes surged past Evian and Montpellier defeated Stade de Reims.
Here is a closer look at all of Saturday's Ligue 1 results:
Metz 2 – 3 Saint-Etienne
Lens 1 – 0 Toulouse
Lorient 2 – 1 Caen
Montpellier 3 -1 Stade de Reims
Nantes 2 – 1 Evian