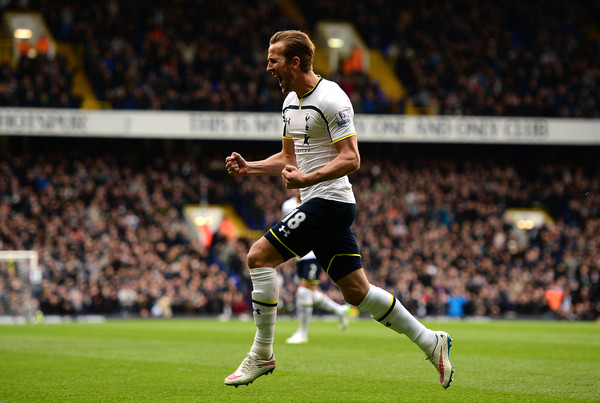 By RYAN TOLMICH
Harry Kane just can't stop scoring.
The Tottenham forward scored a hat-trick Saturday, taking his league goal tally to 19 while leading Tottenham to a 4-3 victory over Leicester City. Elsewhere in the Premier League, fellow contenders Arsenal and Manchester City picked up victories over Newcastle and West Brom, respectively.
In Spain, Atletico Madrid built on the team's midweek Champions League triumph with a victory over Getafe, while Germany's Borussia Dortmund rebounded from the club's Champions League demise to top Hannover.
In addition, Lyon slumped to second place in Ligue 1 with a loss to Nice and Southampton picked up a 2-0 victory over Burnley.
Here's a closer look at Saturday's results from across Europe:ENGLAND
Once again, it was Harry Kane who played hero in a Tottenham victory.
In pursuit of a Champions League position, Kane's hat-trick paired with a Leicester own goal as Tottenham picked up a 4-3 victory over Leicester City. Kane provided a pair of finishes within the first 13 minutes before adding a 64th minute penalty kick to secure his side the three points.
Tottenham's London rivals Arsenal also managed to snag a victory, as the Gunners held on to top Newcastle by a 2-1 scoreline. A brace from forward Olivier Giroud was enough to lead Arsenal, who was forced to to protect a one-goal lead following a 48th minute finish from Moussa Sissokho.
Saturday's proceedings proved much more straightforward for Manchester City, as goals from Wilfried Bony, Fernando and David Silva ensured a relatively easy victory over 10-man West Brom.
Here's a closer look at all of Saturday's results in England:
Manchester City 3 – 0 West Brom
Aston Villa 0 – 1 Swansea City
Newcastle United 1 – 2 Arsenal
Southampton 2 – 0 Burnley
Stoke City 1 – 2 Crystal Palace
Tottenham 4 – 3 Leicester City
West Ham 1 – 0 Sunderland
SPAIN
Atletico Madrid learned Friday that it was set to take on Real Madrid in the Champions League quarterfinals, but first the reigning La Liga champions had to take care of business against another Madrid rival.
Fernando Torres and Tiago led the way with goals, as Atletico Madrid topped Getafe, 2-0, Saturday to move into fourth place in La Liga. With the victory, the reigning champions sit just one point behind third place Valencia, who picked up a 4-0 victory over Elche Friday afternoon.
Here's a closer look at Saturday's La Liga action:
Atletico Madrid 2 – 0 Getafe
Rayo Vallecano 1 – 0 Malaga
Levante 0 – 1 Celta Vigo
Athletic Bilbao 2 – 1 Almeria
Granada 0 – 0 Eibar
GERMANY
Borussia Dortmund was eliminated from the Champions League on Wednesday, but Pierre-Emerick Aubamayeng was not going to let that slump continue into Saturday's Bundesliga action.
The Gabon international provided a pair of finishes, as BVB topped Hannover, 3-2. Aubamayeng was joined on the scoresheet by Shinji Kagawa, and, with the victory, BVB now sit 10th in the Bundesliga.
Fellow Champions League departees Schalke and Bayer Leverkusen also collided Saturday, but it was the latter that emerged victorious with a 1-0 victory behind a Karim Bellarabi finish.
Augsburg wasn't so fortunate due to a 2-0 loss to 15th place Freiburg. With the loss, Augsburg remain in sixth place in the Bundesliga.
Here's a closer look at Saturday's Bundesliga action:
Cologne 1 – 1 Werder Bremen
Hannover 2 – 3 Borussia Dortmund
Freiburg 2 – 0 Augsburg
Paderborn 0 – 0 Hoffenheim
Stuttgart 3 – 1 Frankfurt
Schalke 0 –  1 Leverkusen
FRANCE
Lyon are no longer atop the Ligue 1 table.
Following Friday's victory by Paris Saint-Germain, Lyon dropped a 2-1 decision to 12th placed Nice, sending Lyon to second place in Ligue 1. With the loss, Lyon now sit one point behind Paris-Saint Germain with eight games remaining in the Ligue 1 season.
Here is a closer look at Saturday's Ligue 1 action:
Lyon 1 – 2 Nice
Bastia 0 – 0 Guingamp
Caen 0 – 0 Metz
Evian 1 – 0 Montpellier
Stade Rennes 0 – 0 Nantes
Toulouse 2 – 1 Bordeaux
ITALY
AC Milan's fans boycotted Saturday's match by refusing to show up to the San Siro, but had they been in attendance, they would have seen an impressive performance from Jeremy Menez.
The French forward scored a brace as AC Milan topped Cagliari, 3-1, on Saturday. Joining Menez on the scoresheet was defender Phillipe Mexes, whose finish in the 49th minute restored the Milan advantage after Cagliari's Diego Farias equalized early in the second half.
Here's a closer look at Saturday's Serie A action:
Chievo Veronia 1 – 0 Palermo
AC Milan 3 – 1 Cagliari