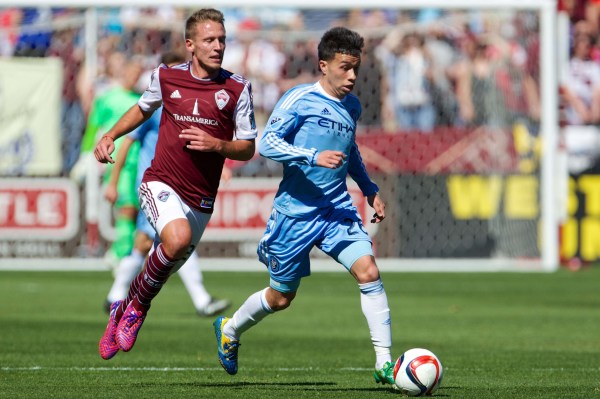 Photo by Isaiah J. Downing/USA TODAY Sports
By RYAN TOLMICH
Lacking an offensive spark and down a man late in the game, New York City FC were lucky to emerge from Dick's Sporting Goods Park with a point in hand.
The expansion side were far from the aggressors in a scoreless draw with the Colorado Rapids on Saturday, as goalkeeper Josh Saunders proved to be NYCFC's most important player on the day, time and time again.
In the midst of an improved second half, NYCFC made things even more difficult in the 83rd minute, as defender Shay Facey was sent off following a tackle that was deemed to be just outside of the box.
Both preceding and in the aftermath of Facey's sending off, it was Saunders who kept NYCFC's hopes alive, as the goalkeeper made eight saves on the afternoon, the best of which came in the 63rd minute.
Rapids forward Gabriel Torres led the way on the effort, besting the NYCFC defense to earn a chance to get in all alone on the goalkeeper. Torres' effort was smacked above Saunders' head, but the NYCFC keeper pushed the ball up and over the bar to preserve the scoreline.
Just 10 minutes prior to Torres' effort, Saunders was called into action on a Rapids' free kick, as the goalkeeper was forced to parry away a Mark Burch laser from long-distance.
Shortly after Saunders' save, his counterpart, Clint Irwin, proved his worth with a save on David Villa. On the counter, the Spaniard worked his way into space on the left from a pass by Adam Nemec, but Irwin dove to his left to push away a Villa shot on NYCFC's best chance of the night.
Torres and midfielder Dillon Powers proved to be a handful for the NYCFC defense throughout the afternoon, as the duo combined for nine of the Rapids' 21 combined shots.
NYCFC return to the friendly confines of Yankee Stadium to take on Sporting KC next Saturday, while the Colorado Rapids travel to Houston to take on the Dynamo that same day.