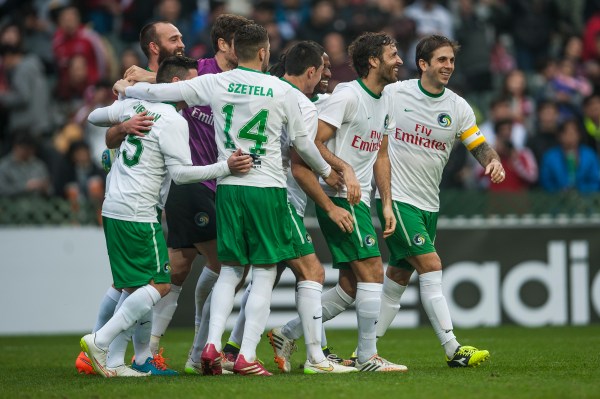 Photo by Xaume OIleros/Power Sport Images
By RYAN TOLMICH
Governmental relations between the USA and Cuba have long since hampered sport between the two countries, but following recent agreements between the two nations, it appears that the New York Cosmos are ready to play on Cuban soil.
Reports have recently surfaced linking the Cosmos to a June appearance against the Cuban national team, with a Cuban executive calling the deal "almost certain", according to Reuters. Cosmos head coach Giovanni Savarese didn't quite go that far on Wednesday, but he did admit that there has been discussions between the two parties.
"What I can tell you right now is that we have had dialogue with the Cuban federation, some very positive conversations," Savarese said on a conference call. "There will be more information coming soon, about what it is all about. There will be more information in the next few days.
"At the moment, the most important thing is that we've had very good conversations with the Cuban federation. We've been talking to them for a few weeks and more information will be coming in the next few days."
Here are some more of Wednesday's NASL news and notes:
NASL LOOKING INTO FANTASY SOCCER
Fantasy sports have become a major marketing tool for league's around the world, and one fans tweet may have gotten the NASL into the fray.
Commissioner Bill Peterson says that the league is pursuing the addition of an NASL fantasy option with Yahoo after the site responded to a fans tweet gauging interest in the league. Following Yahoo's admission of interest, Peterson says that the league is set to explore the inception of an NASL fantasy league.
"I've been telling people to retweet that thing like crazy," Peterson told SBI. "I thought that was a great response from them. I don't know if I would have expected it. It's not something that we've been too focused on, but we're going to explore it with these people because it would be a lot of fun for our fans and to expose NASL to a lot of other fans. I'm all for it and we're going to see if we can get our fans to write in or retweet Yahoo and see if we can get a conversation to get these things going.
In addition, the league remains in pursuit of inclusion in EA Sports' popular FIFA video game series, which is something Peterson believes is possible in the next year or two.
"I've had conversations with them in the past," Peterson said, "and, as expected having not been in this business a long time, the response was that we needed to get a little bit further down the road and have a little bit more attention on the league and also have more teams. I'm guessing maybe next year this time, or maybe later this year, we'll be having those conversations as we look at 2016 and 2017.
"If we keep doing what we're doing and keep growing, we're going to have that. It costs a lot of money to set that up as well and as soon as they feel that they can get the return on it, they're going to come and do it. That's for sure."
MINNESOTA UNITED LOOKING TO BUILD BRAND, UNITY IN BRAZIL
After all of the success that was kickstarted by last season's trip to England, Minnesota United are taking the opportunity to spend part of the preseason in one of the world's top soccer countries.
Minnesota United are set to depart for Brazil on Wednesday for a 12 day stay. Head coach Manny Lagos says that trips like these are an essential part of both growing his team, both on the field and off it.
"I think we found, both from a sporting side and a branding side, that the networking and just trying to build relationships globally brings a lot of value," Lagos said. "We're looking to do the same thing with this trip. From a sporting side, we're looking to have a preseason that challenges us on the field in terms of competition, but also we found a lot of unity in terms of the trip last year. We're looking forward to a key part of our preseason and having that same type of environment"
The trip also gives Minnesota United a chance to integrate some of the team's new faces. Following a busy offseason that saw the signings of MLS veterans Kalif Alhassan and Johnny Steele, Champions League veteran Ibson and Cameroonian international Sammy N'Djock, Lagos is looking forward to getting some of the new guys up to speed with the team's returning players.
"That's why this preseason trip is important," Lagos said. "We have to kind of get, hopefully, those guys to push our level and become better. Also, they now have the challenge of coming into a group that has high expectations that are important for the club."
COSMOS IN PURSUIT OF LOAN FOR STRIKER
The New York Cosmos' offseason has been highlighted by the introduction of Spanish legend Raul, but it appears that the club is in pursuit of another goalscorer from the very same country.
Head coach Giovanni Savarese revealed Tuesday that the club is currently talking to an unnamed forward that is currently plying his trade in Spain.
"The one that we're currently talking to will be a loan," Savarese said via conference call. "The player that we're talking to is currently under contract in Spain. At the moment, we're looking to bring in a player on-loan at the moment."
If acquired, the forward would join an attacking unit that currently features Raul, Mads Stokellien, David Diosa and Lucky Mkosana.
————–
What do you think of these notes? Excited to see the Cosmos play in Cuba? Would you be interested in playing NASL fantasy soccer?
Share your thoughts below.