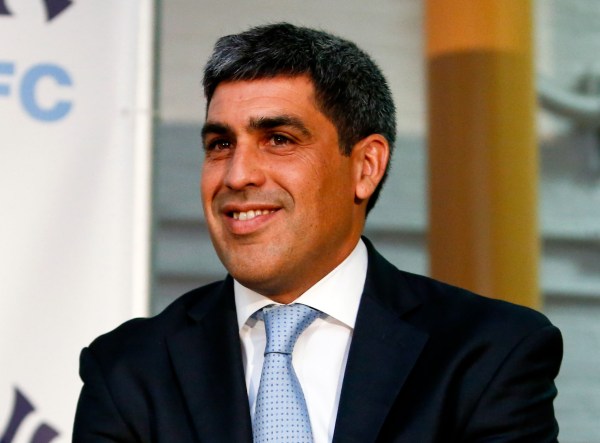 photo by Debby Wong/USA Today Sports
By FRANCO PANIZO
NEW YORK — The plans for the season still include signing a third Designated Player, but New York City FC's search for that player has been put on the back burner for now.
NYCFC has said since last year that it intends to fill all three of its DP roster spots during its inaugural MLS season, but has only signed David Villa and Frank Lampard to deals thus far. Sporting director Claudio Reyna said back in November that the club was confident it would have its third DP by the first game of the 2015 campaign, but that deadline has already passed and NYCFC is now setting its sights on a summer acquisition.
While legendary Spanish midfielder Xavi continues to be linked with New York City, the club is still in the process of determining who to sign and what position to address with its final DP spot.
"I think right now it's probably taking broader strokes at it than any defined sort of few players that we've targeted," said sporting director Claudio Reyna. "Really, it's mostly where we feel it'll help the team. We're learning about the team every day. Every game we'll learn more where we need to strengthen and that'll evolve probably in the next couple of months.
"It's ongoing, it kind of runs parallel, but at the moment there's a lot more focus in our team right now and we've kind of put the scouting, part of it, for once, on hold for a little bit. It'll pick up again the first couple of games in. We're always scouting and getting players recommended to us, but we want to drive it in terms of where it'll fit our team and make us stronger."
Reyna's current stance is different from the one he had in November, when he said NYCFC was focusing on signing an attacking player with its third DP spot. The defense could now be where the club looks to bolster its options this summer, but it will all depend on how NYCFC performs in the coming weeks and months.
"It could be anywhere within the team, absolutely," said Reyna. "We'd be open to getting the right central defender, the right specific midfielder that could bring something we don't have, or another forward as well that brings something different to the team.
"We want to have different variations. We have different qualities and strengths in different players, so that's something we'll see when we start playing."
Here are more NYCFC notes:
JOHN STILL RECOVERING, MEARA BACK IN FULL TRAINING
Of New York City FC's walking wounded, one player is back on the field. The other has a ways to go.
NYCFC remained relatively healthy throughout its preseason, but one of the players who was did not partake in any part of the preparations was George John. Selected in the MLS Expansion Draft in December, John is still not completely healthy after missing FC Dallas' entire 2014 season with a troublesome right knee injury.
He remained in New York throughout the preseason to work on individual strength training while the team bounced around the globe. Still, there is no timetable for his recovery. Only hope from NYCFC's end that he could contribute at some point this year.
"He looked good, a big smile on his face," said head coach Jason Kreis, who met with John for the first time on Wednesday. "He said he feels like he's already in a much more positive place than he was six or eight months ago, so I think he feels pretty confident about it and I know that our medical staff feels very confident about it.
"This could be a major addition for us, which really isn't gaining any attention by anybody, which that's fantastic by me. If George John were to come healthy at the end of the season, that would be fantastic for this club."
John, 27, has had a history of knee problems in his career. When healthy, however, the central defender has shown well. He even drew the attention of West Ham United and joined the English club via a brief loan in 2012, and also previously earned call-ups from both the U.S. Men's National Team and Greece.
"A George John that's healthy and that's playing to his capabilities is one of the best defenders in our league," said Kreis. "He had a lot of talk around him, and I think justifiably so, about being a national team prospect. I know that he was getting some opportunities with Greece, so this is a high-level defender, and I'm just extremely hopeful that we can get him back to being himself."
Things sound more promising for NYCFC's other recovering player. Goalkeeper Ryan Meara, 24, suffered a torn meniscus in preseason, but has returned to practice and is expected to be available for selection in the coming weeks.
"Ryan's looking good," said Kreis. "He trained fully and has been training fully for the last week or so. I would be surprised if he's not in consideration in the next, let's call it two weeks."
NYCFC UNLIKELY TO ACQUIRE FOUR MAN CITY LOANEES THIS SEASON
New York City FC may be able to bring four players over on loan from parent club Manchester City, but do not expect that to happen this season.
NYCFC recently added its first Manchester City player by signing defender Shay Facey on a loan deal that runs through June 30. Facey, 21, is the first player to move from the Premiership outfit to the MLS expansion side via the loan mechanism that the two clubs have, but he might be the only one to do so in 2015 given that NYCFC has filled all of its 30 roster spots.
"It very likely won't be four this season," said Reyna. "We have one, and I think it just needs to work for all the right reasons. There's a lot of talent there, and we think it's for us a tool that will help our team here in New York. We're going to make sure we use it wisely, but to say we use all four will be really difficult right now.
"This is something new that both clubs are working together to make sure it's a win-win, but right now our squad is filled out. As a bench, we have a bit of flexibility, but we're probably going to move into the season with Shay being our one Manchester City player."
KREIS PREACHES PATIENCE WITH MENDOZA
When NYCFC's initial 18-man roster was unveiled this past weekend, one notable omission was Andres Mendoza. The Ecuadorian centerback had been projected by many to be a starter against Orlando City, but his absence on Sunday raised questions about his health.
As it turns out, Mendoza is injury-free. He's just not yet ready to contribute to NYCFC.
"He like a lot of players that come here from South America and from relatively obscure places needs time to adjust," said Kreis. "He's showing that he really needs some time to adjust. It'd be way too early to be throwing him into the fire of 62,000 fans in Orlando, or in some of these really high emotion games. He needs some time and he needs some patience and he needs some development, and I think that he will come around.
"We believe very strongly in him, but it's not going to happen overnight."
—–
What position should NYCFC use their third DP spot on? Do you see John contributing to the club's cause this year? Should NYCFC bring over more players for Manchester City?
Share your thoughts below.