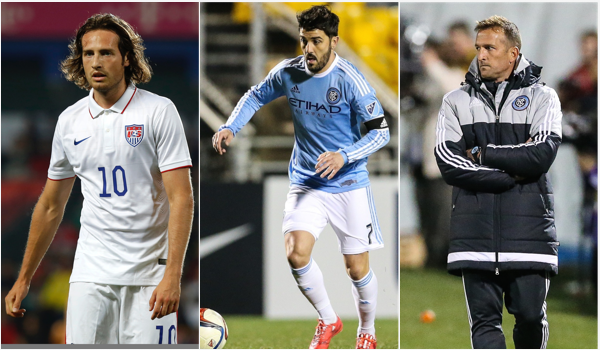 By FRANCO PANIZO
While the New York Red Bulls/MetroStars have been in MLS since its inception, there has always been a healthy number of soccer fans from New York's five boroughs who have clamored for an MLS team to call their own. One that plays within the city's limits, and not next door in New Jersey.
Well, the time for that has finally come.
After nearly two years of preparation and several more of anticipation, a second New York team is taking to the MLS field in 2015. New York City FC is ready to introduce itself to the rest of the league and soccer world, and hoping to do so with a successful season that meets the sizable expectations that some observers and fans have for the expansion club.
Owned by two notorious sports associations in City Football Group and the New York Yankees, NYCFC has already been built into what seems like a competitive team. Former Real Salt Lake manager Jason Kreis is leading the charge, and doing so with talented roster that includes Spanish striker David Villa, U.S. Men's National Team midfielder Mix Diskerud, and a bevy of other seasoned professionals from MLS, Europe and South America.
All that talent is being counted on to help NYCFC enjoy the type of strong first year that could make a serious dent in New York's saturated sports market. It won't be easy, of course. MLS looks as competitive as ever, and there is a history of expansion teams struggling in their first seasons in the league.
New York City FC has the tools to make it all work. The owners have poured some good money into the club, bringing in both players and coaches who have competed and succeeded at high levels. Now, it's all about getting them to jell and perform so as to make a serious impact on New York's changing soccer landscape.
Here is a closer look at New York City FC ahead of the 2015 season:
NEW YORK CITY FC SEASON PREVIEW
KEY ACQUISITIONS: David Villa, Frank Lampard, Mix Diskerud, Andres Mendoza, Ned Grabavoy, Chris Wingert
NEWCOMER TO WATCH: David Villa – If NYCFC's front line is to be as lethal as it can be, its World Cup-winning star will not only need to score goals, but also help create chances for the other forwards on the roster. Villa showed flashes of that in the preseason, as he used his veteran savvy and elite skills to set himself and teammates up for quality opportunities. More of the same type of playmaking will be necessary when the games count for real, especially during the first half of the season that will see New York City be without its other Designated Player.
PRESSURE IS ON: Frank Lampard – Having been involved in a headline-grabbing fiasco this past winter, Lampard is going to need to step in right away and deliver when he joins NYCFC in July. Some fans have soured on Lampard due to his arrival being postponed until midseason, and a slow start to his MLS tenure will do nothing but raise the level of criticism and concern for the soon-to-be 37-year-old midfielder. Getting off on the right foot won't be easy given that he will be assimilating to the style of MLS and life in the United States, but it's what will be necessary in order to erase the offseason debacle and push NYCFC into another level.
OUTLOOK: On paper, this New York City FC side is among the deepest in the league. There is a nice blend of battle-tested veterans, experienced youth and promising prospects, and when you throw in a proven MLS coach in Kreis into the equation, you have the makings of an expansion team that could make some serious noise in Year 1.
The difficulty in all of it is bringing the group together. Kreis has a roster chalk full of players who are still learning one another's tendencies, and it will likely take several more months of games at Yankee Stadium before they all to get on the same page and fully understand their coach's system.
Helping matters are several veterans who are familiar with Kreis' style and tactics, veterans who previously served under him during a successful run at Real Salt Lake that stretched from 2007-2013 before Kreis left to take the NYCFC job. From Ned Grabavoy to Chris Wingert to Josh Saunders, there are a handful of players on the squad who can help carry out Kreis' message on a weekly basis and show their teammates the ropes.
"I think there's no doubt that those guys are important to what we're trying to do here," Kreis told SBI. "It's also important that we have Miles Joseph and C.J. Brown on the staff. We have some other guys on the staff, our trainer and equipment manager are both prior employees with RSL, so really it helps to establish the culture of what we're trying to build here and what I'm like as a person and how I want to lead the group. All of those pieces, players included, are extremely important to that end."
There is no denying that the RSL bunch will have a role to play on and off the field this season, but one player who will be asked to do just as much, if not more, is Villa. The Spanish forward has joined NYCFC after putting together an impressive career in Europe that saw him win multiple titles, and is going to have to nurture the younger crop of forwards on the squad over the course of the year while also spearheading the club's attack.
NYCFC's first signed player, Villa has the combination of skill, smarts and leadership to do both jobs well. But the striker needs to also add a creative element to the attacking game, as finding teammates in good positions will be required to prevent the club from being one-dimensional in the final third. He did a good job of that in preseason games and training, and now just needs to carry that over into the regular season.
The midseason arrival of Lampard should help free up space for Villa, but how the Englishman fits into the makeup of a club that will have played half of the campaign without him remains to be seen. What bodes well for NYCFC is that Lampard is still playing at a very high level with Manchester City right now, so he should arrive in pretty good form when he meets up with the squad in July.
Who fills in for Lampard atop Kreis' notorious midfield diamond for the first four months of the season is a big question right now. Grabavoy is an option as are Mehdi Ballouchy and the technically-gifted Diskerud. None of them will bring exactly the same qualities that Lampard will when he finally makes the move stateside, but Kreis is not short on possibilities and may be able to get by with what he has.
With regards to the back line, there is talent at all four spots. Wingert and Josh Williams seem likely to start on the left and right, respectively, while Jason Hernandez and newcomer Andres Mendoza look like the odds-on favorites to man the middle. Saunders should be behind them all, giving NYCFC a defensive unit that is not short on experience.
Still, it takes time for defenses to really come together and become a unified group. Kreis is happy with some of what he saw during the month of February, but knows there is a lot of room for growth.
"It takes time," Kreis said. "There's no substitute for that. There's just no way that you're going to take your team of 28 new players and gel them into something that's a cohesive and completely fit unit in five weeks of preseason. It's just not going to happen, so we're going to look to have a longer outlook. We're going to start up as well as we can, but we're going to be looking to improve all the time."
These are just some of the challenges Kreis is facing in his first season in charge of this new club. Yes, the pieces are in place, but Kreis needs to rediscover the MLS magic he is known for if the club is to not only grab the New York spotlight, but hold onto it.
PROJECTED STARTING LINEUP