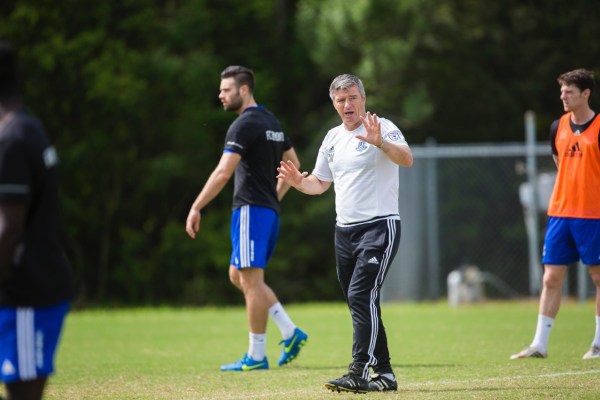 Photo by Logan Bowles/FC Edmonton
By AARON CRANFORD
FC Edmonton had a rough start to the 2014 season, winning only two matches out of nine in the Spring Championship.
But the Eddies exploded onto the scene in the Fall Championship and almost qualified for the 2014 Soccer Bowl with an impressive 3rd place finish in the Fall table, winning eight games and drawing five.
The turnaround has everyone in Edmonton, including head coach Colin Miller, excited to see the momentum carry into 2015. With their first match of the 2015 NASL Spring Championship Saturday against newcomer Jacksonville Armada FC, Miller said he wants to see his side come out of the gates blazing, showing the league that they are ready to be one of the top teams year in, year out.
"I inherited a club, a team that was drastically on the decline," Colin Miller told SBI in a phone interview, "and I think over the last couple of seasons, we've managed to turn that around and change the mindset of the club to the point where we're very, very well-respected within the league.
"That's what I'm looking for. It's to continue to developing into a team that is a genuine contender for championship places."
Here is a closer look at FC Edmonton in 2015:
FC EDMONTON SEASON PREVIEW
2014 FINISH: Overall – 10-7-10, 37 points (6th in Combined Standings); Spring Season – 2-2-5, 8 points (9th in Spring Season); Fall Season – 8-5-5, 29 points (3rd in Fall Season)
HEAD COACH: Colin Miller, third season
KEY RETURNING PLAYERS: M Lance Laing, D Mallan Roberts, D Michael Nonni, D Kareem Moses
KEY ACQUISITIONS: D Johann Smith (signed), M Sainey Nyassi (signed), D Allan Zebie (signed), M Oskar Orn Hauksson (signed), GK Matt Van Oekel (signed)
KEY LOSSES: GK Lance Parker (declined option), M Neil Hlavaty (declined option), M Horace James (declined option), M Mike Banner (declined option), M Massimo Mirabelli (declined option), M Edem Mortotsi (declined option)
NEWCOMER TO WATCH: Sainey Nyassi. The 26-year-old Gambian is known for his speed, which will be important for the Eddies in attack, especially after a year when they could not produce much going forward. The former New England Revolution midfielder could terrorize the league on the counter, and with Nyassi going forward, it affords other creative players, like Lance Laing — who led his team in goals and assists last year — opportunities to find open space to attack and produce.
PRESSURE IS ON: Matt Van Oekel. Miller is giving his newest goalkeeper tons of praise before the year begins, and deservedly so. The 28-year-old has spent the last few years playing for Minnesota United FC, being an integral part of the 2011 Championship season, the runner-up season in 2012 and the 2014 Spring Season Championship. Edmonton will want to see that same success carry over to their side in 2015, and Van Oekel will need to deliver.

OUTLOOK
After retaining most of their squad from the 2014 Fall Championship, FC Edmonton hope to produce similar results in their 2015 campaign.
Miller and the Eddies have added a few important pieces, including midfielder Sainey Nyassi and midfielder Oskar Orn Hauksson, to the puzzle, and Miller wants the big offseason signings to help out an FC Edmonton attack that only produced 34 goals, tied for 8th out of 10 NASL teams in 2014.
"We've made some, we believe to be some significant signings for us that will change the dynamic a little bit of the club," Miller said. "We've been known to be a very well-organized team, very hard to break down, hard to score against. The players that we brought in will be able to add to us from an attacking point of view. We've been not the most renowned attacking force in the league.
"We're hoping that the likes of Sainey Nyassi and Oskar Hauksson will definitely add to our attacking prowess, if you like," he added. "We will always maintain the difficult to break down, difficult to beat. That's part of my mindset as a manager, but I'm very positive about how our young players are developing."
With the additions in attack, Miller said his side has all of the tools to compete for a playoff position. The Eddies were a tough team to breakdown last year, conceding only 29 throughout both seasons in 2014.
"We've got a very good balance on the team, very good experienced players that will complement everything that we're doing, so we're in a good place," he said "We've managed to retain a number of the players that we had from last year, and we've added some experience with Matt VanOekel in goal, who is in my opinion the best goalkeeper in the league. So that, once again, will add to our defensive capabilities.
"And not to put too much pressure on the goalkeeper, but I believe a good goalkeeper can be worth 12 points a season for a club, so I think those points as well as building on the good form that we had in the Fall Season last year, we have to be optimistic about this coming season."
Jamaican midfielder Lance Laing, who was named MVP in 2013 and 2014 by FC Edmonton Supporter Group (ESG), netted seven goals to lead the Eddies last year and also tallied six assists — which again, led the team. The 27-year-old Jamaican international offers dynamism that very few others on the squad could offer in 2014, but with the addition of Iceland international Oskar Hauksson, the two-time ESG MVP may not have to be the sole creator and finisher in 2015.
"(Laing) also is a very creative player for us, delivers an excellent quality of cross, and Frank Jonke also scored a real good for us against Tampa Bay (on March 25)," Miller said. "Tomi Ameobi has also looked good in training. So, these guys have really set the stage to make an impact.
"Of course, back-four wise, young Mallan Roberts has had an excellent preseason. He's a young Canadian, hopefully a Canadian international by the end of this season because that's how much faith I have in the kid."
The midfield may have some new faces, but Miller retained his defensive line, and he said he wants to be known as being a tough team to score against, especially in Clarke Stadium, a place where Miller said no one else in league particularly likes playing. With a strong finish in the Fall season, FC Edmonton is hoping the momentum rolls into the Spring, as Miller says the team's goals are high for 2015.
"The goal, it's to get into the playoffs, for sure," he said. "And to continue to have the brand and the club grow as professionally as we can possibly make it."