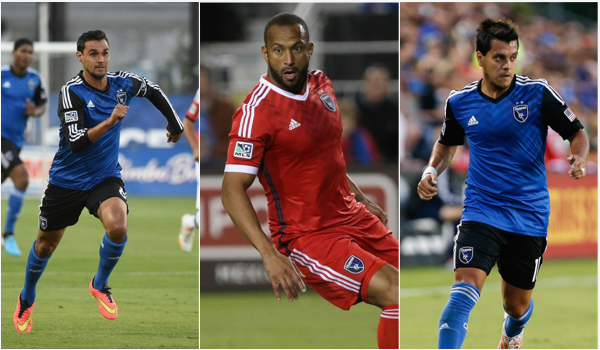 By CAITLIN MURRAY
No team in the west will be more eager to overwrite last season's results than the San Jose Earthquakes.
A dismal record and a dearth of goals last year left the Quakes in need of a major shake-up. With the writing on the wall before the season ended, a familiar face was lined up for the 2015 season: Dominic Kinnear.
Though Kinnear returns to coach the Earthquakes for a second time, the similarities are few. In 2004, he took charge of a team that had just appeared in an MLS Cup. A decade later, he takes over an Earthquakes side that finished last in their conference.
Kinnear will need to get more goals out of the Earthquakes offense to even think about making the playoffs. Although he hasn't made wholesale changes, he will hope the signing of the fourth designated player in club history, a handful of attacking pieces in the midfield, plus the return of marquee striker Chris Wondolowski will yield better results.
The Earthquakes are in a period of transition, but whether the club can field a team worthy of their new eye-popping $100 million home, Avaya Stadium, remains to be seen.
Here is a closer look at the 2015 San Jose Earthquakes:
SAN JOSE EARTHQUAKES SEASON PREVIEW
2014 FINISH: 6-16-12, 30 points (last in the Western Conference)
KEY ACQUISITIONS: Mark Sherrod (12/11/14 – trade from Orlando City); M Sanna Nyassi (12/18/14 – Re-Entry Stage 2 Draft); M Fatai Alashe (1/15/15 – SuperDraft); F Innocent Emeghara (1/31/15 – free); D Paulo Renato (2/26/15 – free)

KEY LOSSES: D Jason Hernandez (12/10/14 – Expansion Draft to NYCFC); GK Jon Busch (12/11/14 – out of contract);D Andreas Gorlitz (12/11/14 – option declined); GK Billy Knutsen (12/11/14 – option declined); D Tommy Muller (12/11/14 – option declined); F Billy Schuler (12/11/14 – option declined); M Atiba Harris (12/18/14 – Re-Entry Stage 2 Draft); M Yannick Djalo (12/31/14 – loan expired); M Sam Cronin (1/19/15 – traded to Colorado)
NEWCOMER TO WATCH: Innocent Emeghara. Only the fourth designated player in the club's history, the Earthquakes will be counting on the Nigerian-born Swiss national to turn around their lack of fortunes in front of net. Emeghara, 25, doesn't have the name recognition of a marquee signing, but the on-the-rise forward is perhaps the biggest international acquisition since 2008 for a smaller club that has tended to look for talent closer to home. The Quakes will be hoping his speed and technical ability can break down defenses.
PRESSURE IS ON: Chris Wondolowski. The squad captain and a veteran of the Earthquakes for seven seasons, he will need to lead a new batch of players and find chemistry with a transitioning team that must bounce back from a rock-bottom season. He was productive last year, scoring 14 goals, but at age 32, Wondolowski will be keen to prove he can still make a difference and lead the team. Kinnear has made it clear he sees Wondolowski as the key piece of the Quakes attack and is expecting a big number of goals again.
OUTLOOK:
The San Jose Earthquakes are a very different team than when Dominic Kinnear left a decade ago — for plenty of reasons.
In their last season under Kinnear, the Earthquakes won the 2005 MLS Supporters Shield and the team was then moved to Houston and became the Dynamo. He took his winning team with him and immediately won an MLS Cup.
Now he returns to San Jose with plenty of work cut out for him. The Earthquakes spent 2014 as bottom-dwellers in the Western Conference and finished last.
Kinnear put it simply to SBI: "Same city, same team, but a lot of different players and it's a different job."
A different job, indeed. The Quakes allowed 50 goals last season, which was the same number the MLS Supporter's Shield-winning Seattle Sounders allowed. The difference was all in the attack. The Earthquakes scored a paltry 35 goals in 34 games — second only to Chivas USA in a lack of goalscoring prowess. The Sounders scored almost double that.
Kinnear's offseason moves have clearly targeted this weakness. Innocent Emeghara was brought in as the fourth designated player in San Jose's club history on the strength of his ability to score in some of the world's top leagues, including Ligue 1 in France and Serie A in Italy.
Emeghara will enter the regular season after two weeks sidelined by minor injury to finish the preseason, but he is expected to be fully recovered soon.
"He's a good technical player with good speed," Kinnear said. "He's going to be a threat on the forward line and he's mixing in well with guys."
The Earthquakes' first pick of the college draft, Fatai Alashe, has only started to see minutes at the tail end of this preseason and Kinnear may still be figuring out how to use him. Alashe spent his collegiate career in Michigan as a holding midfielder, but he seems more likely to be used as a box-to-box type in the Earthquakes lineup that will get forward.
Following Kinnear from Houston to San Jose is Mark Sherrod, who was acquired in exchange for the No. 25 pick in the draft. Sherrod showed promise early for the Dyanmo last year, but suffered a season-ending injury in his third start there. He ended the season with two goals and one assist in nine games, and will be keen to prove himself.
Incremental improvements won't be enough for the Earthquakes to improve on last year's last-place finish. For all the struggles the team faced in the Western Conference, it will only get harder. A conference that already has last year's MLS Cup winner in the LA Galaxy and the top team of the regular season in the Sounders will in 2015 see the introduction of two more teams.
"I think the Western Conference is pretty well stacked, and you look at Kansas City and Houston coming over to round out the ten and that makes it a tough one," Kinnear said. "I always say, there's no easy games in MLS and that's the truth. With the Western Conference being what it is, that's the biggest challenge."
Kinnear's offensive-minded roster moves since joining the Quakes suggest a 4-3-3 formation could work well. A pairing of Chris Wondolowski and Emeghara up top in 4-4-2 or a 4-1-3-2 are other attacking lineups that could be favored this season.
Kinnear was coy when asked if his preference for a 4-4-2 formation in Houston would carry over to San Jose, but he hinted he may have a few systems in rotation. A safe bet is that Kinnear will be looking for a way to maximize the output from Wondolowski, who single-handedly accounted for 40 percent of the Quakes' goals last season.
"If we can create chances for Chris Wondolowski, he's going to score a lot of goals," Kinnear said when asked about his focus in the attack. "So, the most important thing is to be a team in the attacking area that's holding onto the ball, that's making good decisions and, in the end, creating some chances."
Whether or not the Quakes can make the playoffs for the first time since 2012, when they won the Supporter's Shield, there's no question fans will be in for a better match experience. Avaya Stadium, a brand new state-of-the-art natural grass stadium, will make its debut for the club. At $100 million to build, the 18,000-capacity venue is the first dedicated home venue the Earthquakes have had in their 20-year MLS history.
New coach. New stadium. Plenty of new players. The Earthquakes are certainly hoping for a new spot in the MLS standings.
PROJECTED STARTING LINEUP