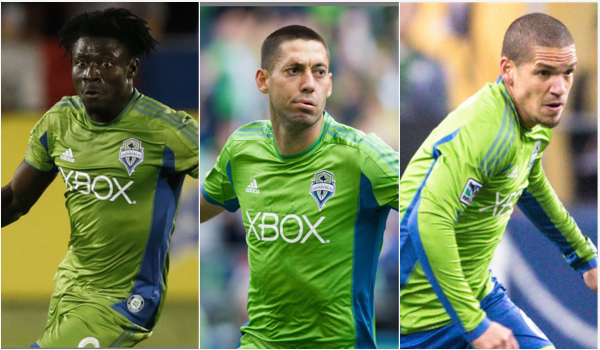 By JASON MITCHELL
Six trips to the playoffs in six seasons. Two trips to the Western Conference finals in the last three years. Four U.S. Open Cup trophies. A Supporters' Shield trophy. Victory over Liga MX side Tigres UANL to advance to the CONCACAF Champions league semifinals.
It's an impressive list of accomplishments for a young club. There's just that one little thing evading the Seattle Sounders: an MLS Cup trophy.
Last year the Sounders righted a listing ship, dashing memories of a disastrous end to the 2013 campaign with the club's first Supporters' Shield trophy, a fourth U.S. Open Cup title, and a close loss to the Los Angeles Galaxy in the conference finals. Still, a crushing defeat hurt that much more knowing that victory would have left the Sounders hosting the MLS Cup at a packed CenturyLink Field.
"Everybody has that bitter taste in their mouths after accomplishing so much, and being so close to doing something really, really, special by winning three trophies," said center back Zach Scott on Tuesday. "Obviously the big thing now that we've been able to win the Open Cup and a Supporters' Shield is to get the big one, the MLS Cup."
The belief within the clubhouse is that there is enough talent on the roster to win MLS Cup, that the challenge is getting the team playing its best soccer when it matters most.
"By far the biggest thing is just to be clicking at the right time," said Scott.
Here's a closer look at the 2015 Seattle Sounders:
SEATTLE SOUNDERS SEASON PREVIEW
2014 RECORD: 20-10-4 (first place in Western Conference, Supporters' Shield winners)
KEY LOSSES: D DeAndre Yedlin, D Jalil Anibaba
KEY ACQUISITIONS: D Tyrone Mears
NEWCOMER TO WATCH: Tyrone Mears. One of just two expected additions to the starting lineup, the 32-year-old Mears replaces DeAndre Yedlin at right back. While surely lacking some of Yedlin's blistering speed, Mears does like to get forward.
"Mears has done alright," head coach Sigi Schmid said of his new right back's preseason. "Mears has done solidly. He's defended well. I think he's gone forward at key times, getting us into some good positions. His crossing is pretty good, so that's a plus. I've been happy with his play."
A veteran of the top two tiers of English soccer, he'll also likely provide more defensive stability and structure than Yedlin.
"(Mears) likes to go forward as well, like DeAndre," said goalkeeper Stefan Frei. "It's hard to find someone who has got the pace like DeAndre. But he also likes to go forward, and I'd say he's also more cautious of what his defensive role is. I think we've been good about making sure even when we're on attack that we're in decent compact shape in the back four in case we do turn the ball over."
THE PRESSURE IS ON: Brad Evans. Perhaps most naturally a central midfielder, the ever-versatile Evans has played just about every position except goalkeeper over the years. Smart and tireless, he almost never commits a costly error and has become a vocal clubhouse leader. Schmid always seems to find a way to keep the 29-year-old Arizona native in the starting lineup. With a stacked midfield, Schmid has started Evans at center back over Zach Scott in the preseason. It's a big change for Evans, and a spot on the field where learning on the job can have disastrous results. His ability to deliver at right back for the United States Men's National Team during World Cup qualifying suggests he can handle the pressure and the education. Scott, 34 and coming off minor offseason foot surgery, will provide insurance.
OUTLOOK
A team eliminated in the conference finals by that narrowest of margins — the away-goals rule — looks fully equipped to contend once again.
If last offseason was about change — the 2014 opening-day roster boasted 16 new faces — this offseason was about continuity and stability. The Sounders return Designated Players Osvaldo Alonso, Clint Dempsey, and Obafemi Martins, and look likely to initially deploy no more than two new starters around them. Even head coach Sigi Schmid, close to being fired at the end of the 2013 season, returns with a new multiyear contract extension.
Calling the continuity "tremendous" for on-field chemistry, Scott added: "For the most part if you can keep a successful group together, the same group of guys, then you're going to have success year-in and year-out."
"It's good," added Schmid. "It's good to be comfortable, because there's certain things that that brings with it: familiarity with your teammates and going into practices knowing what to expect."
But the head coach also struck a more cautious note.
"You want to make sure that being comfortable doesn't make you complacent. I think last year was good as well, because people were maybe fighting for positions, and maybe jarred awake at times. But I think we still have a good mix of that. (The players) know that there's still competition that exists there as we move forward. Hopefully we can combine the best of that knowledge of each other along with also knowing that there's competition to be done."
While the Sounders were quiet in the player market, they nonetheless made one of the league's biggest offseason signings, bringing in Garth Lagerwey as general manager and president of soccer operations. Widely considered the best general manager in the league, over seven seasons Lagerwey helped transform Real Salt Lake from cellar-dwellers into one of the league's model franchises. Minority owner Adrian Hanauer, who had served as Sounders general manager for the club's first six seasons, steps aside to focus on bigger picture issues.
"He likes pizza," said Schmid when asked what he had learned about Lagerwey since the Sounders hired him in early January. "He's a very bright individual. You don't have the education that he has or work for a law firm or have the kind of success he's had without having good intelligence and being smart and being on the spot. He's definitely an action-type guy. When questions get raised he tries to get them answered as quickly as possible, to get us moving forward as quickly as possible. That's been something he really emphasizes. It's been good."
Despite the continuity, an addition or two seems likely after the new collective bargaining agreement is signed. It's a given that there will be some degree of increased financial flexibility under the new agreement, and the Sounders have never been a team to leave cap space unused.
"We're not done at this stage," Schmid acknowledged on Tuesday.
For now, the main question is obviously along the back line, where the Evans experiment is untested in games that matter.
"Brad's been all over the shop," said Frei on Tuesday. "But he's a really good professional. I think that's why he has played in numerous positions, because his work rate's fantastic, he's got a high soccer IQ, he's willing to listen and improve, to listen to the guys next to him — or in this case also behind him, like me — giving him tips and trying to get better. He's been really adapting, trying to figure out the difference between defending in midfield and defending in the back four. He's been doing really well."
Mears has reportedly shown well thus far, but more than a few well-pedigreed foreign imports have struggled in MLS, or at least taken much of a season to acclimate to MLS both on- and off-the-field.
The transition to a new back line will surely be made easier by the return of center back Chad Marshall, reigning MLS Defensive Player of the Year. Longtime Sounder Leo Gonzalez returns at left back, coming off his best and healthiest season in years. Still, Gonzalez is 34 with a history of leg injuries: left-back depth could be an area the team addresses with additional funds from the new CBA.
The defense should be bolstered by the presence of Frei, starting his second campaign with the Sounders. Frei, 28, started last season with plenty of shaky moments, but grew more confident and reliable as the season wore on. He elevated his game yet again at the end of the season, and was arguably the Sounders best player in the playoffs.
"(My) confidence definitely came back throughout the year last year," said Frei, "and I was able to start off this preseason with some of that confidence."
Rugged midfielder Osvaldo Alonso underwent groin surgery on Feb. 7, a procedure that could sideline him for the first few weeks of the season. On Tuesday, Schmid called Alonso "maybe a little ahead" of schedule, but didn't provide a timeline for recovery.
Assuming Alonso recovers fully and on schedule, expect one the league's best defensive midfielders to once again spend the summer breaking up attacks and spraying an efficient array of passes forward. At 29, he may have lost a half step, but still covers ground with ferocity. Michael Azira should fill in while Alonso recovers.
Gonzalo Pineda returns to occupy the other central midfield position. A revelation in 2014, Pineda was quietly signed in the days before the season began and proceeded to lock down a starting spot. The pugnacious 32-year-old Liga MX veteran paired naturally with Alonso, giving the Sounders a central midfield full of grit and bite for the first time in club history.
Marco Pappa and Lamar Neagle return to man the wings. Neagle, coming off a career year with nine goals and nine assists, provides two-way speed out wide, while the technically-gifted Pappa tends to play a little higher up the field, preferring to tuck in and combine with the forwards.
Of course, everything with this team starts up top, with Dempsey and Martins. After combining for 32 goals and 23 assists in 2014, there's no reason to think they won't be at least as potent this season.
The duo is once again backed up by longtime MLS veterans Kenny Cooper and Chad Barrett, both entering their second seasons with the club.
Barrett in particular provided valuable energy as a late substitute — he scored seven goals in league matches — and both men scored critical goals in U.S. Open Cup play. With the Sounders back in CONCACAF Champions League this summer and Dempsey presumably missing time for the Gold Cup, forward depth will likely prove invaluable to a club hoping to compete for multiple trophies.
PROJECTED STARTING LINEUP