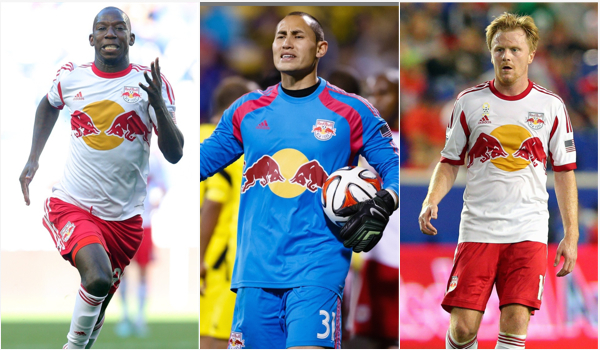 By FRANCO PANIZO
A legendary loss, a controversial coaching change, and a partial roster reconstruction. It's the start of a new era for the New York Red Bulls.
The 2014 season did not end as the Red Bulls had hoped, but was still seen largely as a positive one after the club made it to within a goal of the MLS Cup final. The successful playoff run they enjoyed still was not enough to prevent drastic changes, as star player Thierry Henry left the club and subsequently retired before new sporting director Ali Curtis dismissed fan favorite head coach Mike Petke.
Filling Petke's place almost immediately was Jesse Marsch, a coach with experience throughout various levels of the game and who has been deemed to be more in line with the club's vision for the future. What that vision consists of is playing a more up-tempo style, and integrating and developing more youth players that will be able to contribute both in the short term and further down the road.
Marsch has a tough task ahead, however. He not only has to placate a rabid fanbase that is still livid over Petke's firing, but do so with a roster that doesn't include Henry, Tim Cahill or Jamison Olave. What Marsch does have at his disposal is a chunk of the established core of last year's team, with Golden Boot winner Bradley Wright-Phillips, midfielder Dax McCarty and goalkeeper Luis Robles all returning to the fray.
Those veterans and several others will need to buy into Marsch's system and perform to their standards if the Red Bulls are to have any shot at matching or surpassing last season's success. It's a new-look New York team this year, but not one without the usual expectations to deliver.
Here's a closer look at the 2015 New York Red Bulls:
NEW YORK RED BULLS SEASON PREVIEW
2014 FINISH: 13-10-11, 50 points (fourth in Eastern Conference)
KEY ACQUISITIONS: Sacha Kljestan, Felipe, Ronald Zubar, Leo Stolz
KEY LOSSES: Thierry Henry, Tim Cahill, Jamison Olave, Eric Alexander, Ambroise Oyongo
NEWCOMER TO WATCH: Ronald Zubar – Replacing the big shoes of the consistently solid if not stout Olave will be no easy feat, but that is exactly what Zubar will need to help the Red Bulls do. Zubar, 29, is entering his first season in MLS after spending the last 12 years in Europe, and will need to quickly adjust to the league and his new teammates in order to guide a back line that is currently void of a leader.
PRESSURE IS ON: Sacha Kljestan – After four-and-a-half productive years in Europe with Anderlecht, Kljestan is returning to MLS a much more mature and polished player. His skills and experience will be leaned on heavily this season, as the Red Bulls look to make up for the loss of Henry. No, Kljestan is not being asked to replicate the magical Frenchman's ways, but will shoulder the responsibility of having to create chances for himself, Wright-Phillips and the rest of the New York players.
OUTLOOK: As if there was not already enough pressure on the Red Bulls to win, the club is dealing with an irate fanbase that is demanding nothing less than a strong start and successful season.
The Red Bulls' surprise decision to fire Petke after two successful years has caused quite a stir among the supporters, and the new coaching staff and team are now facing the unenviable task of needing to bring things back to DEFCON 5. The only way to do that, even if momentarily, will be with impressive performances and constant wins, but that won't be easy given that a new coach is implementing a new playing style while also integrating several new players.
Gone are veteran leaders like Henry, Cahill and Olave, and in their places comes a younger but experienced crop of talent. From veteran American midfielder Kljestan to French centerback Zubar, New York is now counting on players in their primes – not past them – to do a lot of the heavy lifting.
"I think that they all bring soccer intelligence, they're all footballers, they all have strong mentalities to be competitive and push for the group, and they all have no egos," Marsch told SBI of his new additions. "I think they're all here for the right reasons and they want to help achieve something as a team. That motivation along with all of what's already in place, everything has come together well. They care about the right things and they care about us as a group.
"I'm cautious because I don't want to overstate where we are as a team, but I will say I'm very optimistic about how this whole thing's gone.
While the Red Bulls attack has been altered by the departure of Henry and arrival of Kljestan and Felipe, it is the defense that has more question marks going into the season. Both starting centerbacks from the 2014 season are no longer Red Bulls players, and a new partnership must now come together quickly in order to avoid struggling from the onset.
It looks as if Zubar and fellow Frenchman Damien Perrinelle will be that central pairing, but the defensive responsibilities do not fall just on them. Marsch has tried to introduce an aggressive style of defending this preseason that one player likened to Barcelona, and it starts with the frontman and goes all the way to the goalkeeper at the back.
"I think that the way we're going to play is going to surprise some people," said Marsch. "We're going to be a team that presses. That doesn't mean we're going to go after teams. We're going to do it in an organized fashion. We're going to try and play at a tempo and a pace that's fast, and hopefully factors into what other teams do.
"We're trying to almost create organized chaos at times, but play at a speed that favors the way we want to play and we want to think and hopefully takes every team out of their comfort zone. That's going to take time and it's going to continue to challenge our group and in responding the right way in the tough games that we're in, but I fully expect that with our personnel and with our talent we can win games by being hard to play against."
It will be at a minimum playoffs or bust for this New York team this season, but the Red Bulls still boast plenty of the players that have helped guide them there in recent years. Wright-Phillips, Robles, McCarty, Lloyd Sam, Roy Miller and Peguy Luyindula are the seasoned holdovers from the 2014 squad, and that core has proven that it can handle the rigors of the long MLS season.
Still, there will be en emphasis on blooding in more youngsters this year. That's why the club is looking at the likes of Matt Miazga, Leo Stolz and Sean Davis to contribute this season and make for a more well-rounded squad.
"It's often been hard in the past with his club to put together a full roster because it's been so top heavy," said Marsch. "Now I think it's a little more balanced and I think our ability to make sure that we're a little bit deeper and there's an emphasis on growing young players means that we're really hopeful that as time goes on here to add depth, talent and have a really balanced roster."
That roster now needs to perform, as no excuse will be enough to satisfy a fanbase that has sharpened its pitchforks and knives. The Red Bulls will be under immense scrutiny from the start, but they are confident they have what it takes to ride out the initial waves of pressure en route to enjoying a successful season.
Not just in terms of winning a good share of its games, but also winning back a fanbase that is more than skeptical.
"I think you're going to see a team on the field that plays together, literally moves together, thinks together," said Marsch. "It's going to be a unit that I think from the mentality to the tactics is committed to a playing style that's about each other, and I think that over time is going to resonate with people and resonate with fans and going to be something people can tangibly feel when they're in the stadium or when they watch this team, that there's a unique camarderie and commitment and unity of what this is going to become.
"That's something that I think – no matter what kind of sports fan you're talking about – people will love and can relate to. We can talk about the talent, we can talk about the style of play, we can talk about all those other details – they're important to us – but I think more than anything the commitment this group will have to play for each other and literally do everything they can as a unit to be successful, I think that's something that everybody will be able to see and be proud of and be proud of being part of and want to attach themselves to.
"That's a big part of the philosophy of what we're trying to put in place."
PROJECTED STARTING LINEUP