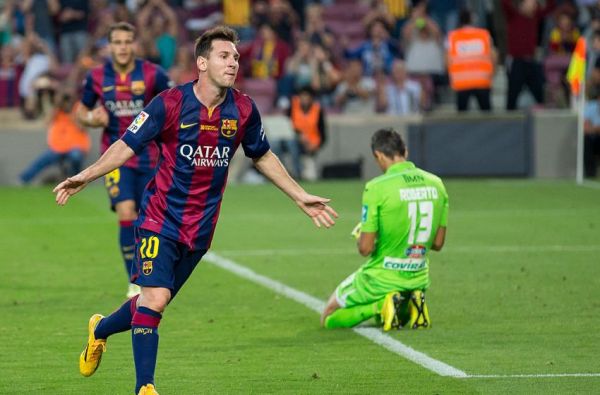 By IVES GALARCEP
FC Barcelona has an opportunity to put a stranglehold on La Liga, with struggling Eibar presenting a perfect chance for three points.
With Real Madrid struggling, Barcelona could extend its lead with a win against an Eibar side mired in a five-match losing streak. Barca has won four of five, but could be tempted to rest some players ahead of its Champions League decider against Manchester City.
In England, Arsenal is another team that could be looking ahead to Champions League, but must focus on a London derby clash against West Ham. Arsene Wenger's side is on a role in Premier League play, having won four straight to move into third place. West Ham is headed in the opposite direction, winless in its past five.
If you will be watching today's action, please feel free to share your thoughts, opinions and some play-by-play in the comments section below.
Enjoy the action (Today's Soccer on TV is after the jump):
SATURDAY'S SOCCER ON TV

8:45 a.m. — NBCSN — Crystal Palace vs. QPR
10:30 a.m. — GolTV USA — Werder Bremen vs. Bayern Munich
11 a.m. — NBCSN — Arsenal vs. West Ham
11 a.m. — Premier League Extra Time — Leicester vs. Hull
11 a.m. — Premier League Extra Time — Sunderland vs. Aston Villa
11 a.m. — Premier League Extra Time — West Brom vs. Stoke
11 a.m. — beIN Sports USA — Norwich vs. Derby County
11 a.m. — beIN Sports en Espanol — Espanyol vs. Atletico Madrid
1 p.m. — beIN Sports USA — Eibar vs. Barcelona
1:30 p.m. — NBCSN — Burnley vs. Manchester City
1:30 p.m. — GolTV USA — Borussia Dortmund vs. Koln
3 p.m. — beIN Sports en Espanol — Rayo Vallecano vs. Granada
3 p.m. — GolTV USA — Corinthians vs. RB Brasil
5 p.m. — beIN Sports en Espanol — Celta de Vigo vs. Athletic Bilbao
5:30 p.m.. — GolTV USA — Marilia vs. Santos
6 p.m. — DirecTV/MLS Live — Chicago Fire vs. Vancouver Whitecaps
7 p.m. — ESPN Deportes — Puebla vs. Guadalajara
7 p.m. — Univision — America vs. Santos Laguna
7:30 p.m. — DirecTV/MLS Live — Columbus Crew vs. Toronto FC
9 p.m. — Univision Deportes — Tigres vs. Pachuca
8:30 p.m. — DirecTV/MLS Live — FC Dallas vs. Sporting Kansas City
9:30 p.m. — DirecTV/MLS Live — Real Salt Lake vs. Philadelphia Union
10 p.m. — GolTV USA — Deportivo Tepic vs. Celaya
10 p.m. — DirecTV/MLS Live — Seattle Sounders vs. San Jose Earthquakes
10:06 p.m. — Telemundo — Leon vs. Cruz Azul
11 p.m. — Univision Deportes — Atlas vs. Monterrey
11 p.m. — Galavision — Chiapas vs. Pumas