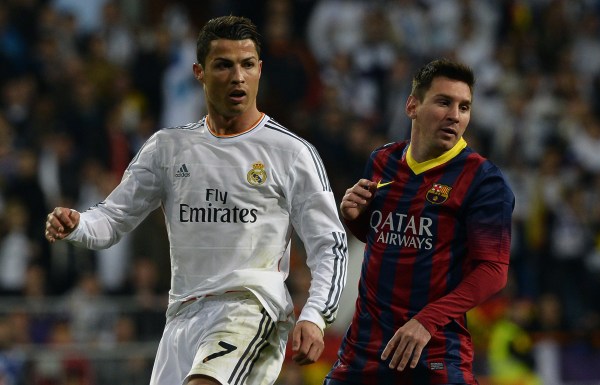 By IVES GALARCEP
Real Madrid is in full slump mode by its standards, but still sits just one point out of first place in the Spanish Premier League. A loss today in 'El Clasico' could doom Real Madrid's title hopes while also leaving Barcelona in prime position to win the league crown.
Real Madrid's defense has been extremely shaky, and will need to straighten out in order to contain a Barcelona attack that is on form. Lionel Messi is playing some of his best soccer of the season, and will look to add to his long history of tormenting Real Madrid.
Manchester United and Liverpool renew their own rivalry at Anfield, as the Red Devils look to put a serious dent in Liverpool's hopes of a top four finish.
In Germany, Bayern Munich takes on Fabian Johnson and Borussia Moenchengladbach in a match that should have plenty of action.
If you will be watching today's action, please feel free to share your thoughts, opinions and some play-by-play in the comment section below.
Enjoy the action (Today's Soccer TV schedule is after the jump):
SOCCER SUNDAY
9:30 a.m. — NBCSN — Liverpool vs. Manchester United
10 a.m. — beIN Sports USA — Juventus vs. Genoa
10:30 a.m. — GolTV USA — Mainz vs. Wolfsburg
11 a.m. — beIN Sports en Espanol — Villarreal vs. Sevilla
Noon — NBCSN — Hull vs. Chelsea
Noon — Premier League Extra Time — QPR vs. Everton
Noon — beIN Sports USA — Reims vs. Monaco
12:30 p.m. —GolTV USA — Bayern Munich vs. Borussia M'gladbach
2 p.m. — Univision — Pumas vs. Puebla
3 p.m. — GolTV USA — Sao Paulo vs. Marilia
3:55 p.m. — beIN Sports USA — Barcelona vs. Real Madrid
5 p.m. — ESPN2 — New York Red Bulls vs. D.C. United
7 p.m. — Fox Sports 1 — San Jose Earthquakes vs. Chicago Fire
7 p.m. — UniMas — Guadalajara vs. Toluca