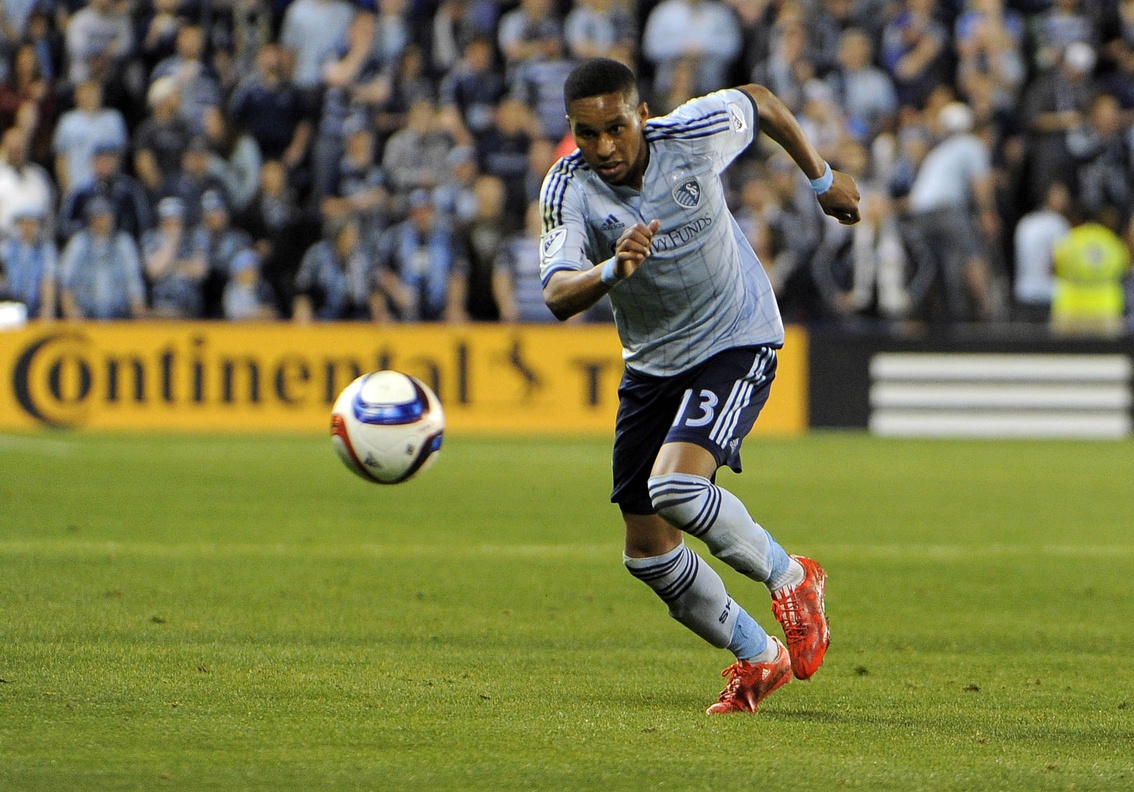 Photo by John Rieger/USA Today Sports Images
By TATE STEINLAGE 
KANSAS CITY, Kan. — There were plenty of storylines surrounding Sporting Kansas City's season opener Sunday. Ike Opara was coming back from an 11-month layoff. Roger Espinoza was returning from a two-year stint in England.
Few, however, could have predicated that Amadou Dia would be among those stories, and that it would be his name buzzing in and around the locker room at the conclusion of the match.
Nonetheless, after a strong 90-minute effort in a somewhat surprising rookie debut, Dia's name was the topic of conversation.
"He did very well," Sporting KC manager Peter Vermes said after the game. "I give the kid a lot of credit. He has some cojones. He can step out there and play at this level. He's playing out of position, he's really a left back, not a right back, so I give him a really high mark in regards to how he played.
"He never got out of shape, he made some individual plays, recovered really well. He was very good tonight."
Dia was one of several new players who took the pitch at Sporting Park on Friday for the first time. Forty-eight hours later, he walked off the field a key contributor in preserving a 1-1 season-opening draw against the New York Red Bulls.
"It took me a couple minutes to settle down, but once I did I thought I did pretty well," Dia told SBI. "I still have a lot to learn, though, but it was fun. I had a good time."
The 20th pick of the 2015 MLS SuperDraft, Dia was one of three Sporting KC rookies who Vermes said could contribute early in the season. Sunday, Dia became the first rookie to start in a season opener for the club since C.J. Sapong in 2011.
"He's played there a couple times in preseason and done very well, and against some very good teams," Vermes said of using Dia at right back. "I felt comfortable with it. There's nothing like sometimes taking a chance on a guy, and it's nice when they reward you."
At 5-foot-10, 150 pounds, it's not Dia's size or physicality that have caught the eyes of his coach and teammates, but rather his work ethic and calm demeanor.
"I'm really happy for him and proud of him," defender and captain Matt Besler said. "Nothing seems to faze him. It doesn't matter that it's his first-ever career start in front of a sold-out crowd playing against New York, he just gets the job done."
Teammates Seth Sinovic and Ike Opara echoed Besler's comments, adding that Dia's willingness to learn has allowed him to fit in with the team and its mentality.
As for being a rookie and playing in front of nearly 20,000 screaming fans, Dia said he couldn't imagine a better environment.
"It was unbelievable. I was speechless," he added. "Best atmosphere, best fans I've ever played in front of."
Here are more Sporting KC notes:
SPORTING KC TALK CHEMISTRY AFTER OPENER 
Sporting KC's starting lineup Sunday was a bit of a mixed bag. Four new faces saw the field, including a rookie, and a fifth, Espinoza, returned for the first time since 2012.
The result, according to Vermes, was a good — but not great — first performance in a long MLS season to come.
"It was okay," he said. "It wasn't great, but I don't expect it to be at the moment because it's so new. When you play exhibition matches in preseason, they don't present the same type of environment or intensity that an MLS game does.
"We have games ahead of us that will help us get into the form we need to be in. There's one thing that I see, and it's that there's a tremendous amount of potential within the group of guys that we have."
Sporting KC's newcomers produced seven of the club's 18 shots Sunday. Meanwhile, first-year goalkeeper Luis Marin saved three shots, including a 38th-minute diving effort to keep the Red Bulls off the board.
Still, the Red Bulls held an advantage in possession (56.7 percent), passing accuracy (74.4 percent to 63 percent) and total passes (400 to 303).
"There's no doubt about it that we're not at the point we know we can be," midfielder Benny Feilhaber said. "There are a lot of new faces. You have to get used to it and comfortable to the style they play as well. It's going to be a learning process and we're going to get better each day."
VERMES CLARIFIES DE JONG, MUSTIVAR SITUATION 
First-year players Marcel de Jong and Soni Mustivar did not sit out Sunday due to international paperwork, but because of a lack of training time, according to Vermes.
"Neither guy (felt ready) because they hadn't really been here long enough," Vermes said. "They need a little rhythm and training before they become guys who are going to be considered for the starting lineup or 18."
Mustivar joined the club just days before Sunday's match due to paperwork issues that had persisted for weeks. De Jong has been with the club for the entirety of preseason, but was signed six days before the season opener.
Vermes said earlier this month that de Jong in particular has a unique skill set that could be an asset to the club. The former Bundesliga player has made over 225 club appearances in 10 professional seasons and has 31 caps for the Canadian Men's National Team.
Mustivar, meanwhile, has six caps for the Haitian Men's National Team. He was signed by Sporting KC after playing in Romania for Petrolul Ploiesti.
OTHER TIDBITS: 
Vermes and Baldomero Toledo didn't see eye to eye on Besler's ejection Sunday. "There's no doubt the second was a yellow card," Vermes said. "The first, I don't think that's a yellow card at all. Matt never hits the guy."
Seventeen-year-old defender Erik Palmer-Brown logged his first MLS minutes at Sporting Park Sunday. He's now the youngest player to play in the first week of MLS action since 2010.
——-
What did you think of Dia's performance Sunday? Do you see Sporting KC clicking as a unit sooner rather than later? Expecting de Jong and Mustivar to contribute soon?
Share your thoughts below.