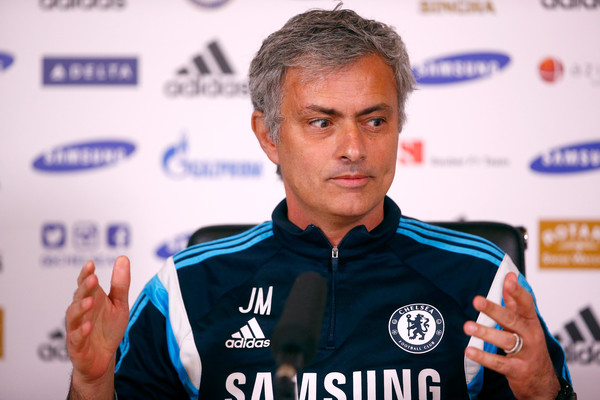 By DAN KARELL
A new shirt sponsorship deal, Eden Hazard's new contract, and Fernando Torres' sale to AC Milan have given Chelsea some additional breathing room to upgrade for the 2015/2016 English Premier League season.
According to a report in The Telegraph in England, Chelsea manager Jose Mourinho will have upwards of £40 million in extra funds available to spend on his team this summer.
Chelsea signed a five-year sponsorship agreement with Yokohama, a tire manufacturing company, that's worth a reported £40 million per year. Hazard's new contract is spread over another five years, which helps to lessen the yearly Financial Fair Play cap hit, and Torres' contract off the books gives Chelsea additional space.
Chelsea spent a reported £86 million in transfers over the last two transfer windows bringing in the likes of Diego Costa, Felipe Luis, Loic Remy, and Juan Cuadrado, though they've also brought in plenty of money with the departures of Andre Schurrle, Romelu Lukaku, and Demba Ba.
Mourinho's squad are currently the favorites to lift the EPL title this May, but they were disappointingly bounced from the UEFA Champions League by Paris Saint-Germain in the Round of 16.
Here are some more stories to kick off your Thursday:
REAL MADRID OUT OF POGBA SWEEPSTAKES
If super agent Mino Raiola has his way, we may never see Juventus star Paul Pogba suit up for Real Madrid.
In an interview with L'Equipe, Raiola disparaged the way Real Madrid treats its players, saying they use players "like a wash cloth" before discarding them as such after they find a new star to sign.
"I never went to Real Madrid and said to them 'please buy Pogba', never," Raiola said. "Real Madrid are a club which is in the habit of buying players like they're a washcloth, then disposing of them like a washcloth. Real is a club which sees a player have six good games in the World Cup and then buys him. We don't want to go to a club like that.
"We want to go to a club that believes in Paul's potential. I'm not closing the door to Real, but I'm not going to open it either."
On a sour note, Juventus' 3-0 defeat of Borussia Dortmund to advance in the UEFA Champions League could be the last bit of action Pogba sees for the next month. Pogba came off in the 26th minute with what's now been diagnosed as a hamstring injury, and reports in France and Italy state he could miss at least four weeks of action.
That would rule him out of both the Champions League quarterfinals and France's friendly matches against Brazil and Denmark.
SAO PAULO TOPS DEFENDING COPA LIBERTADORES CHAMPIONS
For the second match in a row, defending South American champion San Lorenzo has fallen to Brazilian competition.
On Wednesday evening in Sao Paulo, Sao Paulo FC defeated San Lorenzo, 1-0, thanks to an 89th minute goal from former Lille winger Michel Bastos. The win leaves Sao Paulo three points behind city-rival Corinthians in Group 2, but also three points ahead of San Lorenzo, who have lost twice.
Elsewhere in Copa Libertadores action, Brazilian club Atletico Mineiro topped Colombian side Independiente Santa Fe, 1-0, Argentine side Estudiantes de la Plata defeated Paraguay's Libertad at home, 1-0, and Venezuelan side Deportivo Tachira tied Paraguayan club Guarani, 1-1.
QUICK KICKS
Incumbent FIFA president Sepp Blatter has predictably rejected the opportunity to have a live television debate against his three presidential challengers, despite the latter three agreeing to the debate. (REPORT)
Everton manager Roberto Martinez believes that the lack of a winter break and the lack of preparation time between league and European matches for English Premier League teams is the reason for the league's struggles in European competition. (REPORT)
Former Arsenal and France great and current Manchester City reserves manager Patrick Viera is rumored have been offered the Bayern Munich U-23 head coaching position. (REPORT)
New Japan manager Vahid Halilhodzic has left off veteran midfielder Yasuhito Endo from his squad to face Tunisia and Uzbekistan later this month. (REPORT)
Russian club Torpedo Moscow will play two games behind closed doors after fans hurled racist abuse at Zenit FC forward Hulk in a match last Sunday. (REPORT)
—————–
What do you think of these reports? Do you see Chelsea spending big this summer? Who do you see them signing as reinforcements to their current squad? Do you believe Pogba could leave Juventus this summer?
Share your thoughts below.