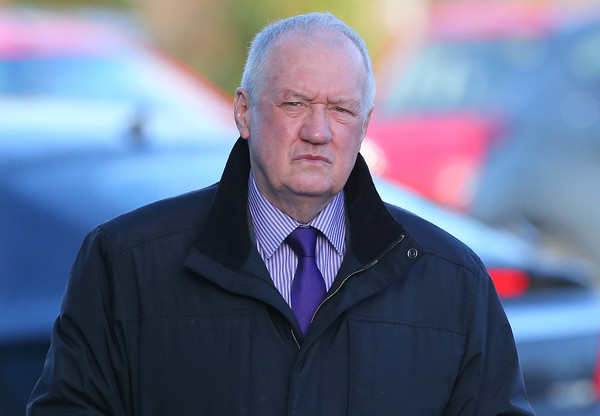 By DAN KARELL
The new inquest to the Hillsborough disaster, which claimed 96 victims, had some startling news break on Thursday morning.
Former Hillsborough chief superintendent David Duckenfield, the British equivalent of a city police chief, admitted in court that his inexperience in his role as match commander at Hillsborough Stadium led to the deaths of 96 Liverpool fans, who were crushed when the Liverpool fan area became overcrowded with supporters.
Per the BBC, David Duckenfield said he had done his "best under very trying circumstances and sadly my best was not good enough," and he later added, "with hindsight, the mistakes I made were a contributory factor."
The news comes in part with an admission from Duckenfield that he had lied about Liverpool fans forcing their way into the stadium, when in fact he had called for one of the gates to open to avoid a crush outside the stadium. Duckenfield admitted that he was "in denial" of his actions.
Here are some more stories to start off your Thursday:
ROBBEN, RIBERY RULED OUT FOR WERDER BREMEN CLASH
Bayern Munich will be without two of its stars when they face Werder Bremen this Saturday.
Both Franck Ribery and Arjen Robben have been ruled out with separate injuries for this weekend's match. Ribery has an ankle injury while Robben has a pinched nerve in his back. Both players will be held out of practice the rest of the week and will return to full training this Monday.
Ribery and Robben both suffered the injuries during Bayern's 7-0 thrashing of Shakhtar Donetsk in UEFA Champions League action on Wednesday. Robben came off in the 19th minute and Ribery subbed out in the 59th minute.
BOCA JUNIORS RUNS RIOT, TIGRES, ATLETICO NACIONAL EACH RECORD VICTORIES
After some recent league and international struggles, Boca Juniors have turned back the clock under Rodolfo Arruabarrena in 2015.
At Boca's famous ground, La Bombonera, Boca thrashed Venezuelan side Zamora FC, 5-0, behind a stellar performance from midfielder Cesar Melli and loan-signing Dani Osvaldo.
Melli opened the scoring in the eighth minute with a blast from the top of the box that evaded the stinging palms of Zamora's Alvaro Forero. Seven minutes later, Federico Carrizo chipped a ball to the far post that Melli headed down into the path of Nicolas Lodeiro, who placed a perfect shot for Boca's second goal of the night.
Melli recorded his second assist of the night in the 37th minute when he passed to Carrizo, who cut inside and fired a strike for Boca's third goal.
Osvaldo, who had missed a chance earlier that was saved off the line, then scored inside the six-yard box after a header pass from Juan Manuel Martinez in the 69th minute, and then Osvaldo scored a penalty kick in the 82nd minute after Forero took him down in the box.
Elsewhere in Copa Libertadores action, Tigres UANL won on the road at struggling Bolivian club San Jose, 1-0, and Atletico Nacional of Colombia won a thriller on the road at Ecuador's Barcelona SC, 2-1.
QUICK KICKS
Ligue 1 and Ligue 2 will hold a minute of silence before games this weekend in honor of the French helicopter crash victims in Argentina. (REPORT)
Zimbabwe have been kicked out of 2018 World Cup qualifying due to failure to pay a former coach. (REPORT)
Manchester City have signed defender Martin Demichelis to a new contract through the end of the 2015/2016 season. (REPORT)
West Ham forward Enner Valencia suffered a severe cut in his big toe after a tea cup fell on it. (REPORT)
————
What do you think of this reports? What do you think of Duckenfield's admission? How much do you believe Bayern will miss Robben and Ribery? What did you think of Boca's demolishing of Zamora?
Share your thoughts below.