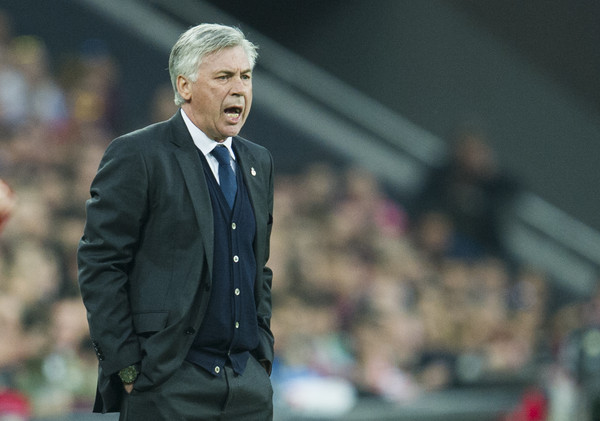 By DAN KARELL
Based on recent results this season, Real Madrid manager Carlo Ancelotti is firmly on the hot seat.
Reports out of Spain state that Real Madrid are considering sacking Ancelotti in the summer, as the team has conceded the La Liga lead last weekend to arch-rival Barcelona and city-rival Atletico Madrid knocked La Real out of the Copa Del Rey in January.
Part of the reasoning behind the potential sacking is the lack of cohesion between the forward trio of Gareth Bale, Karim Benzema, and Cristiano Ronaldo, affectionately called "BBC." The three haven't scored from the run of play for three games and they've struggled to play with one another, as the three come from teams where they were the key players.
In addition, injuries to Luka Modric, James Rodriguez, and Toni Kroos have decimated the top quality of Real Madrid, and fans are seeing that Lucas Silva and Asier Illarramendi are not yet ready to play at the highest club level.
Ahead of Real Madrid's UEFA Champions League encounter with Schalke 04, Ancelotti backed the BBC trio to star against the German club.
Here are some more stories to kick off your Tuesday:
PULIDO SCORES DEBUT GOAL IN FIRST GAME IN A YEAR
Alan Pulido's nearly year-long nightmare came to an end in thrilling fashion on Monday evening.
After FIFA approved a provisional transfer pass for Pulido to join Greek Superleague club Levadiakos, Pulido made his starting debut on Monday and scored the game-winning goal. It was Pulido's first game action since June 7, 2014, when he came off the bench for the Mexican National Team in a pre-World Cup friendly match against Portugal.
In the 55th minute, a cross from the right met the rising head of Pulido in the box, redirecting the ball in for Levadiakos' second goal. Pulido was unfortunately stretchered off later in the game with a left-foot injury.
Pulido had been locked in a contract dispute with his former Mexican club Tigres UANL, and hadn't been part of the squad since last summer, putting him and his career in limbo. Even after the Court for Arbitration and Sport ruled in favor of Tigres, FIFA overruled them and allowed Pulido to complete his free transfer move to Levadiakos, where he signed an 18 month contract last January.
OUTGOING FIFA EXCO MEMBER WANTS QATAR STRIPPED OF WORLD CUP
Theo Zwanzinger made sure to leave a few parting shots at FIFA and Qatar as his time with the organization comes to an end in May.
Zwanzinger reiterated his desire to see Qatar lose the rights to host the 2022 World Cup, which has been bursting with allegations of corruption and abuse and overwork of migrant workers, who are building the stadiums.
"The best solution would be not to play in Qatar and to rectify this wrong awarding," Zwanzinger told radio station Bayern 2. "But that can only happen if the report provides sufficient clues that the awarding broke Fifa ethics rules.
As we noted above, this isn't the first time that Zwanzinger has called for FIFA to strip the World Cup from Qatar. Last September, Zwanzinger said he believed that FIFA would not let the 2022 World Cup take place in Qatar, and in another interview in October, he again called for Qatar to lose the World Cup.
Instead, it looks as though it's full steam ahead for the 2022 World Cup in Qatar to take place in November/December 2022.
Zwanzinger is set to leave the FIFA ExCo this May, and will likely be replaced by German FA president Wolfgang Niersbach.
QUICK KICKS
Queretaro are considering having Ronaldinho come off the bench, as the Brazilian maestro is struggling with his fitness. (REPORT)
Argentina coach Gerardo Martino has admitted that he does not like Mauro Icardi's off the field behavior, claiming it's one of the reasons Icardi hasn't been called up recently. (REPORT)
Netherlands FA president and FIFA presidential candidate Michael Van Praag believes Europe should have only one strong candidate instead of two. (REPORT)
Paris Saint-Germain forward Edinson Cavani admitted he could move back to Napoli some day, but only if owner Aurelio De Laurentiis is not in charge. (REPORT)
The parking lot of Brasilia's Estadio Mane Garrincha is being used as a bus depot in order to help raise funds for the stadium. (REPORT)
Gremio have signed Uruguyan international Cristian Rodriguez. (REPORT)
———-
What do you think of these reports? Do you see Real Madrid sacking Ancelotti this summer? Would you agree with that decision? Do you think Pulido can work his way back into the El Tri picture for this summer?
Share your thoughts below.