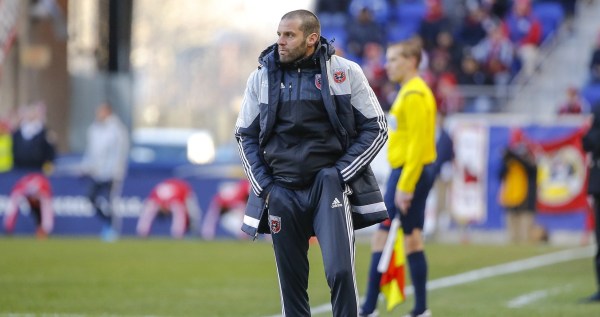 Photo by Jim O'Connor/ USA Today Sports
By RYAN TOLMICH
HARRISON, N.J. — Last season, D.C. United concluded the regular season atop the Eastern Conference, ensuring the team's status as a true contender heading into 2015. However, following Sunday's performance at Red Bull Arena, head coach Ben Olsen doesn't believe his side deserves that distinction anymore.
D.C. United were punished for a lackluster opening half in a 2-0 defeat at the hands of the rival Red Bulls. Despite coming up against a shorthanded Red Bulls side, D.C. was seemingly out-run, out-willed and outmatched throughout the contest. After the game, Olsen was highly critical of his team's initial effort, and issued a little reminder to his players that performances like Sunday's will not be good enough if D.C. hopes to remain in the upper echelon of MLS.
"It was a (crap) first half from us," Olsen said after the loss. "I don't know what we think we've earned, or what gives us the right to step on the field in the first half with that type of mentality, but that will change, no doubt. In the second half, on the scoresheet, we lose the second half as well, but it was a different team. It's mind boggling to me that we can have a half that way and then all of a sudden turn up the juice and then put on a second half, which was the team that has had success.
"I don't give a (crap) if they have some players missing. I'm not asking us to go out and dominate. We know who we are, but the intensity, the difference in intensity between them and our group in the first half was (apparent)."
Goalkeeper Bill Hamid echoed Olsen's sentiments. The 24-year-old goalkeeper took responsibility for both Red Bulls finishes, but Hamid also believes his team has kinks to work out in an admittedly young season.
"We should have been better. I should have been better for them," Hamid said. "These games happen. You just have to keep your head up and stay focused at the task ahead. It's a long season and it's only our second game, so we just have to keep plugging away.
"I think (Olsen) is correct. I think he's very right. We weren't there. Stuff like that happens."
In particular, D.C. United was terrorized by the midfield trio of Felipe, Sacha Kljestan and Dax McCarty in an evening that saw the Red Bulls dominate two thirds of the possession in the opening half.
In particular, D.C. struggled to cope with the pressing of their counterparts, as the Red Bulls repeatedly buzzed around the ball in an effort to stymy any creativity on the attack. With little space to work and a lack of any true creativity, D.C. was hard-pressed to get anything moving in the first half in the face of waves of constant pressure.
"We were having trouble getting close to guys," said forward Chris Rolfe. "They had three guys in the middle with Felipe, Dax and Sacha, and they're good. We were trying to get guys around them as best as possible, but they were doing a good job of moving the ball."
"I give them a lot of credit," Olsen added. "They're a good team and the way they press was very good and we had trouble dealing with them with our hold up play and once we cleared away the pressure, we had trouble getting a hold of the game. That's what good teams who pressure you in the right way can do."
Going forward, Olsen expects his side to cope better with pressure in the midfield but, more importantly, cope better with the mental aspects of the game.
For a team coming off of so much success, Olsen is looking for his side to regain that mental toughness in the coming weeks .
"I don't mean to simplify soccer," Olsen said, "but the commitment has to be there, at a minimum, in particular for our group.
"We talked about it all week: who's going to be the team that's going to come out flat after a two week break. We were late today. We were late to the game."