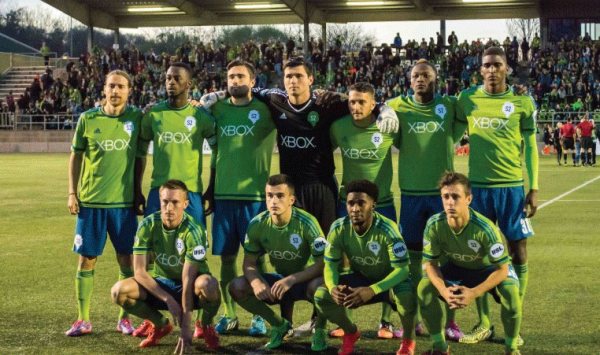 By AARON CRANFORD
The defending USL champions Sacramento Republic FC started off their title defense on the wrong foot on Saturday.
Sacramento Republic dropped the team's first match of the season, 4-2, to Seattle Sounders 2 on Saturday.
Leading scorer of the 2014 NCAA season Andy Craven netted the first goal in Sounders 2 history in the 49th minute of play. Jamaican U-23 international Damion Lowe booted the ball up-field, and Craven shielded the ball with a Sacramento Republic FC defender on his back and coolly chipped the goalkeeper Derek Foran for the first of the night.
However, Republic FC would not leave Washington without a goal of their own. In the 64th minute, Justin Braun saw the ball bounce to his feet just outside the box and decided to volley it past the diving Aaron Kovar.
But with more than 2,900 fans urging the USL side on, Seattle put on a show. Sam Garza came on as a substitute, and moments later found the back of the net in the 69th minute for the game-winning goal.
In the 76th minute, Pablo Rossi curled in a free kick from just outside the box, and Cristian Roldan notched the fourth goal of the night for Seattle in the 89th minute. Victor Mansaray's beautifully curled a cross with the outside of his foot set up Roldan.
Sacramento midfielder Octavio Guzman scored a consolation goal in the 91st minute with a free kick of his own. But it was too little, too late for the defending champions.
Here is more from the weekend's USL action:
BATTERY SHOCK TFC II WITH THREE-GOAL RALLY
Toronto FC II had their first USL win in the bag, but the Charleston Battery showed the rookie side how tough it is to hold onto a lead in the USL.
The Battery came back to win, 3-2, in the inaugural match of the 2015 season. Shawn Ferguson equalized for Charleston before Taylor Mueller struck in the 90th minute for a dramatic win.
In front of more than 4,500 in Charleston, the "Baby Reds" went ahead in just the eighth minute through academy product Jordan Hamilton. About 10 minutes later, Mo Babouli doubled the lead as the expansion team cruised toward an opening day win.
Quinton Griffith found Dane Kelly as halftime approached to pull one back for the Battery, and the home side only went up from there. Ferguson leveled the score by bouncing on a loose ball in the box for a close range finish in the 57th minute.
With time running out, Mueller's winner came in similar fashion. A corner kick was not cleared by TFC II, allowing him to find the ball off of a ricochet and score the winner.
Elsewhere, the solitary Sunday game between LA Galaxy II and expansion team Real Monarchs ended in a 0-0 draw.