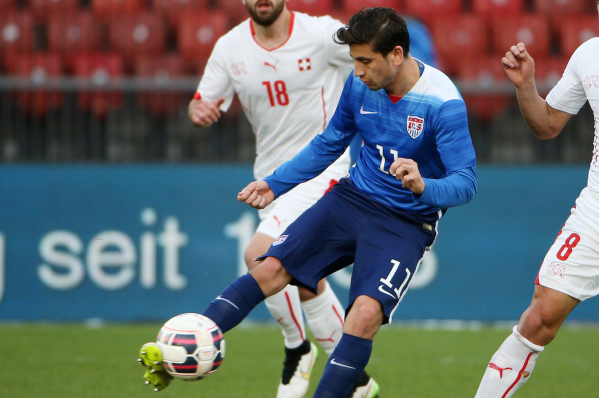 By RYAN TOLMICH
Alejandro Bedoya played an unfamiliar role in last week's U.S. Men's National Team loss to Denmark. Though he held is own as a defensive midfielder, Bedoya showed on Tuesday against Switzerland why he's more valuable for the U.S. in an attacking role.
Bedoya returned to his more familiar right wing role on Tuesday, and was the USMNT's most polished player  in Tuesday's 1-1 draw with Switzerland. He contributed defensively, and helped create a handful of quality chances, which helped him earn SBI USMNT Man of the Match honors.
On the attacking end, Bedoya was among the team's more creative options, combining well with right back Timmy Chandler to send in wave after wave of attack in the opening half. The best of Bedoya's looks came in the 27th minute, when the midfielder centered a pass to Michael Bradley near the penalty spot for the USMNT's best early look.
Bedoya's attacking creativity, along with his work ethic on the defensive end, earned him recognition as SBI USMNT Man of the Match, beating out Brek Shea, Danny Williams and Timmy Chandler.
What did you think of Bedoya's performance? Which player stood out to you in the USMNT's draw with Switzerland?
Share your thoughts below.