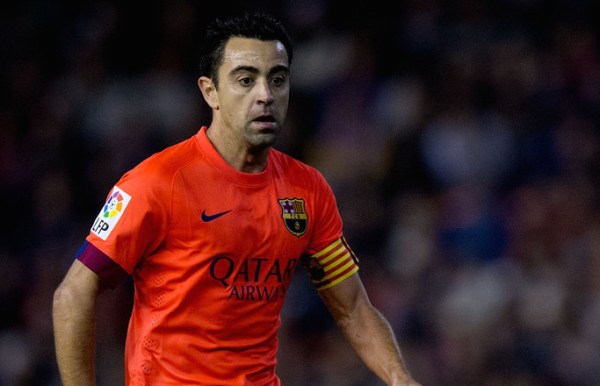 BY MICHAEL PENG
NEW YORK — While New York City FC prepares for the upcoming visit of Frank Lampard, one of its two currently signed Designated Players, the club also discussed the possibility of using its final DP spot to bring in Xavi Hernandez Wednesday at Yankee Stadium.
DP forward and team captain David Villa, for one, has said that he "hopes" to get a chance to reunite with his former Barcelona and Spain national team teammate again.
"Xavi would be a good fit in any league in any team, he's a world-class player, and anybody from MLS or from this team who likes soccer would receive him with open arms," Villa said through an interpreter. "So I just hope that he would come and we would ask him to be a part of the team.
"But you know you can have many wishes and many hopes in life and know those dreams are not gonna come true, so it's something that is not in my hands. I can just say that I hope he would come here and that would be a pleasure to have him," Villa said. "He's a great friend, he's a great player and a great teammate."
Head coach Jason Kreis, however, doubted the compatibility between the club and one of the most decorated player in Spain history, and said he is "on the fence" about the potential move.
"This is always difficult because when you think about a player like Xavi Hernandez, for me, one of the (best) players in the world ever, you say to yourself on one side that there's no doubt that a player like that will be great at New York City," Kreis said. "But when you look at it from another view and say you only got three of these (DP spots), and you already got another one that plays in the midfield (Lampard) and you got a third one in David Villa, whose all relative age are getting up there, you start to think, maybe not.
"I'm a huge fan of Xavi Hernandez. I think he would be a huge player in this league, no doubt about it," Kreis said. "But positionally, I don't think that it makes the best sense and the most sense."
Kreis, though, did add that he is "open to anything."
The 35-year-old Xavi was close to joining NYCFC last year before ultimately deciding to stay with Barcelona and recent comments by NYCFC sporting director Claudio Reyna reignited the conversation.
Xavi's contract with the La Liga side is set to expire in June of 2016 but he is expected to be on the move around January that year during the winter transfer window.