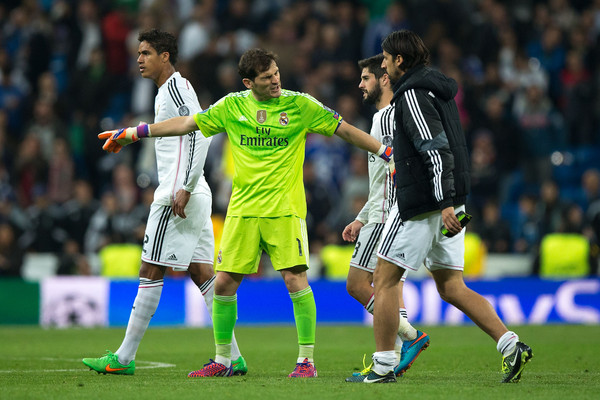 By RYAN TOLMICH
Real Madrid may have advanced out of the Champions League round of 16, but captain Iker Casillas says things cannot get much worse at the Bernebeu.
The Spanish club advanced via a 5-4 aggregate scoreline, but frustration has hit a high after Tuesday's 4-3 defeat at the hands of Schalke. After the game, Cristiano Ronaldo, who scored two goals Tuesday, announced that he will refuse to speak to the media until the end of the season.
Casillas, who admitted fault on some of the Schalke goals, says that the group is struggling, but is looking forward to the opportunity to right wrongs in the next round.
"It is true that we have hit rock bottom in a most resounding way, but the positive is that Friday next week we are in the draw and we will forget what has happened these 10 days," Casillas said. "Because we have lived through 10 dramatic days.
"We must be united and understand the criticism and the Madrid fans, because we were not up to the level of this club, and the Champions League last 16. We are in a privileged place, and now we must just think about tomorrow. We cannot look back, nor recall the 22 wins, nor any of the other things we have achieved."
Here are some more news and notes to kickoff your Wednesday morning:
UNLIKE PSG, NO BONUSES FOR MOURINHO'S CHELSEA
Chelsea manager Jose Mourinho is not a big fan of the bonus structure utilized by Paris-Saint Germain ahead of the clash between the two sides Wednesday.
PSG players will receive €250,000 ($260,000) if the team advances past Chelsea as part of a pay structure that will reward players for advancing all the way up to the Champions League final. Chelsea, meanwhile, will offer no such bonuses, as Mourinho believes the motivation of winning should be more than enough for his players.
"If we take the club into quarter-finals, semi-finals, finals but we don't win the competition, we are doing a very good job for the club financially but I don't think we should get extra money if we don't win the last prize," Mourinho said. "Every player at the high level has enough money in salaries and I think everyone plays to win.
"If somebody puts on the table €250,000 to win a certain match it's nice but I think professionalism goes beyond that. Don't take this the wrong way but, for me, what's more important is the happiness and pride of success, more than the money. Football is about our passion for the game, the happiness and the pride of victories. They have no price."
GHANA INVESTIGATING BETTING IN DOMESTIC LEAGUE
Issues raised over money clouded Ghana's World Cup run, and now it appears that player betting has put a major damper on the nation's domestic league.
The Ghana FA has reported several top-flight players to law enforcement on suspicion of betting, while president Kwesi Nyantakyi said Tuesday the allegations were "a very dangerous development in Ghana's football".
The issues stem from a matchup involving BA United, whose coach, Mohammed Gargo, told media that he had been informed that his players were betting on their team to lose.
Like in most other countries, betting on games is prohibited in Ghana, but the players in question have yet to be named.
QUICK KICKS
Defender Matija Nastasic has signed with Schalke on a permanent transfer from Manchester City. (REPORT)
Radamel Falcao struggled in an outing with Manchester United's U-21s. (REPORT)
Porto's Danilo suffered "no serious injury" after being carted off following a collision with a goalkeeper in yesterday's Champions League victory over Basel. (REPORT)
Arsenal, Everton and Stoke will head to Singapore in July to compete for the Asia Trophy. (REPORT)
—
What do you think of Real's recent struggles? What would you do if you were a manager in terms of bonuses? How big of an issue do you think betting is worldwide?
Share your thoughts below.