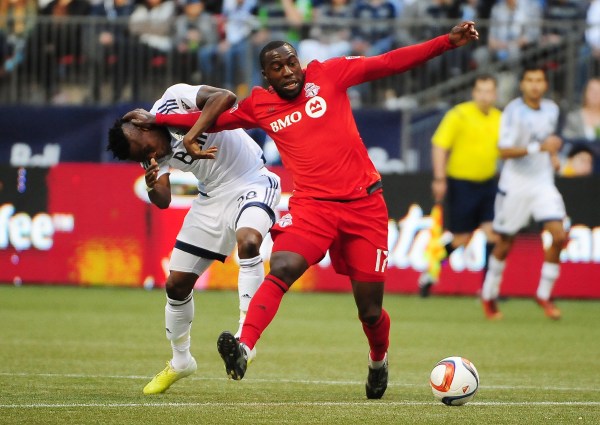 photo by Anne-Marie Sorvin/USA Today Sports
By FRANCO PANIZO
The much-anticipated first week of the 2015 MLS season came and went in the blink of an eye, but not before leaving us with plenty to chew on.
From stellar individual performances like Clint Dempsey's to disjointed team efforts like Orlando City's to impressive crowds turning out across the league, Week 1 of the MLS season provided no shortage of talking points. Fans and observers who were anxiously awaiting the season got their fix, as all 20 teams – including the two newest ones – took to the field to kickstart the league's 20th campaign.
There were some impressive goals, red cards to veteran centerbacks, debuts for players and coaches alike, late-game dramatics, a pitch invader, and everything in between. It made for an eventful and entertaining first week of action, and one that will not soon be forgotten.
Here are five things SBI took away from Week 1 of the MLS season:
DEMPSEY, MARTINS PICKING UP WHERE THEY LEFT OFF
The Seattle Sounders forward tandem of Clint Dempsey and Obafemi Martins took MLS by storm in 2014, and that might again be the case this year if the sound 3-0 win over the New England Revolution is anything to go by. Dempsey and Martins picked up where they left off last season, terrorizing a Jermaine Jones-less New England with their movement and solid understanding of one another.
All three of the Sounders' goals came courtesy of their involvement, with Dempsey finishing with two goals and one assist and Martins with a goal and an assist. Their ridiculous combination play on the final goal – which won SBI's Goal of the Week award – punctuated their dominant showing and also served as a reminder as to what these two veterans are capable of.
ALTIDORE ALREADY PROVING DANGEROUS WITH NEW-LOOK TORONTO
If there were any lingering concerns about Jozy Altidore's ability to find the back of the net in MLS, they were surely put to rest on Saturday. Altidore could not have enjoyed a much better return to MLS, scoring twice to lead the new-look Toronto FC to an impressive 3-1 road victory over the Vancouver Whitecaps. The forward's first goal was taken well, and led to him having the confidence to boldly go down the middle on his late penalty kick.
A confident Altidore has always been a dangerous Altidore, and MLS defenses should be on high alert after that performance.
ORLANDO CITY, NYCFC HAVE LOTS OF WORK TO DO
Forget that they settled for a draw for a second. It was clear from watching both Orlando City and New York City FC play that they need more time to jell and improve. A lot more. That should not come as much of a surprise given their statuses as expansion teams, but it was evident from seeing the two struggle to do much when in possession that there is plenty to work on in the coming weeks and months.
Both head coaches Jason Kreis and Adrian Heath were happy with some of what they saw in the 1-1 draw, but also said after the match that there is plenty for them to address.
HOME TEAMS REIGN SUPREME
Going on the road and winning is not an easy thing to do in MLS, and Week 1 certainly underlined that. In the 10 MLS season openers this past weekend, the home teams went 5-1-4. Only the Whitecaps tasted defeat on their turf, while each of the Galaxy, Sounders, Houston Dynamo, FC Dallas and D.C. United picked up wins in front of their fans.
It was certainly a low-scoring Week 1, with only 16 goals being scored, but it largely went in favor of the teams that were being pushed on by their supporters.
SOLID TURNOUTS ALL AROUND
Speaking of home games, there were solid turnouts from nearly all the cities that hosted matches this weekend. While Orlando's crowd of 62,510 took the cake, Seattle drew 39,782 fans, the Galaxy had a 27,000-seat sell-out, and Portland pulled in 21,144 spectators to Providence Park.
The lowest attendance came in the nation's capital, where D.C. United had a crowd of 11,549 at RFK Stadium. All in all, it was a good first week at the turnstiles and now it will be up to several of the other MLS teams to keep up the pace in Weeks 2 and 3.
—–
What did you take away from Week 1 in MLS? Do you see Dempsey and Martins having another big year? How many goals will Altidore score for Toronto?
Share your thoughts below.