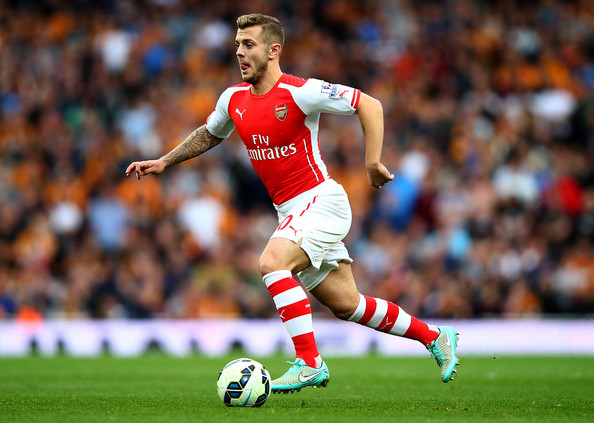 By ADAM TROXTELL
There has been no reprieve from negative injury news for Arsenal fans this week.
After the club revealed Alex Oxlade-Chamberlain will be out for a month with a hamstring injury, manager Arsene Wenger said the team will also be without Jack Wilshere for longer than anticipated.
Wilshere was supposed to return shortly after surgery on his ankle at the end of February. The recovery process is taking more time, so much more that Wenger has ruled the midfielder out of joining England for a Euro 2016 qualifier against Lithuania and a friendly against Italy at the end of the month. Wilshere last played on Nov. 22, 2014, in a 2-1 defeat to Manchester United.
"He will not be fit," Wenger told reporters. "We are at March 13. In 17 days I don't think he will be available to play an international game. I don't know how long it will be before he returns, because we have to respect the progression of his training."
Oxlade-Chamberlain is also expected to miss England duty with his hamstring tear.
Here are some more stories to start your Friday:
RIVER PLATE DRAWS, LIBERTAD VICTORIOUS IN COPA LIBERTADORES
A win still eludes River Plate in this season's continental competition.
A 67th minute equalizer from Hernan Rengifo handed Peruvian side Juan Aurich a 1-1 draw against River in Group 6 Copa Libertadores action. The result takes the Peruvians up to second in the group, while River sits rock bottom with just two points.
The Argentine team had taken the lead after 21 minutes through Colombian defender Eder Alvarez Balanta. Juan Aurich had Rodrigo Cuba sent off for a second yellow card late in the game, but it was too late to help River to its first win in this year's competition.
Elsewhere, Paraguayan side Libertad moved to the top of Group 7 after a 1-0 win against Estudiantes. Santiago Trellez Viveros struck in the 63rd minute to seal the win and a two-point lead in first after three group games.
BARCA PRESIDENT TO FACE TRIAL
Two faces of the Barcelona hierarchy will join for a court battle.
Preliminary hearings have been closed in the case over Neymar's transfer to the Catalan club, and both current President Josep Bartomeu and ex-President Sandro Rosell will face trial over the way the Brazilian was brought into the club in 2013.
The judge will allow prosecutors to pursue charges of tax evasion, as they allege Bartomeu and Rosell of avoiding about $9.5 million in taxes on Neymar's signing. Controversey over the transfer eventually led to Rosell's resignation, allowing Bartomeu to succeed him at Barcelona.
The club issued a statement last month, professing the innocence of both its operations and the two officials.
BASTIA BARRED FROM USING HOME STADIUM
The Stade Armand Cesari will be quiet for some time.
Bastia has been banned from using its stadium until further notice by the French soccer authority, the LFP, after fans interrupted the match last weekend. Until the association says otherwise, the Corsica-based club will have to play games behind closed doors or at neutral venues on the mainland.
During Bastia's 2-1 win against Lille on Saturday in Ligue 1 play, fans sparked flares and threw objects at an opposing player during a corner kick. A hearing will take place on March 25 to determine future steps.
QUICK KICKS
Brazil will face Mexico and Honduras in a pair of friendlies to prepare for the Copa America. (REPORT)
The FA panel that found Manchester United defender Jonny Evans guilty of spitting called his actions "disgusting." (REPORT)
The worst team in the world based on FIFA rankings, Bhutan, has won its first ever match in World Cup qualifying. (REPORT)
Stuart McCall has challenged his Rangers' team to seek a third consecutive promotion after he was appointed manager late Thursday. (REPORT)
————-
What do you think of these reports? What do you think of Arsenal's continued muscular injury woes? Do you see them changing their training methods? What do you think of River Plate's performance so far in the Copa Libertadores?
Share your thoughts below.