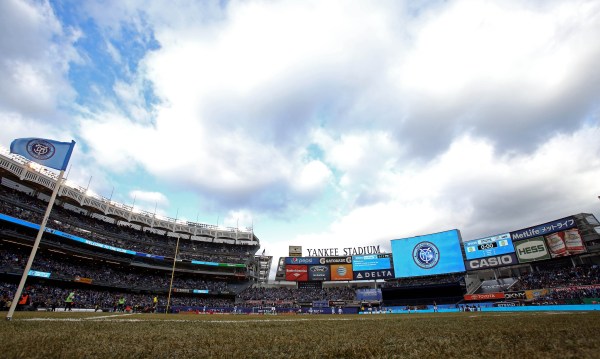 Photo by Adam Hunger/USA Today Sports
By RYAN TOLMICH
Since the announcement that the club would adopt Yankee Stadium as its inaugural home, New York City FC has fielded questions about just how the playing surface would hold up in the face of actual game play.
For goalscorer David Villa, some of those questions were answered Sunday.
NYCFC topped the New England Revolution, 2-0, Sunday evening in the club's first game on their home field. Given the opportunity to finally test out the field in actual game situations, Villa says that he was certainly pleased with how the field held up during the club's first matchup on home soil.
"I would say that I think the pitch was fine today," Villa said in his postgame press conference. "We have to bear in mind the cold weather that we've endured in the last month and I think that the team that has been working on it has worked extremely hard and we should thank them for it. Hopefully, in the next few months, with nicer weather, the pitch will be in better condition and we will all benefit from it.
"I think the team and the players, we have to adapt to the conditions and once again I want to thank the team that put in the work to prepare the pitch because, once again, it was in a very good state today by any standards in any sport. In the next few months, we'll benefit from even better conditions as the weather gets better."
For Villa, the weather did play a major factor in Sunday's proceedings, as the Spanish star referenced the cold numerous times after the game. In addition to the temperature, both head coach Jason Kreis and goalkeeper Josh Saunders said the wind played a part in the team's strategy, as the backline was reluctant to play the ball out of the back with the wind in their faces in the opening half.
"The other thing that was a major factor that a lot of people don't understand quite enough is the wind," Kreis said. "In the first half, it was very, very difficult for our guys to feel any comfort trying to play out of the back with that much wind in their face. The guys, it was a good adjustment on their part."
"Against the wind, it was difficult in the first half," Saunders added. "The second half, to be able to come out there and possess the ball in their half, it made the game a lot easier for me and a lot easier for us. It was good to see."
With just one of the team's 17 home games in the mirror, Kreis believes that the field, like his team, has room for improvement despite the initial successes. That improvement, Kreis says, will come as the season wears on and the team and grounds crew continue to experiment and adjust the field to fit the team's vision.
"For me, it was fantastic and the fact that they were able to put that together for us in such a short time, I was really pleased," Kreis said. "I say this: from what I saw last summer to what I see now, I think this will continue to get better and better and better as they continue to realize and understand what we're looking for."