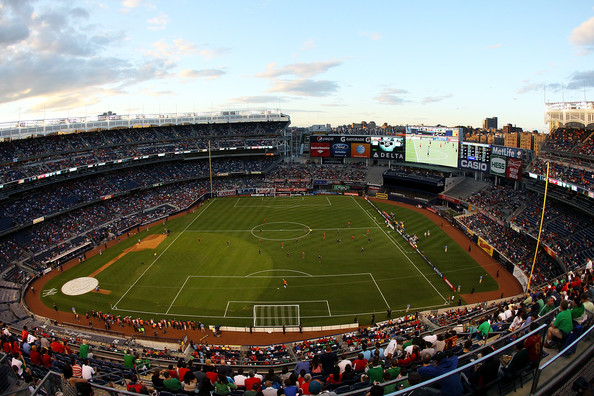 By FRANCO PANIZO
New York City FC has yet to play its first game at Yankee Stadium and New York Yankees players are already expressing concerns about sharing the same field.
In the same week that NYCFC is set to host its home opener against the New England Revolution, several Yankees players revealed their uneasiness over the potential conditions of the grass at Yankee Stadium. Measures have been taken to help ensure the field is in the best possible shape when switching between sports, but Yankees players are still fretting over how the field might play during baseball games.
"It'll definitely cause an issue, but it's nothing that we can control, so we can't worry about it," Yankees first baseman Mark Teixeira told the Wall Street Journal. "It's terrible for a field."
Aside from one instance, the grounds crew at Yankee Stadium will have a minimum of three days at a time to change from one sport's field to the other. A system that uses mobile lighting to regrow grass will be used, and the pitcher's mound will be away from the soccer field and left alone.
Yankee Stadium has been used for soccer in the past, but only for one-off events and not an entire season. NYCFC is set to play 17 games from March to October at the stadium it is using temporarily, raising fears over injury.
"They have had a couple (games) there in the past, and that doesn't mess it up nearly as much as a concert, or a boxing match, because the guys are just playing on the field, and there's not 40,000 people trampling on the field," left fielder Brett Gardner told the Wall Street Journal. "Problem is the root system. After you put new grass down, there's no root system, so essentially you're running full speed on top of AstroTurf that's sitting on top of cement, and that grass will give way, and you blow something out—knee, ankle."
NYCFC opens its home schedule against Eastern Conference foes New England on Sunday.
—–
What do you think of the Yankees players' concerns? Think the grounds crew can keep the field in good condition for baseball and soccer?
Share your thoughts below.