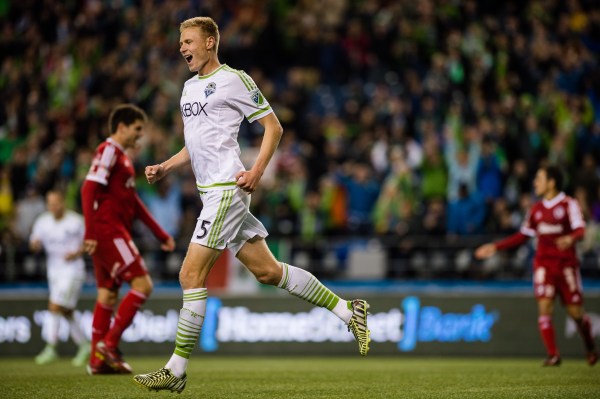 Photo by Jane Gershovich/JaneG. Photography
By JASON MITCHELL
SEATTLE– One of the key differences between Liga MX and MLS, says conventional (and in this case justified) wisdom, is the quality of players further down the roster. But for one friendly at least, the Seattle Sounders held their own against the best Liga MX had to offer, and did so in a match that amply drew from further down both rosters.
Thanks to impressive assists from second-year Homegrown Player Aaron Kovar and rookie Cristian Roldan, the Sounders earned a 2-2 draw with Club Tijuana in front of 39,115 at CenturyLink Field on Tuesday night.
Halftime substitute Andy Rose equalized in the 55th minute, slipping behind a central defender to flick in a close-range shot off a gracefully bent and metronome-perfect Kovar cross.
Club Tijuana, sitting in first place in the Liga MX Clausura, managed only one second-half shot and sat back late without ever threatening to regain the lead.
Instead, a group that after the 72nd minute resembled a Sounders 2 USL squad — seven field players averaging an age that wouldn't admit them into a respectable bar boasted a combined 37 minutes of MLS playing time — kept Tijuana on the ropes until the final whistle.
Tijuana missed seven players to international duty and two to injury, including captain Javier Gandolfi.
For their part, the Sounders missed Tyrone Mears and Osvaldo Alonso to injury and Clint Dempsey and creative midfielder Marco Pappa to international duty. Head coach Sigi Schmid also sat regulars Leo Gonzalez, Chad Marshall, and Stefan Frei. He then pulled starters Gonzalo Pineda, Obafemi Martins, and Michael Azira at the half.
Lamar Neagle put the Sounders ahead 1-0 in just the 11th minute, finding himself unmarked 4 yards in front of goal before redirecting a Roldan header past goalkeeper Cirilo Saucedo. Kovar, credited with a second assist on the play, sent in the initial far-post cross that Roldan headed back across the face of goal.
Dayro Moreno equalized for Club Tijuana in the 22nd minute, first firing a shot off the far post from the corner of the 6-yard box before finishing the rebound from what seemed a nearly impossible angle at the endline.
Tijuana took the lead just six minutes later.
Midfielder Richard Ruiz played a nicely weighted through ball that left forwards Dayro Moreno and Alfredo Moreno 2-on-1 against goalkeeper Troy Perkins. Dayro Moreno played a simple ball to Alfredo Moreno for the 2-1 lead.
Kovar and Roldan both could have had multiple assists.
Kovar created the match's first chance, sending in a sixth-minute, near-post cross that Neagle — playing forward in the makeshift lineup — headed just over the crossbar. Moments later Roldan sent in a cross from the right side that Neagle flicked just past the right post.
The Sounders not only outshot Club Tijuana 11-5, but also bested the visitors on corner kicks 7-0. An often tense match saw referee Daniel Radford issue six yellow cards, four of which went to Tijuana.
The Sounders scheduled the match as a warm-up for CONCACAF Champions League.
Looking forward, the Sounders visit FC Dallas in Frisco, Texas, on Saturday. Club Tijuana has a bye in Liga MX play.