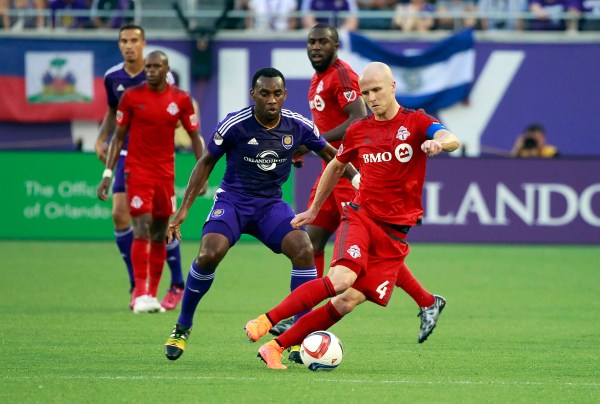 Photo by Kim Klement/USA TODAY Sports
By MIKE GRAMAJO 
ORLANDO, Fla. — For the fourth time this season, Orlando City SC dominated possession at home, but the visiting side had the most important factor to a game: the goal.
Jozy Altidore bagged a brace as he propelled Toronto FC to a much-needed 2-0 victory over Orlando City on Sunday night at the Citrus Bowl in front of 30,908 in attendance.
The American international put Toronto on the scoresheet in the 50th minute after making a run past Orlando City's back line, striking a low-shot past Donovan Ricketts. Altidore doubled the lead, and secured his brace in the 82nd minute when he rounded Ricketts to slot the ball into an open net.
"[Toronto] didn't surprise us," said Orlando City head coach Adrian Heath. "I thought they played their most experienced team and made it difficult. We fell in their trap, and I don't think we were good enough to win the game."
The Reds wasted no time in finding their first scoring opportunity when Jackson rifled a volley from long range in the opening minute of the game, only to get denied by Ricketts who committed the full-stretch save.
Turnovers seemed to be a trouble haunting the Lions throughout the first half. On one occasion in the 25th minute, Darwin Ceren surrendered the ball to Giovinco, who found Michael Bradley on the counter, only for it to be stopped by Orlando defender Seb Hines.
Adrian Heath took more of an offensive approach in the second half, deploying forwards Danny Mwanga and Designated Player, Bryan Rochez, but that wasn't strong enough to hold off Grey Vanney's men from scoring on the counter.
"We have to accept the loss and move on," said a disappointed Kevin Molino after the 2-0 loss to Toronto. "Not getting a win at home is difficult, but the team needs to stay focused and believe at what we do. I think we play good football, but Toronto figured out our game plan. Now we need to come back and improve collectively."
On paper, there are two stories in one being depicted; Orlando City dominates possession in a game, but can't penetrate the final third. In their opening four home games, the Lions have only scored once, but have conceded five goals – all of which have come in the second half.
With the win, Toronto snap their four-game losing streak, while Orlando City head into the bye-week searching for their first win at the Citrus Bowl when they host the New England Revolution on May 8.