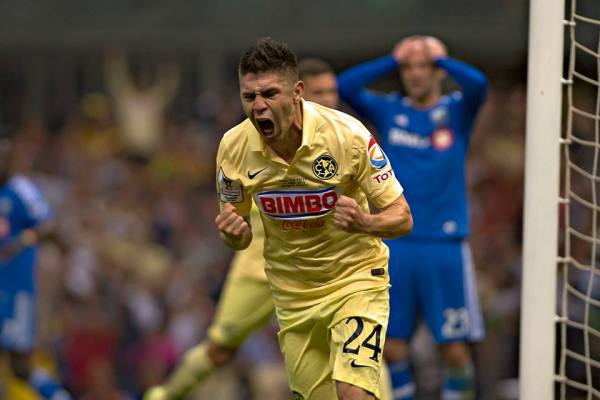 By FRANCO PANIZO
Some dogged defending and an opportunistic finish had the Montreal Impact sitting very pretty, but substitute forward Oribe Peralta ensured that his team would not be defeated.
Club America avoided a shocking defeat against the Impact on Wednesday night, as Peralta scored an 89th-minute equalizer to force a 1-1 draw at Estadio Azteca in an intense first leg of the CONCACAF Champions League final.
Ignacio Piatti opened the scoring for Montreal with a clinical finish in the 16th minute, and the Impact's defense held firm against an onslaught of pressure until Peralta nodded home a floated free kick from Rubens Sambueza.
America had most of the game's best chances throughout the match, outshooting Montreal 28-4, but the Impact came close to making it 2-0 late in the first half on a play that ended in controversy.
Hitting back on a quick counter, Piatti fed the speedy Dominic Oduro on a clear path towards goal. Oduro was subsequently prevented from breaking free on goal, as America midfielder Osvaldo Martinez pulled on the Impact striker's jersey in an effort to slow the Impact forward down.
Honduran referee Hector Rodriguez immediately whistled for a foul, but gave a yellow card to Martinez despite the Impact's pleas for a red card for denial of a clear goal-scoring opportunity.
That was not the only sequence that saw Montreal nearly take a 2-0 lead. On another counter attack earlier in the first half, Piatti tried to float a shot to the back post before seeing it sail wide of the goal.
As frail as Club America looked at times defensively, the Liga MX club was still the better side from the run of play. It dominated possession and tested a Montreal back line that got strong performances from Laurent Ciman, Bakary Soumare and Hassan Camara.
All that could still not stop America from creating several good looks. Sambueza hit the crossbar on a shot with the outside part of his foot in the second half, and Montreal goalkeeper Evan Bush had to make number of impressive saves and show a good command of his box on both sides of halftime to prevent the MLS side from conceding until late.
The walls caved in eventually, however. Peralta, who entered the game at halftime, jumped over his mark on the late set piece and headed home an equalizer that sent Estadio Azteca into a loud roar.
America then pushed on for a winner and nearly found one on a couple of instances, including on a close-range effort by Peralta that buzzed over the crossbar.
Holding the advantage currently because of the away goal, the Impact will look to defend home turf and make history by being the first MLS side to hoist the Champions League trophy at Olympic Stadium on April 29.