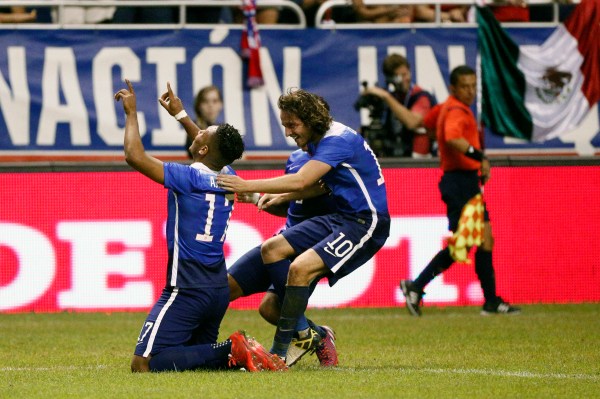 Photo by Soobum Im/USA Today Sports
By CARL SETTERLUND
FOXBOROUGH, Mass. — New England Revolution forward Juan Agudelo said he wanted to make the most of his first call-up to the U.S. Men's National Team in over a year, but he wasn't getting his hopes up for too much more than a late substitution Wednesday against Mexico.
USMNT coach Jurgen Klinsmann had something else in mind, subbing off one goal scorer for another as Agudelo replaced Jordan Morris in the 65th minute.
Seven minutes later, Agudelo was pointing to the sky to celebrate his first USMNT goal since 2011.
"To be honest, I appreciate the amount of time that (Klinsmann) gave me to prove myself," Agudelo said before the Revolution's training session on Friday. "I wasn't expecting that much time and I'm just happy I was able to make the most of it."
Agudelo admitted the moment "definitely overcame me" after putting the United States up 2-0 in the 72nd minute, saying it reminded him of his first USMNT goal against South Africa in 2010.
Although the long ball to set up his goal recalled Kelyn Rowe's pass on Agudelo's first goal of the MLS season two weekends ago at Colorado, Agudelo thought it was classic Michael Bradley.
"Kelyn played a little bit of a longer ball," Agudelo said. "I thought of it more of a Michael Bradley playing Jozy Altidore ball. He usually plays that ball a lot and I was just able to bring it down and do something with it."
Agudelo had to fight his way back into the USMNT pool after a misadventure in Europe, and that experience made him appreciate wearing the red, white and blue even more. In fact, he said seeing his name on the back of a USMNT jersey again was a highlight of his call-up.
"It's something that's really good for him and the club. We really feel that Juan is in a great position," Revs coach Jay Heaps said. "I'm excited for him because it's been a long, hard road to get back and he's done a lot of work to get there."
Here are a few other notes from Revolution training:
NGUYEN STAYING POSITIVE OVER LACK OF USMNT MINUTES
As the 22-year-old Agudelo made his triumphant return to the USMNT, his teammate, Lee Nguyen was left to watch from the bench as one of three unused substitutes. Nguyen, a Texas native who had friends and family visit San Antonio, said he's not getting discouraged yet.
"I'm always happy and honored to get called up," Nguyen said. "Obviously, you want to try to get some time to play, but at the same time Jurgen knows what he's doing. I think this time it was more tactical and stuff, but there's going to be more chances to play."
Nguyen has been called into three of the last four USMNT camps, but has only played a combined 68 minutes in substitute appearances against Colombia, Chile and Panama. Including his three caps in 2007, Nguyen has still never started or played more than 45 minutes in a USMNT game.
"You've just got to keep playing, keep doing your thing and when you get your chances you've just go to make the most of your opportunities," Nguyen said.
JONES, TIERNEY RETURNING TO HEALTH
Heaps and the Revs' training staff put Jermaine Jones on a 45-minute cap in his first game of the season last Saturday against Columbus Crew SC. Although Heaps declined to say if Jones would be on a prearranged minutes limit again, he said he's been encouraged with the midfielder's continued progress in coming back from a sports hernia surgery.
"We're progressing each day with Jermaine, just to see exactly where he fits on the fitness spectrum, and he's had a really good week of training," Heaps said. "We'll have to see where those minutes lie."
Jones told Revolution communications staff on Thursday that he is no longer feeling any pain.
"I got a little bit sore after the game, but I think that's normal if you don't play for a long time," Jones said. "The pain that I had before, it's not there. So I'm happy."
Left back Chris Tierney (left ankle sprain) is also back to full training, although Heaps said he hasn't yet made a decision on whether Tierney will play Sunday against Philadelphia.
"Chris adds another element out there and he really can contest back lines, early service, get to the byline," Heaps said. "I thought we defended really well (against Columbus), so that was good, but we missed him a little bit in the attack… I think we have some good depth and other guys are going to step up when he's out."
—
What did you think of Agudelo's USMNT return? What does Lee Nguyen have to do to earn more minutes in a crowded USMNT midfield? How many minutes should Jones play this weekend?
Share your thoughts below.