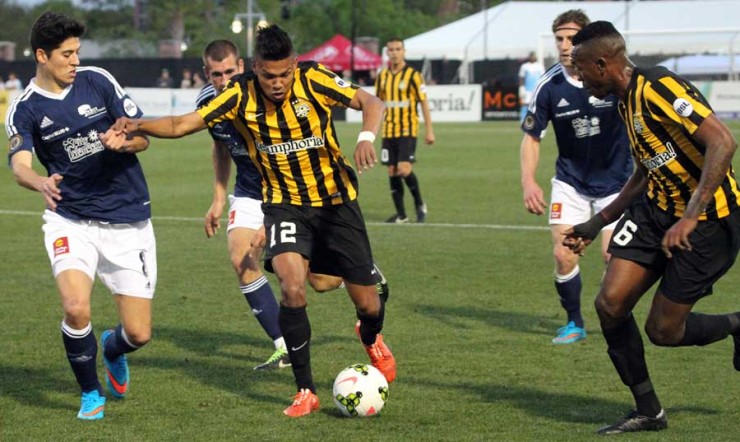 Photo by Vin Duffy/Charleston Battery
By ADAM TROXTELL
Early in the season, the Charleston Battery have shown how, even in a new-look USL, old habits die hard.
Three wins from their first three games have the Battery sitting top of the Eastern Conference and with the best record in the USL overall. It's the club's best start to a season since 2003, when the Battery eventually won the championship in what was then the A-League.
Current head coach Michael Anhaeuser was there as an assistant.
"I see the similarities in our balance," he said, comparing the 2003 Battery team to this season's squad. "I would say that year, for one, our defense was very good. I don't know if we're there just yet. We were very potent going forward, but our defense was so good that it was going to take a very good team to break us down."
Though the Battery's most recent achievement was a shutout win against Harrisburg City Islanders, Anhaeuser said the attack has really carried the team this year. Eight goals in three games is a good indicator, and five of those belong to strikers Heviel Cordoves and Dane Kelly.
"They're feeding off of each other as far as confidence," Anhaeuser said. "I think they both push each other. Right now, it's working out that no matter who I put up there, they're going to put it in the back of the net."
Both Cordoves and Kelly have multiple years with the Battery under their belts, something not often seen in the USL lately. The case is similar for recent USL Team of the Week selection midfielder Justin Portillo, who has continued to grow since breaking out in the latter half of 2014 as a rookie.
A large portion of the Battery roster is returning for a second or third season with the club, something Anhaeuser said is at least partially down to the addition of so many expansion teams to the USL.
"You have all of these new teams, so of the players in the past that you could bring in, honestly it was probably cut in half," Anhaeuser said. "In the MLS draft, you would have guys who went into camps and didn't make it. They became available. Now, those players aren't available.
"That's why for us, we had to make a decision that it wasn't going to be the same. We had to bring guys back. Those guys, they didn't play much, maybe, but they did well."
In addition, the competitiveness of the league has increased, and this has forced players to elevate their game. The Battery next face New York Red Bulls II at home on April 18, and the prospect of playing against guys with direct MLS links certainly plays into the players' psyche.
"Our players have to perform at a high level," Anhaeuser said. "MLS coaches are going to be watching, so the players do go at a higher level. From a competitive standpoint, it's great. If you can develop players that just want to do well no matter where they are, they're going to make it."
Here are some more stories from around the USL this week:
MONARCHS FIGHT BACK FOR DRAW IN HOME OPENER
A Real Salt Lake loanee handed Real Monarchs SLC a draw on a historic Wednesday night.
The Monarchs tied Portland Timbers 2 1-1 at Rio Tinto Stadium in the club's home opener. Defender Justen Glad headed in a free kick in the 27th minute for the first home goal in club history.
"I can't really describe the feeling, to be honest," Glad said after the game. "Every set piece I feel is an opportunity to score. You just have to commit to it."
The goal canceled out Fatawu Safiu's seventh minute strike. The T2 man carried the ball up the right before sending a shot to the near post, catching Lalo Fernandez wrong-footed in goal for the lead.
Lucas Baldin then created the equalizer with a driven free kick into the 6-yard box that Glad rose up to deflect into the net. A second yellow card to T2 defender Rennico Clarke left the Monarchs with a man advantage for 21 minutes, but they were unable to find a winner.
"They were down a man, but it's not always easy playing a team that's down to 10," Monarchs head coach Freddy Juarez said. "They're not as opened up, so it's hard to break them down and I thought we created two or three pretty good chances to maybe go ahead. Overall, [I am] pleased with the guys."
The Monarchs will try to follow the draw with their first win in another home game against Colorado Springs Switchbacks on Saturday. Portland faces Cascadia rivals Seattle Sounders 2 on the road later that same day.
IN-FORM KHARLTON BELMAR READY FOR CASCADIA TEST
With three goals in his first two games for T2, Kharlton Belmar has understandably earned special attention in the early days of the season.
The former Virginia Commonwealth University striker and second-round MLS Draft pick by the Timbers is preparing with the rest of the first-place T2 squad to face second place Seattle Sounders 2 on Saturday. Speaking with USLsoccer.com, Belmar said the team is ready for a big outing at the top of the Western Conference.
"We know going on the road that you have to play a solid game," Belmar said. "The Cascadia match has certainly been in the back of our minds. It's going to be a big game. Everyone knows it's a big rivalry."