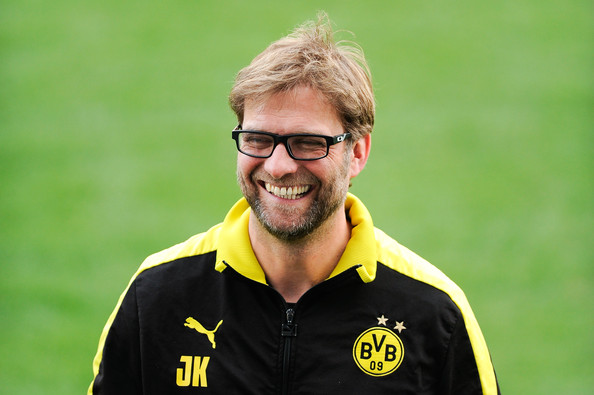 By RYAN TOLMICH
Pep Guardiola is under contract with Bayern Munich until 2016, but if the Spaniard were to depart, club legend Franz Beckenbauer already has a replacement in mind.
With his time at Borussia Dortmund set to come to a close at the end of the season, Jurgen Klopp has been earmarked as a potential Bayern manager by Beckenbauer should Guardiola ever depart.
"Of course I could imagine Klopp as Guardiola's successor," Beckenbauer told Sky Sports Germany. "When I was president, we often talked about Klopp and believe he would fit very well at Bayern. Klopp is definitely an option at Bayern. The question is, how long Guardiola will be in Munich. I hope for a long time, but Klopp would be considered.
"I can't imagine that Guardiola would leave in 2016. He likes Munich. He has had success with the team, and he knows that he can succeed in the future. He has everything he wants."
Here are some more news and notes for your Monday evening:
BOURNEMOUTH ALL BUT CLINCHES PROMOTION
The Premier League is just about set to welcome a brand new club.
Bournemouth all but clinched promotion Monday with a 3-0 victory over Bolton Wanderers. With the victory, the club is up three points ahead of third-place Middlesbrough, who would need a miracle for the ages to overcome their 19-goal deficit.
Led by goals from Marc Pugh, Matt Ritchie and Callum Wilson, Bournemouth are now on the precipice of making it to the top division for the first time in the club's 116-year history.
VALENCIA MOVES BACK INTO CHAMPIONS LEAGUE PLACE WITH WIN OVER GRANADA
Valencia is once again on track for a Champions League birth.
With goals from Javi Fuego, Daniel Parejo, Sofiane Feghouli and Alvaro Negredo, Valencia thoroughly dispatched Granada, 4-0, to move back into fourth place in La Liga.
The victory sees Valencia move two points clear of Sevilla for the fourth and final Champions League spot, but four points clear of third place Atletico Madrid. Granada, meanwhile, sits 19th, six points clear of safety.
ATALANTA'S DENIS GIVEN FIVE-MATCH BAN AFTER LOCKER ROOM ASSAULT

German Denis is set to miss some crucial games in a relegation fight after his post-game attack of an opposing player this past weekend.
Following Atalanta's draw with Empoli, a game in which Denis scored the equalizer, the Argentine forward stormed into the Empoli locker room in search of defender Lorenzo Tonelli, who allegedly threatened harm to Denis' family.
Denis proceeded to attack the Empoli defender and was hit with a five-match ban, while Tonelli was also hit with a one-match suspension.
Denis has eight goals this season for Atalanta, who are currently in 17th place. The forward weill be eligible to return for the club's final game of the 2015 season against AC Milan.
—
What do you think of Beckenbauer's statement? How will Bournemouth fare in the Premier League? What do you expect from Valencia going forward?
Share your thoughts below.