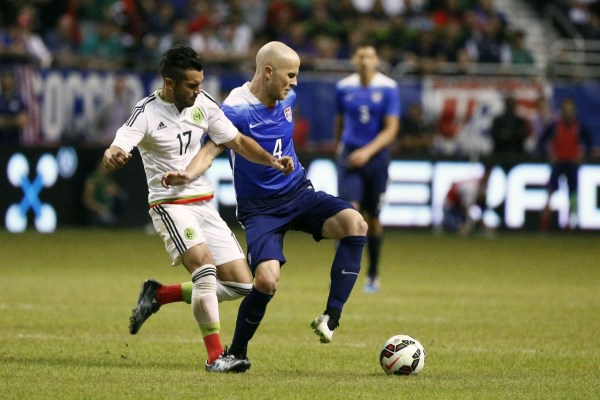 Photo by Soobum Im/USA Today Sports
By RYAN TOLMICH
With both Jozy Altidore and Clint Dempsey absent from the roster, the U.S. Men's National Team needed Michael Bradley to embrace a leadership more even more demanding than that of normal.
Embrace it he did, as Bradley dominated the game on his way to a SBI USMNT Man of the Match performance while continuing to push a young but talented roster to victory.
For Bradley, Wednesday night presented a chance for the midfielder to leave a major footprint on the game from an attacking role, an opportunity Bradley embraced as the team's captain and leader.
"Obviously, we all have our qualities and when certain guys are missing on some days, you look to the guys who step in to interpret the game and to play with their own personality and put their own stamp on the game," Bradley said. "For me, it's simple. Every time I step on the field, I try to do whatever is needed to help the team win. I try to read things. I try to look at the guys around me and see what I can do to help us win.
"I'm not afraid to take a big role. I'm not afraid to do what's needed to help us try and win. It doesn't mean that it always works, but I enjoy that. I relish that. I think tonight, when you look around the field, in tough conditions on a less-than-ideal field, I thought that the way that we handled the game was good. I think every guy who stepped on the field should be proud of that."
His head coach, Jurgen Klinsmann, was more than proud of Bradley's performance, which saw him open up Mexico for the first goal before providing the direct assist on the second.
Wednesday's action allowed Bradley to assert himself from higher up the pitch, a tactic Klinsmann believes make best use of Bradley's vision and composure on the ball.
"It was by design because we played a diamond in midfield and having Michael in the position where he's higher up, the goal with that is to give Michael the opportunity to find the forwards and feed them those balls that are often killer passes," Klinsmann said. "He has the vision, he has the technique to play those balls and he also has the qualities to finish things off himself."
Here are some more USMNT news and notes from Wednesday's game:
KLINSMANN LOOKING TO HELP GREEN IN FACE OF DIFFICULTIES
Following his World Cup performance, the sky seemed to be the limit for Julian Green, but the events that have followed have brought the winger back down to earth.
Green has endured a tumultuous club season at Hamburg, one that has seen plenty of change and far less minutes on the field. Despite the difficulties, Klinsmann still holds Green in high regard and continues to vow to help the youngster find his footing.
"We are there to help them, to guide them, and also in moments that are difficult, like with Julian Green as we have seen in the last couple of days," Klinsmann said. "It's very difficult for the kid right now, but he deserves to come in. We talk to him, we have good meetings and we will help him. He flies back tomorrow to Hamburg to his fourth coach this season. The coach that took him was fired after two weeks. That's what he's going through right now, and he's only 19-years-old.
"When we look at the players, no matter what age they are, we look at the possible path that's ahead of them. We see the potential, we see the qualities, and then we see the areas that they need improvement on. We tell them those areas. We tell them you've got to work on this and got to work on that. All of them."
AGUDELO GOAL BRINGS BACK MEMORIES
Roughly a year removed form his last USMNT appearance, forward Juan Agudelo wasted little time in reestablishing himself as a potent goalscorer.
A second half substitute, Agudelo displayed a cool first touch and the ability to finish from range, giving the U.S. a 2-0 lead that would eventually hold on to be the final score. After nearly a year away from the game, Agudelo made his return this season with the New England Revolution, earning his way to a call-up that resulted in his return goal.
For Agudelo, whose first goal for the U.S. came nearly five years ago, Wednesday evening brought back memories of what it was like to contribute to his national team after a difficult year away from the game.
"It means a lot to me, and most of all it meant a lot during this game because it gave a lot less stress toward our defenders to maybe give up a goal to tie the game," Agudelo said. "Now we had a little bit of cushion. It kind of brought me back to when I scored my first goal in South Africa.
"I was really thankful," the forward added. "Honestly, it was the same feeling that I had when I scored my first goal. Crazy how it was the same celebration."
KLINSMANN PRAISES DEFENSE FOLLOWING CLEAN SHEET
For months, the USMNT's backline has been an achilles heel due to late game collapse after late game collapse.
There was no such thing Thursday, as the defense held strong for 90 minutes, much to the pleasure of Klinsmann.
With the duo Omar Gonzalez and Ventura Alvarado as a dominant anchor at the center back position, fullbacks DeAndre Yedlin, Brek Shea and Greg Garza were given a chance to roam in a performance that Klinsmann felt was a high-quality display on both the attacking and defensive ends.
"I think they were outstanding. I think Omar and Ventura both played an outstanding game," Klinsmann said. "I think DeAndre got better and better throughout the game. He had a couple of moments where the ball just bounced over near the sideline, so it kind of didn't find the space to go yet. He found that space in the second half. We had the understanding before the game that Greg plays the first half and Brek Shea plays the second half and they were feisty. They were in there for the fight and I think Brek starts to enjoy more and more the role as a left back."