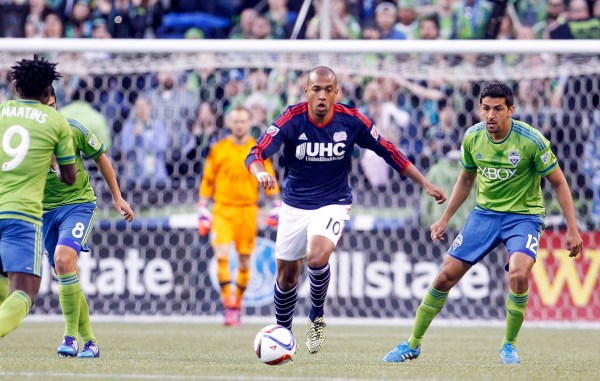 Photo by Joe Nicholson/USA Today Sports
By CARL SETTERLUND
FOXBOROUGH, Mass. — The shorthanded New England Revolution are about to get a boost.
Winger Teal Bunbury, an oft-underrated cog in the Revs' high-powered offense, has the green light to return for this Saturday's road game against the Colorado Rapids. Bunbury sprained his right shoulder in the Revolution's Week 1 loss at Seattle, but after resuming full training late last week, the 25-year-old is feeling renewed and ready.
"I'm the worst at doing percentages or 1 to 10, what's your pain, but I'm definitely feeling a lot better," Bunbury said at Revolution training on Wednesday. "I'm feeling really good and I'm feeling that I'm really close to being able to be called into the squad."
Coach Jay Heaps, often tight-lipped on injuries, confirmed Bunbury's optimism.
"He was a close call last week and this week he's certainly in everything we're doing," Heaps said. "We're expecting him to be part of the game plan."
Bunbury said he's never had a shoulder sprain before and it's presented some challenges.
"Mentally, I'm getting there where I'm feeling comfortable getting into 50-50 challenges with my shoulder, being able to shield the ball and things like that," Bunbury said.
Bunbury added that fitness has not been an issue during his month of rehabilitation, hinting that he's capable of starting now if Heaps calls his number.
The converted winger looks set to be the first to see the field out of of the Revs' injured starters. Midfielder Jermaine Jones and right back Kevin Alston have also returned to training, although both appear more likely to come back next week against the Columbus Crew.
"You never want to be off for too long," Bunbury said. "I've been feeling like I have that itch and that excitement to get out there and try to do the best I can for the team."
Here are a few other notes from Revs training:
KOBAYASHI IMPRESSING IN JONES' ABSENCE
It's not fair to ask any one player to replace the value of Jermaine Jones, but unheralded veteran Daigo Kobayashi has done an admirable job early on this season.
"I have to play strong and sometimes shout," Kobayashi said of filling in for Jones.
Kobayashi is known to joke about his advanced age, but the 32-year-old has looked sprightly so far, going the full 90 minutes in each of the Revolution's last three matches.
"He's a great veteran and we've got a deep squad," said central midfield partner Lee Nguyen. "You see anybody that steps in can provide that spark for us and he's done great."
Kobayashi pulled the strings on the Revolution's first goal of 2015, as Kelyn Rowe put the home side up 1-0 over San Jose in the 21st minute. Kobayashi tracked back into Scott Caldwell territory to intercept a Shaun Francis pass at midfield and then sent it to Nguyen on the right sideline, creating the space for Rowe to make a trailing run inside.
"We know each other, how we play," Kobayashi said of reuniting with Nguyen. "I have to find him every time because he has good technique."
Technique is ultimately the quality Kobayashi values most, citing that as a reason why he tries to emulate the style of Barcelona and Spanish great Andres Iniesta, saying, "He has good view and good technique. No mistakes."
"Seeing a lot of good players in this league, Daigo is as technical as they come," Heaps said. "He can do pretty much anything that he wants with the ball."
OLD ROOMMATES REUNITE
Saturday will mark the second time that former Miami Fusion teammates Heaps and Pablo Mastroeni meet as head coaches. The Revs won 3-0 at Gillette Stadium last July, but have never won at Dick's Sporting Goods Park.
"I lived with Pablo for two years when I played in Miami, so I know Pablo well and I know his personality," Heaps said. "He's one of the biggest competitors I've ever met, so he's going to have his team fighting and hounding the ball and not giving up anything."
Mastroeni and Heaps are seventh and eighth, respectively, in all-time minutes played in MLS history.
—
How will Bunbury's return impact the game on Saturday? Think he will provide a big boost to the attack? How would you assess Kobayashi's play so far?
Share your thoughts below.