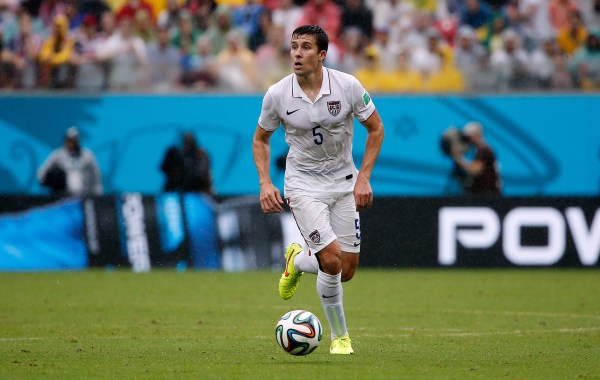 photo by Winslow Townson/USA Today Sports
By FRANCO PANIZO
Jurgen Klinsmann might not be able to call in all of his top players for the upcoming friendly against Mexico, but there will still be no shortage of options for him to choose from at centerback.
The U.S. Men's National Team will take on its next challenge in the build-up to this summer's CONCACAF Gold Cup title defense when it hosts Mexico next Wednesday at the Alamodome in San Antonio, Texas. The match falls outside of FIFA's international calendar, but Klinsmann is expected to be able to count on Liga MX- and MLS-based players. That will give him plenty to consider, even if New England Revolution veteran Jermaine Jones and D.C. United youngster Steve Birnbaum are still sidelined through injuries.
Some of the things Klinsmann will have to think about for this one-off match vs. El Tri is if he wants to continue to give looks to newcomer Ventura Alvarado or if he wants to trot out the World Cup tandem of Matt Besler and Omar Gonzalez. Another thing Klinsmann has hinted at in recent days is continued experimentation, which could open the door for someone like uncapped Sporting Kansas City defender Ike Opara.
Who will Klinsmann choose from? Here's a closer look at the U.S. coach's options for the upcoming match with Mexico.:
MATT BESLER
After making public comments that contradicted Klinsmann's about fitness, it remains to be seen whether or not Besler returns to the fold. He – like a bunch of MLS-based regulars – was passed over in the last camp and told SBI at the time that he had not spoken to Klinsmann prior to the March friendlies. Besler, for his part, has been playing well for Sporting KC as of late and is still among the most experienced options in the pool, so Klinsmann may be keen on bringing him back into the mix.
OMAR GONZALEZ
He has not played for the U.S. since Landon Donovan's international finale in October, so Klinsmann will likely want to take a closer look at the LA Galaxy defender. Gonzalez continues to be an every-game starter at the club level, and, like Besler, boasts plenty of experience after being a lineup fixture last cycle. He seems a lock for a call-in.
MICHAEL OROZCO
The Puebla defender showed well in two starts last month, and that might warrant another long look from Klinsmann. Orozco has not always been so convincing, but his defending was sound and his passing was crisp and accurate against Denmark and Switzerland. He is not as physically gifted as some of the other options available, but does offer the type of composure on the ball that Klinsmann prefers.
VENTURA ALVARADO
After making his debut with two substitute appearances in March, Alvarado could earn another call-up against the nation he decided not to play for. Alvarado showed some positive things in March's friendlies, but still looked like a player adjusting to the speed of play at the international level. Klinsmann, however, is not one afraid to throw players into the deep end to see if they can swim, so Alvarado could be a surprise starter in this one if summoned.
IKE OPARA
Arguably the best defender in MLS right now, Opara has been playing lights out for Sporting Kansas City. He has yet to be called in by Klinsmann, and the U.S. head coach may want to give Opara his first camp invite to see how he fits into the team and its setup. Combing blazing speed with freakish athleticism, Opara has a unique skill set that no other central defender in the pool has and that might be too tempting to pass over as Klinsmann continues to gauge players.
MATT HEDGES
Given his first cap during this year's winter camp, Hedges should be in contention after helping to lead FC Dallas to a strong start in the MLS season. He's been playing well for club, and Klinsmann may want to see Hedges for more than the 18 minutes he played against Panama. The 25-year-old defender is still inexperienced at this level, but Klinsmann's willingness to experiment even at the cost of results bodes well for Hedges like it does for Opara.