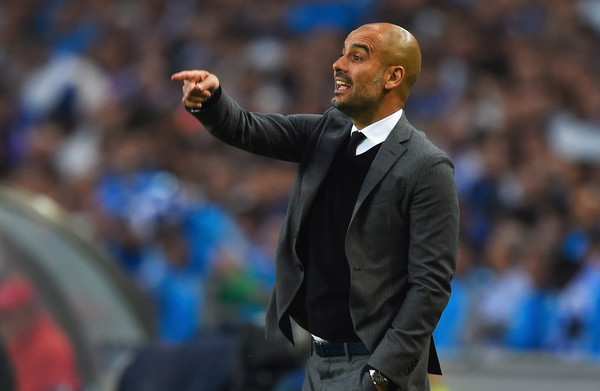 By DAN KARELL
With Bayern Munich through to the UEFA Champions League semifinals and having survived their latest mini-crisis, the mood at the club is as high as it's ever been.
There was some talk before Bayern's second-leg match against Porto that manager Pep Guardiola may walk away from the club at the end of the season, but Bayern CEO Karl-Heinz Rummenigge sees things differently.
"I can't imagine that Guardiola leaves for a club like Manchester City," Rummenigge told German newspaper BILD. "I am sure that he will be team manager at Bayern at least until June 30, 2016. We are very proud that this coach is our man. He is the best and most sought-after coach in the world. He has satisfied all our expectations."
As mentioned above, Guardiola signed a contract in 2013 through the end of the 2015-2016 season, and Rummenigge already has concocted a plan to keep Guardiola even longer at the club.
"We have an plan. We will bring this season to an end and then talk in the second half of 2015. Our goal is to extend his contract. And I think we have good chances that he will still be our coach beyond 2016."
Here are some more stories to kick off your Thursday:
HENDERSON SIGNS CONTRACT EXTENSION
Jordan Henderson won't be leaving Merseyside any time soon.
Liverpool announced on Thursday that Henderson has signed a new long-term contract at the club. According to reports out of England, Henderson's new deal is for the next five years and keeps him in line to take over the club's captaincy when Steven Gerrard departs for the LA Galaxy this summer.
"I'm over the moon that it's finally done," Henderson told Liverpool's website. "There has been talk about it for a while now. It's brilliant news for me to commit my future to this football club – I really feel that it's a good time for us to look forward to the future, with the squad we've got, the manager, the size of the club and the fans we've got. I really think, over the next few years, we can challenge and start winning trophies.
"That's the next phase; we've improved massively over the last few years, and I think the next phase for us is to start challenging for titles and trophies as well."
Henderson has scored six goals in 31 English Premier League starts this season. He's also made 17 other appearances in cup competitions, including the FA Cup and UEFA Champions League.
DEFENDING CHAMPS OUSTED IN COPA LIBERTADORES
There will be a new Copa Libertadores champion in 2015.
Argentine club San Lorenzo were officially eliminated from the competition on Wednesday with a 1-0 defeat at home to Danubio of Uruguay, coupled with Sao Paulo defeating city-rivals Corinthians, 2-0, for Sao Paulo to advance. The lone goal scored by Danubio came off the head of former Columbus Crew midfielder and Uruguayan-American Agustin Viana.
Viana's header knocked San Lorenzo out in the 89th minute.
Luis Fabiano and Michel Bastos scored a pair of first half goals for Sao Paulo in their win over Corinthians, in a match that included three red cards, two of them to Corinthians. Edgar Castillo and Mexican club Atlas finished in last place in their group with a 3-1 loss at Colombia's Independiente Santa Fe.
Brazilian club Atletico Mineiro defeated Chilean giants Colo Colo, 2-0 to advance to the knockout stages, Internacional of Brazil knocked out Bolivian side The Strongest with a 1-0 victory, allowing Ecuadorian side Emelec to advance following a 2-0 win over Universidad de Chile. Both goals were scored by former Chivas USA midfielder Miller Bolaños.
BOCA/RIVER MATCHUP HIGHLIGHTS KNOCKOUT STAGES
With the group stage complete, the Copa Libertadores has re-seeded the final 16 teams, setting up one of the continent's fiercest rivalries in the Round of 16.
After winning all six of their matches Boca Juniors grabbed the No. 1 seed and will face arch-rivals River Plate in a two-legged affair. The first leg will take place on May 7 at River's Estadio Monumental, with the return leg coming one week later on May 14 at La Bombonera.
The May 7 match follows Boca and River's regularly scheduled league match, set to take place at La Bombanera.
Elsewhere, Tigres UANL's unbeaten run in the Copa Libertadores has landed them the No. 2 spot, and a draw with Club Universitario of Bolivia. Other matchups include Sao Paulo and defending Brazilian champions Cruzeiro, Atletico Mineiro vs. SC Internacional, and Uruguayan club Wanderers taking on Racing of Argentina.
QUICK KICKS
FIFA announced that the Club World Cup will return to Japan, as they'll host the 2015 and 2016 editions. The 2015 Club World Cup will take place from Dec. 10-20. (REPORT)
Billionaire Thai businessman Bee Taechaubol is expected to arrive in Italy this weekend to complete a purchase of AC Milan. (REPORT)
Greece is planning to stand up to FIFA and UEFA warnings over governmental interference in soccer as Greece intends to pass a law increasing fines to those who start violence at or around soccer matches. (REPORT)
French right back Bakary Sagna says he'd move to Manchester City again if he could have a re-do, despite making just 16 appearances this season. (REPORT)
South African side Kaizer Chiefs have won the South African league title after a 4-1 victory over Polokwani City. (REPORT)
——————
What do you think of these reports? Do you see Guardiola staying with Bayern? Think he could leave for England? What do you think of Henderson's long-term contract with Liverpool?
Share your thoughts below.