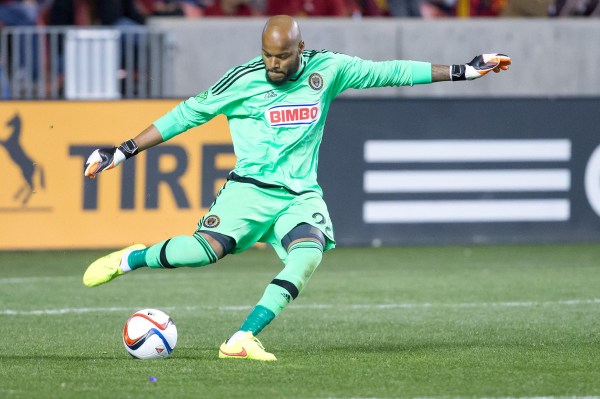 photo by Russ Isabella/USA Today Sports
By FRANCO PANIZO
NEW YORK — Has Rais Mbolhi played his last game for the Philadelphia Union? That's a question that will soon be answered.
For the second straight game since Union head coach Jim Curtin announced the Algerian goalkeeper's benching, Mbolhi was not in uniform for the club in its 1-1 road draw vs. New York City FC on Thursday night. The 28-year-old Mbolhi is in fact not even with the team right now. He was recently reported as being in France, and it remains unclear as to if he will ever return to Philadelphia.
The Union plan to have it all sorted soon, though.
"We'll see. It's kind of week by week," Curtin told SBI after being asked if Mbolhi was coming back. "He's taking some time away right now, but we'll have a decision soon."
Filling in for the mistaken-prone Mbolhi is youngster John McCarthy, who has gotten the nod in each of the Union's last two games, a 2-1 win and 1-1 draw vs. NYCFC. McCarthy has played as well as could be expected so far, but it is clear that he is still learning how to play the position at the professional level and getting adjusted to his teammates.
McCarthy, 22, seemed to get caught in two minds on one play in the first half on Thursday night. He came off his line to challenge an onrushing attacker, but a slight hesitation saw McCarthy get beat on the dribble near the corner of his penalty area. Thankfully for him, the play did not result in a goal.
While that was a moment that McCarthy will need to learn from, there were also several others in which he showed plenty of his promising potential. McCarthy came up with two very big saves in the match, including in the waning moments when Mehdi Ballouchy – who had beaten McCarthy earlier – tested the goalkeeper with a strong shot a few yards outside of the penalty area.
"To bail us out like that was huge," said Curtin. "He made some big saves and kept them off the board as best he could. Obviously, the goal, nothing he could do about it. Mehdi hits a good ball, but happy with how he performed."
Added C.J. Sapong: "Well – and I would tell him to his face –  you can definitely tell it's his second start. But it's a beautiful thing to see a guy learning on the fly and it's good that our teammates are staying behind him and keeping him in the game. At the end of the day, he's doing well in my book and I think he'll only get better."
If that's the case, Mbolhi might not be needed much longer in Philadelphia. He was on $240,000 last season, a price that might be deemed too steep to considering that Mbolhi is inactive and McCarthy is growing.
"It's going well. It's still a work in progress," said Maurice Edu of McCarthy. "It's only his second game, so it's a learning curve for him but I think he's handling himself pretty well. Communication is going to be the way he's going to get through situations. He has to be vocal, he has to talk guys in front of him, and we have to trust him.
"We have to be confident that he's comfortable back there, and that he's going to be aggressive off his line and make the big saves. I thought today he had a couple of big saves in the second half, and overall a pretty solid performance."