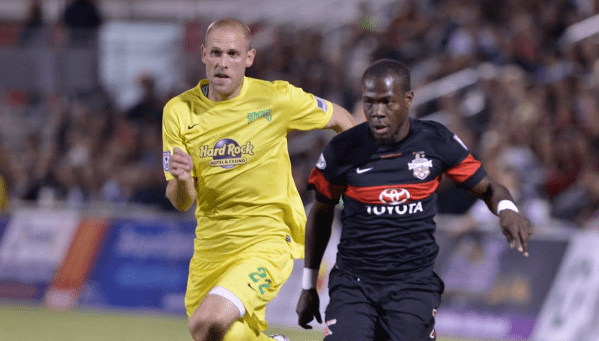 Photo by San Antonio Scorpions/NASL
By AARON CRANFORD
The 2014 Soccer Bowl champions kicked off their 2015 campaign with a bit of a slow start.
The San Antonio Scorpions were overwhelmed by the new-look Tampa Bay Rowdies Saturday in what turned out to be a 3-1 defeat at Toyota Field.
The defending champs conceded three goals and were only able to find the back of the net in the dying minutes of the match. Overall, the last NASL match on opening day was a chippy one, with 11 yellow cards shown and one red presented to Scorpions defender Julius James, who saw two yellows in approximately 10 minutes.
Rowdies defender Stefan Antonijevic gave the Florida side their first goal of the 2015 campaign in the 10th minute, and things fell off for the defending champions within the friendly confines of Toyota Field.
Darwin Espinal added the second in first-half extra time after coolly finishing a pass from Rowdies defender Darnell King. Things would not get better for the defending champions when less than 15 minutes into the second half, Corey Hertzog netted his first of the season in the 61st minute.
Omar Cummings scored the consolation goal for the Scorpions after finishing a Rafael Castillo shot that was saved by Rowdies goalkeeper Kamil Contofalsky.
Tampa Bay will head back home to Florida as they await Minnesota United FC next Saturday, while San Antonio will look to find some answers that same day when they host Indy Eleven in their second home match of the year.