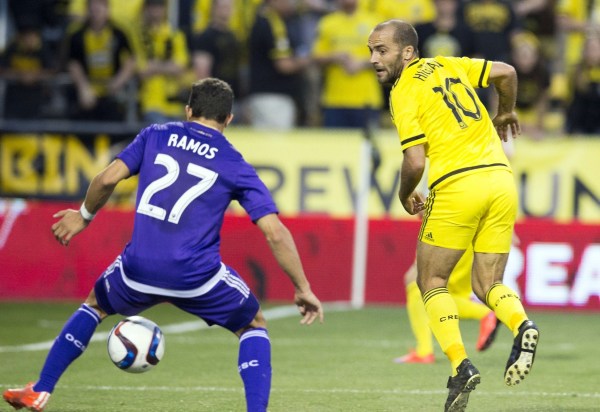 Photo by Greg Bartram/USA TODAY Sports
By RYAN TOLMICH
Hampered by a series of mental mistakes, Orlando City proved to be little challenge to the Columbus Crew on Saturday night.
Goals from Federico Higuain, Justin Meram and Kei Kamara led the way, as the Crew smashed Orlando City, 3-0, at MAPFRE Stadium to hand OCSC the team's first road loss.
Higuain put the Crew on the board in the 32nd minute, ending a slow start that saw the Crew struggle to put a shot on target.
The Argentine's finish was of the backheel variety, as Higuain flicked a pass from midfielder Ethan Finlay off his heel and into the far post, earning the Crew a 1-0 lead in a half that they, for the most part, dominated.
Those threats got even more meaningful in the 33rd minute, when Orlando City's Rafael Ramos was sent off with a straight red. Frustrated from a no-call, Ramos took his anger out on Waylon Francis, earning a red for a late and malicious challenge.
Ramos' efforts started a confrontation between the two teams, earning the Crew's Hernan Grana a yellow. Ramos took his time leaving the field, eventually departing through the Crew technical area as Orlando City fell to 10 men.
The Crew seized the opportunity with the man advantage early in the second half, as Meram and Kamara ran rampant against the Orlando City backline.
Meram started the party in the 55th minute, but it was Kamara who did the dirty work, poking the ball away from Cristian Higuita in the Orlando City box. Meram pounced and ripped a shot, pushing the lead to 2-0.
That lead was increased just five minutes later by Kamara, who broke in all alone on Donovan Ricketts before chipping it over the towering goalkeeper to notch the Crew's third of the night.
It appeared Kamara had added a fourth late in the second half, but the forward was ruled offside, forcing the Crew to settle for the 3-0 victory.
Orlando City will look to bounce back on April 26 against Toronto FC, while the Crew take on the Philadelphia Union at home one day prior.