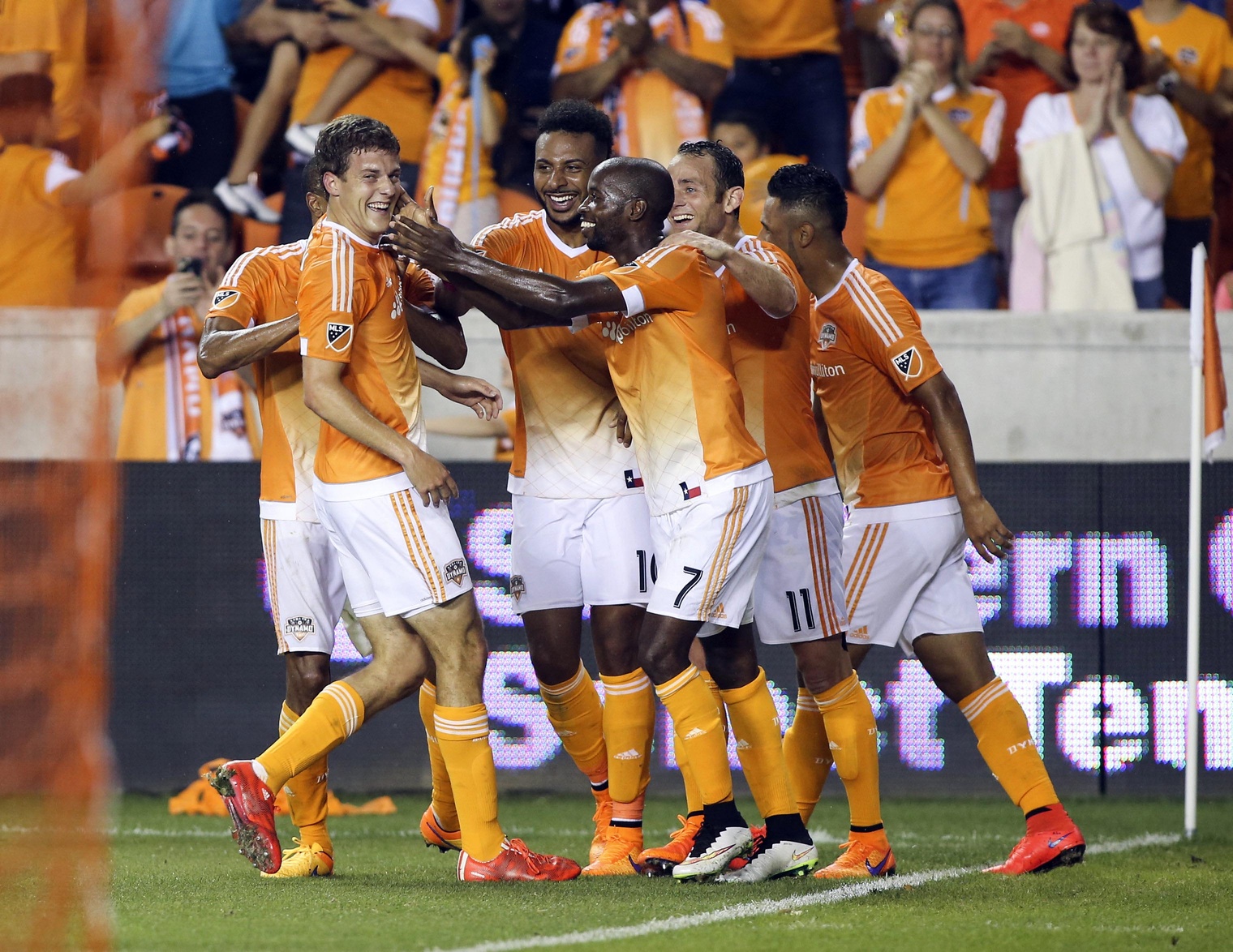 Photo by Troy Taormina / USA Today Sports 
By LEOPOLDO PONCE
In what became a rainy night, the Houston Dynamo ended their scoreless drought with a downpour of goals as they won, 3-0 against the Montreal Impact.
Entering the game with just two goals from their opening five matches, the Dynamo were effective this time out. They scored on three of four shots on target to record their first win since opening night.
After Giles Barnes opened the scoring in the 15th minute, Rob Lovejoy made this match his own. He not only assisted in Ricardo Clark's goal in the 72nd minute, but also ended up scoring his first in MLS with 10 minutes remaining.
"It's impossible for me to describe," Lovejoy said. "I wanted to go over and thank the fans. It was an incredible feeling."
The Canadians did not look like a team that had just returned from Costa Rica on CONCACAF Champions League duty, as they were the more energetic side early in the game. Their downfall was an inability to capitalize on any of their ten corner kicks.
The Dynamo started flat against an energetic Montreal, relying on fouls to try and prevent the ball from reaching Ignacio Piatti. It was his pass that set up a golden chance for the Impact early, setting up a shot for Andres Romero that was saved by goalkeeper Tyler Deric.
Even though Montreal controlled possession over 60 percent of the time and looked more dangerous on the attack, the Dynamo took advantage of a Brad Davis free kick that Barnes headed in for a goal in the 15th minute. That may have come against the run of play, but the game slowly tilted in the Dynamo's favor.
The first part of the second half became a midfield battle, as neither team seemed capable of getting into the attacking third with any real danger. The most dangerous chances for both teams came from set pieces.
In the 71st minute, Ricardo Clark took advantage of a Montreal defensive lapse and a Lovejoy assist to slide the ball past Evan Bush for the goal. Suddenly Houston turned into the better team.
Just minutes after being subbed in for Luis Garrido, the rookie Lovejoy lobbed a shot for goal from outside of the box that turned into a moment to remember. While it may have been Lovejoy's first goal, it looked as if it had come from long-term veteran.
This goal deflated Montreal and Houston closed out the game for the victory. Now the Dynamo takes aim at D.C. United in a road trip to the Capitol on Saturday, while the Impact will try to bounce back at home against the Chicago Fire earlier that day.