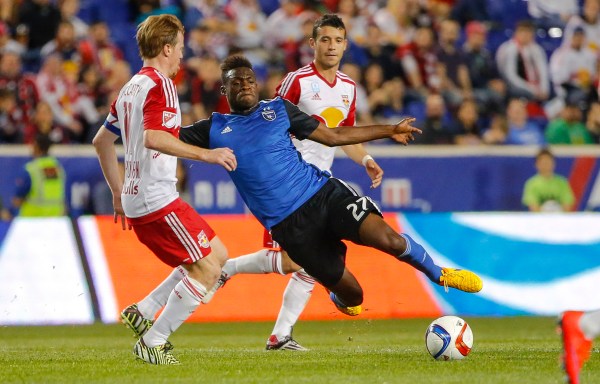 Photo by Jim O'Connor/USA Today Sports
By FRANCO PANIZO
HARRISON, N.J. — The San Jose Earthquakes knew that by the time they got into the game, it was already far too late.
The Earthquakes put forth a strong final 20 minutes on Friday, but it was not enough to overcome their slow first 70 in a 2-0 road loss to the New York Red Bulls. San Jose was doomed by its overall lack of sharpness and defensive toughness in the first half, which was evident with pass after pass missing the mark against a New York team that also had its share of unforced turnovers.
Eventually, the Red Bulls found a groove and the walls caved in for the Earthquakes. Two goals in a span of six minutes in the first half put Dom Kinnear's men in a hole, and it was one that they were never able to climb out of.
"You can't just show up and think that you're going to play well," captain Chris Wondolowski told SBI. "You always have to come out and have the right mentality and be willing to grind out whatever it is, especially on the road. If you just go out there and put your toe in tackles and do those things, then you're going to get punished."
Added goalkeeper David Bingham: "We were making rookie mistakes all over the field. All of us were turning the ball over in the middle of the park. We were giving the ball away at the top of our own 18. You can't do that in this league. You do that in this league, you're going to get punished, and credit to them; they didn't squander the chances."
What made the defeat and poor first half even more frustrating for the Earthquakes was that they had a similar experience three weeks ago in a 2-1 road loss to the New England Revolution. In that match, San Jose also surrendered two-first half goals before trying to muster up a response that fell short.
Even more aggravating is that the club has shown it can do much better. Just last week, the Earthquakes took down the top team in the Western Conference in the Vancouver Whitecaps, 1-0, at home at Avaya Stadium.
The consistency right now is lacking, especially in the midfield where Matias Perez Garcia was largely invisible on Friday. It is also why the Earthquakes have a mixed bag of a record at 3-4, a record that includes impressive wins against the Whitecaps and Seattle Sounders and demoralizing defeats to the Red Bulls and Revolution.
"It just starts with mentality," said Wondolowski, whose 56th-minute insertion into the match vs. the Red Bulls gave the Earthquakes a spark. "When we were at Vancouver, I thought we came out with the right mentality. We're going to grind it and tackle and do the little things, win our 50-50 balls, not try to do too much, not try to dribble everyone, but just one-two touch to get the ball down (the field).
"You play simple, you play to feet, and I think we're a hard team to defend when we do that. But when we take four or five touches, try to dribble two, three guys, we become a little predictable and a little easy to defend."
San Jose will have two weeks to work on all the things that need improving, as their next match is not until they visit Real Salt Lake on May 1. The Earthquakes believe they have the pieces in place to be a really good team, but they need to address some areas in order to take that next step.
"It's no reason to go crazy," said Kinnear. "We should be disappointed with obviously the result and how the first half went, but by no means are we a poor team. I think we've just got to be a little more consistent."